Bermuda's batting frailties again cruelly exposed
Updated: Jun 25, 2022 07:59 AM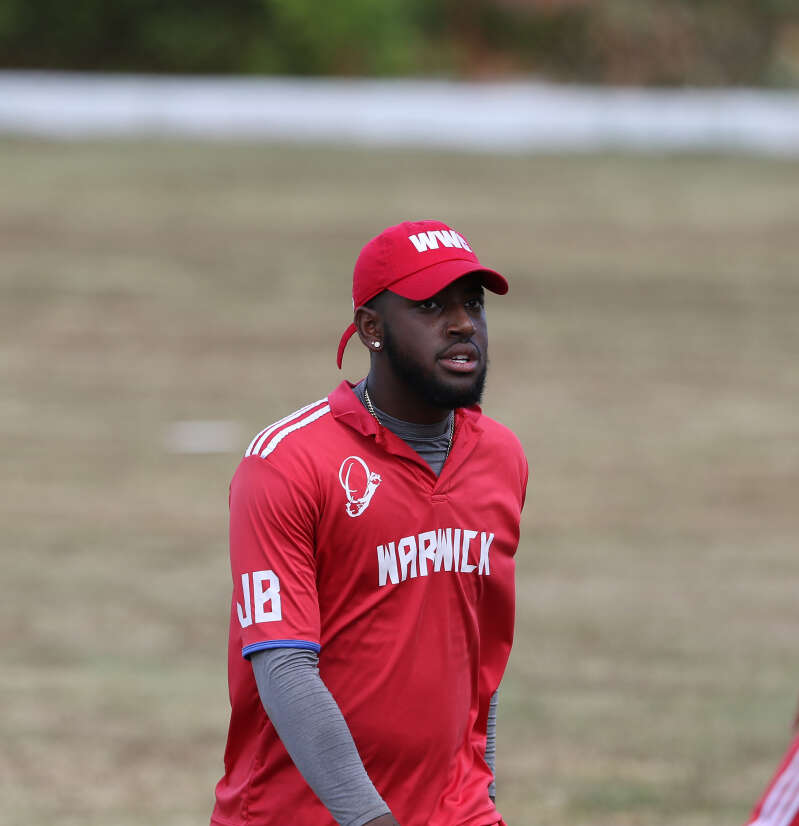 Kyambogo Cricket Ground, Kampala (Bermuda won toss): Hong Kong (2pts) beat Bermuda (0) by 194 runs
The gap in quality and temperament between Kamau Leverock's unfledged Bermuda team and those feeding from the top table of the ICC Cricket World Cup Challenge League B was plain to see as Hong Kong inflicted comfortably the heaviest defeat on this ill-fated sojourn to East Africa.
The glimmers of encouragement for an inexperienced group whose confidence will be at rock-bottom were few and far between on another difficult day when Leverock departed from convention and chose to field for the first time after winning a third successive toss.
After Hong Kong amassed 313 for nine, largely on the back of Babar Hayat's pugnacious 135 from 102 balls, Bermuda began with promise to reach 42 for one in the seventh over before capitulating in alarming fashion to be 119 all out — for the third time not exercising the scorers into the 30th over.
Less than 24 hours after coach Cal Waldron proclaimed that in the conditions presented in Uganda, "we would be cricket idiots if we win the toss and bowl first", the captain did just that and appeared to be vindicated by the initial performances of strike bowlers Zeko Burgess and Jalani Richardson, who was unlucky not to mark his international debut with something in the wickets column.
Richardson was particularly impressive when the new ball was swinging and seaming, and should have opened his account when he nicked off Hong Kong No 3 Zeeshan Ali with a beauty when the score was 17 for one. But Najiyah Raynor, back in the team and taking over the wicketkeeping duties from Amari Ebbin, wrongly left the edge for Leverock standing at a wide first slip and the chance went for a boundary four.
In their present form, Bermuda needed every decision to go for them and every chance to stick, but this was a cruel foreboding of how the day would play out.
Burgess, quick and occasionally wild, had earlier made the breakthrough in the third over when he induced Adit Gorawara into an ill-judged pull shot. Beaten for pace, the result was a tame return catch.
One essentially became two when captain Nizakat Khan, who was clearly unwell, retired hurt in the fifth over with the score 24 — he would not return until the fall of the sixth wicket at 260.
Hong Kong were on the front foot from the moment Hayat strode to the middle at No 4. Needing a score after two middling efforts against Uganda and Italy, he hit Richardson for successive fours from the third, fourth and fifth balls he faced to get off to a flyer. And at the end of Burgess's next over, he helped himself to a maximum, leaving Hong Kong 45 for one at the end of seven with a platform well and truly set.
Jamar Stovel's first over in international cricket began inauspiciously, with a wide then back-to-back fours from the bat of Ali. But on his fourth legal ball, the 18-year-old pinned Ali in front for 19 to leave Hong Kong 74 for two in the twelfth over.
The introduction of Leverock and Charles Trott meant the bowlers were always in the game, backed up by none of the Hong Kong batters getting away from them — save for Babar Hayat.
The Pakistani-born 30-year-old who was a team-mate of Leverock's on Vancouver Knights in the Global T20 in Canada in 2018, bludgeoned nine fours and eight sixes before he was seventh out at 269. But he gave two chances, the first when on only 33.
The biggest partnership was the 83 he put on with Shahid Wasif (33) for the sixth wicket. Otherwise, only Aizaz Khan (34) and the returning Nizakat (38) made a score of note.
Leverock was the most successful of the Bermuda bowlers with four for 62 from nine overs, while Trott, with his left-arm-over action, was most economical — his ten overs going for only 32 runs and yielding two wickets. Burgess claimed two for 66.
There was also a useful run-out for leg spinner Cameron Jeffers, who got through his full complement for 62 runs — a learning exercise for both he and the Bermuda coaching staff.
Those infatuated with the possibility that Bermuda might out of nowhere find some batting fortitude, having done little in the warm-up games or tournament proper, should look away now.
For apart from cameos from Dominic Sabir at the top of the order and Steven Bremar Jr in the middle, it was an innings marked by fitful stroke play and no shortage of naivety.
Sabir was determined to take the attack to Hong Kong and strode purposefully on to 34 from 26 balls — the first Bermuda batter to get into the thirties in Uganda — but on the 27th his luck ran out and an inside edge on the attack against Ayush Shukla cannoned back on to his stumps.
By then, he had already lost opening partner Dennico Hollis, who appeared unlucky to be strangled down the leg side and given out caught behind for one. (He may have a case to answer to the match referee for disputing his dismissal all the way off the pitch.)
The returning Raynor did not look the part at the top of the order against Kenya, and fared little better here at No 3, bowled comprehensively for four off 22 balls while aiming a slog sweep at the slow left-arm of Yasim Murtaza.
When the same bowler cleaned up Leverock two overs later for only five playing a similar shot, Bermuda had gone from the point of appearing to mount a challenge to meek surrender in the space of seven overs.
Bremar's 24 from 27 balls exorcised some of the demons from his horror dismissal against Uganda, but he would not be impressed with the manner of the return catch that gifted Murtaza his third wicket.
The back-to-back leg-before dismissals of Trott and Stovel to off spinner Ehsan Khan's quicker ball — the latter inexplicably so, as he seemed totally unprepared for the possibility — and Jeffers picking out the only fielder in the vicinity while trying to clear the mid-wicket boundary, epitomised the degree of unreadiness and lack of awareness that coach Waldron must correct if he is to keep this group together.
In three matches in good batting conditions, they have been at the wicket for a combined 71 out of a possible 150 overs — not good enough, even for a team this inexperienced.
Ehsan needed only 4.1 overs to capture four for 20 while Murtaza took three for 32 from seven.
Leverock did not have too many answers in the post-match interview but took whatever positives he could, while acknowledging what many learned observers have appreciated from the start — that this is less a competitive tour, more one for development.
"It was nice to see our bowlers get a chance to bowl," he said with obvious reference to the 36.5 overs in two matches beforehand while defending low scores.
"Our batting hasn't really clicked yet, but I think it will soon. It's all about development, so as long as everyone is learning from their mistakes, we can grow as cricketers."
Scorecard
Hong Kong
†A Gorawara c and b Burgess 8
*Nizakat Khan c Richardson b Leverock 38
Z Ali lbw b Stovel 19
Babar Hayat c Sabir b Burgess 135
K D Shah c Raynor b Leverock 2
Aizaz Khan c Bremar b Trott 34
Y Murtaza c Richardson b Trott 9
Shahid Wasif c Stovel b Leverock 33
Ehsan Khan c and b Leverock 10
A Shukla not out 2
Mohammad Ghazanfar not out 1
Extras (b 8, lb 3, nb 1, w 10) 22
Total (9 wkts; 50 overs) 313
Fall of wickets: 1-15, 2-74, 3-96, 4-163, 5-177, 6-260, 7-269, 8-292, 9-308.
Bowling: Burgess 10-0-66-2; Richardson 8-0-56-0; Stovel 3-0-24-1; Leverock 9-1-62-4; Trott 10-2-32-2; Jeffers 10-0-62-0.
Bermuda
D Sabir b Shukla 34
D A W Hollis c Gorawara b Aizaz 1
†N Raynor b Murtaza 4
A Ebbin lbw b Ghazanfar 12
*K S Leverock b Murtaza 5
S R Bremar c and b Murtaza 24
C Trott lbw b Ehsan 8
J M Stovel lbw b Ehsan 0
C A W Jeffers c Wasif b Ehsan 2
Z Burgess c Ali b Ehsan 9
J Richardson not out 2
Extras (b 1, lb 4, nb 1, w 12) 18
Total (25.1 overs) 119
Fall of wickets: 1-24, 2-42, 3-52, 4-62, 5-83, 6-102, 7-102, 8-105, 9-113.
Bowling: Shukla 6-1-22-1; Aizaz 6-2-27-1; Murtaza 7-1-32-3; Ehsan 4.1-0-20-4; Ghazanfar 2-0-13-1.
Umpires: A Louw (Namibia) and R D'Mello (Kenya).
Match referee: E T Dube (Zimbabwe).
Other match
Lugogo Cricket Oval, Kampala (Kenya won toss): Kenya 340-9 (50 overs; A A Obanda 115, C O Obuya 88); Italy 206-9 (38.1 overs; M Campopiano 85). Kenya (2pts) beat Italy (0) by 134 runs.
Updated table
P W L T D NR Pts NRR
Hong Kong 8 6 1 0 0 1 13 1.232
Uganda 8 6 2 0 0 0 12 0.350
Jersey 8 5 3 0 0 0 10 1.106
Kenya 8 3 4 0 0 1 7 0.449
Italy 8 2 5 0 0 1 5 -1.015
Bermuda 8 0 7 0 0 1 1 -2.622