Jarryd Richardson and Macquille Walker excel as Bay thrash Cuts
Updated: Aug 27, 2023 10:02 PM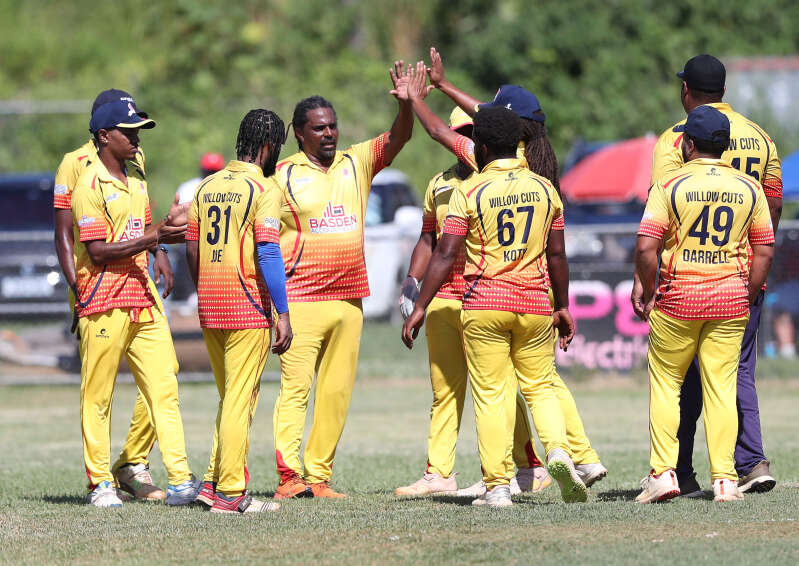 Somerset Cricket Club (Bailey's Bay won toss): Bailey's Bay beat Willow Cuts beat 155 runs
Jarryd Richardson scored a half-century and Macquille Walker claimed five wickets as Bailey's Bay thrashed Willow Cuts in the Athene T20 Premier Division on Sunday.
Richardson took advantage of the good wicket to prove the catalyst to the East End side posting a mammoth total of 204 for nine after electing to bat first.
"The pitch was conducive for batting," Richardson said.
"The openers [Sharye Tavares and Coolidge Durham] gave me and partner Terryn [Fray] a platform to build a strong innings."
Bay have lost only once in the T20 season to St George's and Richardson emphasised the importance of winning the Premier Division.
"We have to win the division," he said. "We have only one loss this campaign, so we must capitalise on any slip-up St George's make."
Tavares and Durham started well for Bay, rotating the strike and being aggressive off poor deliveries. Dean Stephens struggled to keep a straight line in his first over, bowling four wides, and conceding an early boundary to Tavares.
The openers kept the score ticking over before Tavares was bowled by first replacement Herbie Bascome off a slower off-break delivery at the end of the fifth over.
Azende Furbert, a recent Cup Match debutant stepped in at number three and continued the solid foundation with Durham as Bay closed the batting powerplay on 41 for one.
The Eastern Counties holders pushed the envelope in the middle overs, with Durham and Furbert exhibiting power and timing with five fours and one six between them before the former was caught by Bascome at midwicket off the bowling of Kamal Bashir for 25.
Furbert, with his tail up, drove straight into the grateful arms of Dean Stephens a few balls later to briefly halt the momentum of Bay's dominant innings, but Club president Stephen Outerbridge, alongside captain Terryn Fray, continued the onslaught of placement and consistent boundaries.
Five overs from the end, Chakote Basden struck to claim the wicket of Outerbridge for 22 thanks to a straightforward catch by Bascome. Fray and half-centurion Richardson finished off the innings with an 85-run partnership for the fifth wicket, with each batsman smashing three sixes, but Richardson registering one more four than his on-field leader.
Cuts spread their wickets around in the bowling department, with four players taking one each, albeit with expensive figures. Bascome was the most economical with one for 30 from four overs, with Bashir, Joseph Basden and Chakote Basden rounding out the wickets for Cuts.
Only four Cuts batsmen hit double figures in reply with just four boundaries and one six struck as they struggled to find a way through the stubborn Bay field.
The whitewash began with the quick dismissal of Dwight Basden and Cuts skipper Antonio Darrell in the final few balls of Walker's first over and their loss was compounded after Bascome and Kamal Bashir, who started to look set, were taken in the space of an over midway through the innings.
Bashir was first caught out of his crease with Richardson making an impeccable throw to hit the stumps and run the spinner out before former St George's Cup Match veteran Herbie Bascome drove straight to Bay captain Fray.
Walker completed his impressive spell in his final over when Joseph Basden picked out Shaquille Outerbridge. The final Cuts duo of Kyle Brangman and Sher-Maur Gomes put on a valiant 28-run partnership to ensure their side did not get bowled out, but still fell 155 runs short after Bay's dominant fielding effort.
Scorecard
Bailey's Bay
S Tavares b Bascome 21
C Durham c Bascome b Bashir 25
A Furbert c Stephens b J Basden 35
*T Fray not out 43
Stephen Outerbridge c Bascome b C Basden 22
†J Richardson not out 51
Extras (lb 1, w 9, nb 2) 12
Total (4 wkts, 20 overs) 209
K Hodsoll, M Walker, J Burgess, S Jackson and Shakeal Outerbridge did not bat
Fall of wickets: 1-37, 2-84, 3-90, 4-124
Bowling: Darrell 3-0-32-0; Stephens 4-0-38-0; BAscome 4-0-30-1; Bashir 4-0-44-1; J Basden 2-0-26-1; C Basden 3-0-38-1
Willow Cuts
D Basden c Stephen Outerbridge b Walker 0
D Stephens c Stephen Outerbridge b Hodsoll 1
*A Darrell c Shakeal Outerbridge b Walker 0
†S Bean c Richardson b Walker 0
K Bashir run out 10
RS Burrows b Walker 0
H Bascome c Fray b Tavares 12
C Basden c lbw b Burgess 0
K Brangman not out 11
J Basden c Shakeal Outerbridge b Walker 1
S Gomes not out 11
Extras (b 4, w 4) 8
Total (9 wkts; 20 overs) 54
T Tankard did not bat
Fall of wickets: 1-3, 2-3, 3-3, 4-7, 5-7, 6-21, 7-25, 8-25, 9-26
Bowling: Walker 4-1-10-5; Hodsoll 4-1-8-1; Tavares 4-1-9-1; Burgess 4-0-10-1; Hart 3-1-10-0; Durham 1-0-3-0
Umpires: J Pitcher and D Smith
Match referee: A Cumberbatch