Police hunt for gunman
Created: Jan 29, 2013 08:00 AM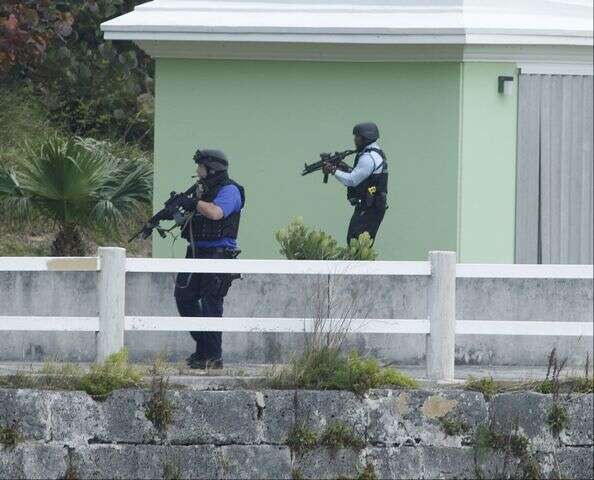 An armed man sparked an extensive search of Boaz Island by police yesterday.
Christoph Duerr was still at large at presstime last night.
Police in marked and unmarked cars raced to a Seawall Drive, Boaz Island, Sandys home around 11am to conduct a search.
Police say a man believed to be Duerr was seen leaving with "what is believed to be a firearm".
Three other men were later taken into custody and a quantity of drugs and ammunition was seized. No gunshots had been fired.
They would not confirm whether or not the incident was gang-related or if it was related to the shooting deaths of Ricco Furbert and Haile Outerbridge at Belvin's Variety in Pembroke last Wednesday.
Chief Inspector Nicholas Pedro said authorities responded to "specific information in relation to a person in possession of a firearm" at the house in Sandys.
The area around Woody's Bar — which has been troubled by gang-linked gun incidents in recent months — was cordoned off swiftly after the incident.
Police boats and officers, some armed and others with riot shields and dogs, initially converged on a copse of trees just South of the popular West End bar. All traffic heading North and Southbound traffic over Watford Bridge, was stopped and searched.
According to Ch Insp Pedro, the focus of the search was a "light-skinned, skinny Bermudian male" whose hair might be bleached blonde. "Police are very interested in speaking with this person," the Ch Insp added.
The manhunt drew crowds of onlookers to Malabar Road, where they stood across from Woody's Bar, at the layby where Lorenzo Stovell was shot dead last September 23.
Shouts of caution rang out as officers with dogs fanned out through the trees in the area.
Officers went door-to-door as they widened their search to include housing around Seawall Drive and Runway Lane.
A Woody's employee told The Royal Gazette there had been no trouble in the bar itself, which opened for business later in the day. He said that the incident appeared to have taken place in the Boaz Island condos adjacent to Woody's.
Said restaurant manager Wayne Tucker: "We're a common landmark and there's lots of places outside here, so we end up getting linked with what's going on."
He expressed exasperation at the repeated gang disruptions in the area.
The area is linked with the MOB gang. In August, revellers outside the bar were threatened by an intruder wielding a suspected machine gun.