Dismay after fire destroys playground
Updated: Apr 12, 2021 08:49 AM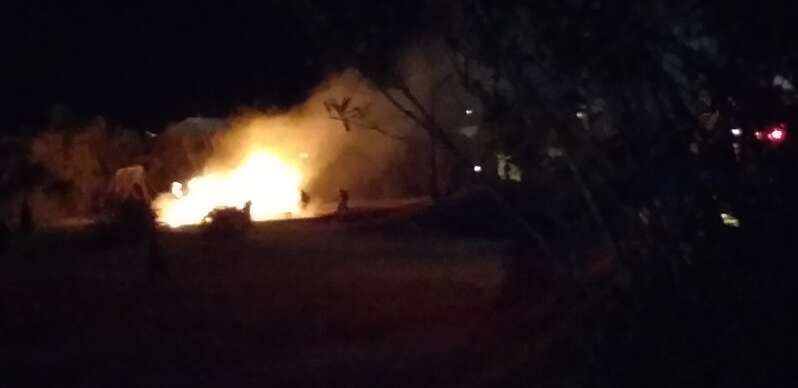 Youth development leader Patrina O'Connor-Paynter said she is "utterly dismayed" that a children's playground was destroyed in a fire - and is rallying the community to rebuild it "bigger and better" than before.
Ms O'Connor-Paynter, managing director for youth mentor charity Big Brothers Big Sisters of Bermuda, said it was incomprehensible that anyone would intentionally destroy a community area for children and families.
She told The Royal Gazette: "As a youth development leader it resonates even more with me. Children have already had so much taken from them during this pandemic.
"We are suffering as adults but the children are missing going to school, they miss seeing their friends and this was an area that they could go to when there was little else for them to do.
"It is such an important place for the whole community, especially during these times. This is one place is where everyone comes together in unity to be together.
"I don't want an arsonist to steal our community joy. I would like to see it built bigger and better than what it was before."
This morning police confirmed that the fire was being treated as suspicious.
Ms Paynter said she is making enquiries into whether funds can be raised or how members of the community could donate their time to help rebuild the playground.
She said that she had also spoken with Walter Roban, the Deputy Premier, who said he had visited the site. Mr Roban told her the playground had been purchased privately but that he would look into what government could do to help.
Quincy Paynter, Ms Paynter's husband, was brought up in the area and posted a message on Facebook outlining the importance of the field to a local community that has been impacted by crime.
Mr Paynter, who is deputy principal at The Berkeley Institute, wrote, based on his own opinion: "Pig's Field has been a hidden gem in the midst of a neighbourhood that has been ravished by gun violence and antisocial behaviour … Pig's Field has always been the heartbeat and artery of communal life in our village on Glebe Road. Pig's Field is a part of our village that has generations of children's footprints engraved at its core."
In the case that an arsonist was responsible for the fire, Mr Paynter added: "As anger turns into disappointment and back to anger again, I can only pray for the arsonist who has burnt the heart and threatened the core of my village. The resources to rebuild the eyesore that someone's hate has created will come. Moreover, acts of hate have a way of rekindling the love within the community."
It took six firefighters and two trucks to quell the blaze, centred on playground equipment at the popular open space at Pig's Field, in Pembroke.
A Bermuda Fire and Rescue Service spokesman said firefighters responded just after 8.20pm on Saturday.
The cause of the fire is unknown and is being investigated by the fire investigator.
Police last month assembled a task force to deal with a string of suspicious fires targeting mainly vehicles but also at least two buildings in the parish over the last several weeks.
This morning police said this morning that the fire is being treated as suspicious.
"An investigation of the scene by fire investigator and officers from the police Criminal Investigations Unit determined the cause of the fire was suspicious. Enquiries into all incidents are ongoing," said a police spokesman.