Police to crack down on bad drivers as road death rate doubles
Updated: Jul 01, 2021 11:39 AM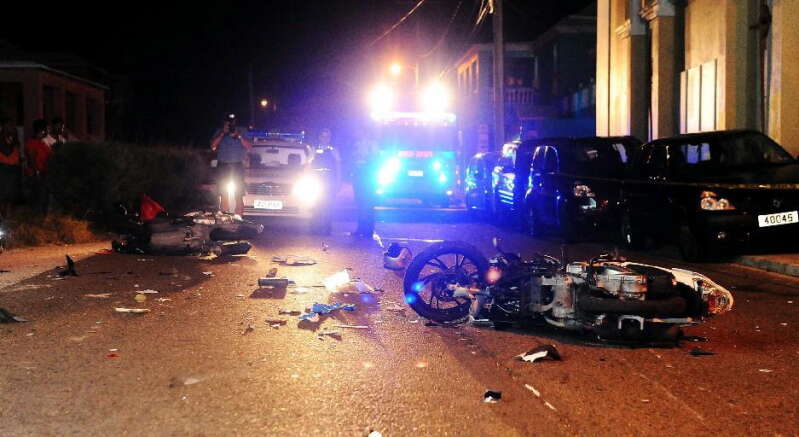 The policing of Bermuda's roads is to be ramped up in a bid to stem a recent rise in traffic fatalities, accidents and offences.
The Bermuda Police Service's traffic unit is to be expanded and technology such as CCTV and speed cameras will be upgraded, according to Stephen Corbishley, the Police Commissioner.
This afternoon, Mr Corbishley said that there had been six road deaths this year – equalling the number for the whole of 2020.
He added there had been 130 serious injuries on the roads so far in 2021 – compared to just 83 for the whole of last year.
Mr Corbishley said: "It's quite obvious that there's a concerning and dangerous level of driver behaviour currently taking place on the roads.
"We are going through a process of reviewing our road policing strategy and our road policing unit – indeed we are looking to grow that unit to deal with some of the challenges that we face on the roads.
"There's a stark difference between what's taking place now and what was taking place a year and two years ago. We need to be alive to that and we're looking at increasing or capability to be on the roads."
Mr Corbishley said the island's CCTV infrastructure was being developed to get it "back up to standard" and the BPS was in talks with Government on the subject of speed cameras.
"That very much is in discussion between ourselves and the Minister of National Security, " he said. "We have speed camera capability, we have laser guns and we have been targeting certain locations.
"I would like to be optimistic that over the next 12 months we are going to start looking at a potential way forward. Its one that we have to discuss very carefully with Government as regards to the costings. The timeline is always going to be based on the financial ability to do so.
"But it returns to a point of what we all would accept is the cost of a life. It's something that has to be invested in and if speed cameras assist and contribute to that, then it's a worthy investment.
Mr Corbishley said the recent spate of Covid-19 curfews had encouraged people to speed in order to get home without breaking public safety orders. But he said that although curfews had ended, the speeding habit had not.
He said: "We had a lot of concern in regard to the way in which road users were behaving prior to curfews – it was almost like a Formula One grand prix about 15 to 20 minutes before curfew struck. The nature of that sort of behaviour seems to have continued."
The Commissioner acknowledged that there was only so much the BPS could do – and that motorists needed to take responsibility for their actions.
He said: "We have got an understanding of where the interventions can be made and we can use our resources but it would be remiss and wrong not to say that we're chasing an issue that's being caused by the way in which people are behaving.
"The single biggest theme within that is speed and the way the vehicles are being ridden.
"All of us need to consider the speed we drive and ride on the road No one drives to the speed limit, but there is a minority that drive in a reckless way."
"The police, the Government, road safety and others are working as hard as they can but what sits within this is personal responsibility – that when you take out a mode of transport whether it be two wheels or four wheels you have your personal safety to protect but also you have the personal safety of others to protect.
"Very sadly, very tragically, in very real terms, people are dying as a result of people's behaviour.
"We need to enforce more, but it can't be done against the public, it needs to be done with the public."
Questioned about the investigation into last Friday's fatal hit-and-run accident on Knapton Hill in Smiths, Mr Corbishley would only say: "Parties have been arrested and the investigation is ongoing."