Forgotten man Dominique Mayho nicks it
Updated: Nov 02, 2020 08:31 AM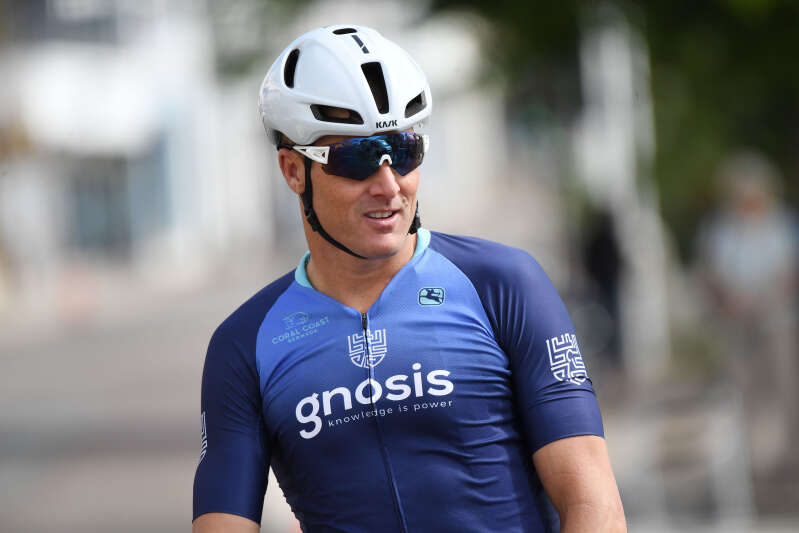 The National Criterium Championships staged in Hamilton yesterday lived up to all pre-race expectations with displays of high-level racing, impressive individual performances, and even a little controversy.
In the Male Open Category racing for 55 minutes on the one-mile city centre loop the spectators were treated to a thrilling high-level race from the start with Winners Edge rider Kaden Hopkins setting a fast pace, powering on the front with Dominique Mayho and VT/Madison team-mate Jamie Cousins staying close on his back wheel and not giving the 20-year-old rider an inch.
With the aggressive start, Tyler Butterfield, riding for Gnosis, quickly found himself ten seconds adrift as Hopkins pushed hard through the tight corners forcing Butterfield to work hard to close the gap, eventually regaining contact on lap six with Hopkins still on the front.
Mayho put all his vast experience to good use as he covered every move that Hopkins made. With Cousins attacking on the uphill Reid Street section, Hopkins quickly closed the move down. Within a lap, a game Cousins was gapped under the incessant pressure and it came down to the expected battle between Hopkins, Butterfield and Mayho.
Having recovered from his early efforts, it was Butterfield who began attacking and after being pulled back a few times eventually put in a big effort that saw him open a lead that he would maintain for seven or eight laps. Sensing the danger, Mayho started to work with Hopkins and they slowly reeled Butterfield in.
With just three laps to go, it looked that a sprint finish was inevitable despite some last-gasp efforts to get off the front by Butterfield. Making the final turn off Parliament Street on to Front Street, Butterfield was on the front, Hopkins on his wheel with Mayho maintaining his speed off the hill and was the first to start the sprint for the finish.
Having to come around Butterfield, Hopkins came alongside Mayho with both riders sprinting at more than 70km/h and Mayho just edging out a fast-closing Hopkins with both riders recorded at the same time of 56min 11.6sec and Butterfield third in 56:12.7
The Women's Open 40-minute race also got off to an aggressive start with the riders strung out in a single line an indication of the speed with Ashley Couper, Maddie Durkin and Rose-Anna Hoey, VT/Madison setting the pace.
On the third lap Durkin put in a hard attack off the front on Par-la-Ville Road gapping the field and looking strong. With Bicycle Works rider Caitlin Conyers and Winners Edge, Nicole Mitchell paying close attention and making a move themselves on the uphill section of Reid Street, Durkin who was still off the front inexplicably missed the turn on to Parliament Street and suddenly found herself unfortunately going from first to last place.
Finding themselves in the lead, Conyers and Mitchell worked together for two laps until Conyers, sensing the field were closing them down, put in a hard surge pulling away again building on her lead to finish uncontested in 39:35.44. Couper was next in 40:22.54 and Winners Edge rider Louise Well rounding out the top three in 40:25.75.
Clearly confirming that cycling has a bright future the islands top young riders put on a display of highly competitive racing with a blistering pace set from the gun.
As in previous races this year Alexander Miller, Winners Edge, left no doubts that he wanted a fast, hard race attacking off the front early but Nicholas Narraway, Liam Flannery, and Nicholas Pilgrim both riding for Gnosis had no intention of letting Miller get too much space and quickly closed him down.
This set the pattern for the race with these four separating themselves from the rest of the field and continuously attacking each other trying to get away in a break. So closely were they matched that none of them could make a significant move that would stick and in the closing laps it looked like a sprint finish was going to decide the winner.
In a mad dash to the finish line, Narraway sprinted across the line and raised his arms in victory only to hear the official's bell signifying there was still a lap to go, causing confusion for both the riders and spectators. Minutes later, Miller came into sight and crossed the line in what would turn out to be the victory in a time of 38:29.0, with Narraway and Flannery both given 38:29.001 for second and third respectively, and the race officials judging that Narraway's sprint finish came a lap early.
While the island's young riders are clearly leading the way forward, the Masters 50+ championship category showed that age is just a number, as they put on a show for the spectators that the 14-rider field could be proud of.
Rider after rider put in attacks throughout the race forcing the pack to work hard to chase them down to keep the race under control. Darren Glasford started the ball rolling early with a strong move off the front, but was reeled in.
Clifford Roberts, Wayne Scott, Fabian Schonenberg and Tracy Wright all attempted to make a break but could not make anything stick in what was proving to be an intriguing and exciting battle.
With three laps to go, Gnosis rider Alan Mooney tried his luck as he burst off the front and looked to have made a right move, but an alert Glasford bridged the gap and at the finish Glasford riding for Winners Edge sprinted to victory in 38:17.6 with Mooney taking second in 38:19.1 and in a close bunch sprint for third it was Ricky Smith in 38:20.5