Dominique Mayho and Caitlin Conyers end season on high in President's Cup
Updated: Nov 23, 2020 07:15 AM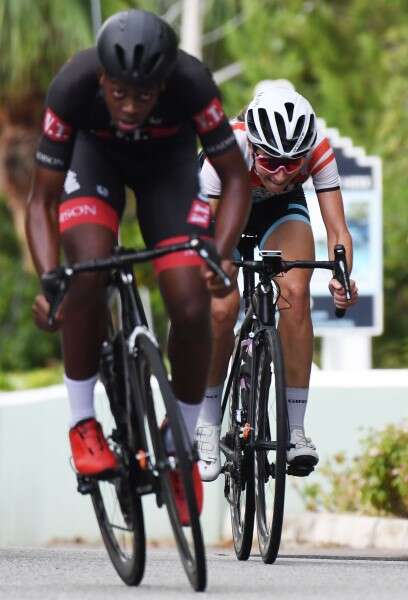 Dominique Mayho and Caitlin Conyers ended the cycling season on a high after claiming victory in the President's Cup today.
Battling it out for one of the sport's most sought-after titles, the gruelling 100-kilometre course took riders on a full circuit of the island from Warwick heading east before returning the opposite direction to Dockyard and finally finishing on Harbour Road.
In a tactically astute ride, VT/Madison's Mayho kept himself within the leading pack alongside Winners Edge duo Nicholas Narraway and Alexander Miller and Gnosis's Liam Flannery through St George's and latterly down Corkscrew Hill with the latter's team-mates, the Pilgrims, Nicholas and Alex, and Tyler Butterfield aiming to stay within touching distance.
As the race developed towards Dockyard, it came down to whether professional athlete Butterfield could reel in the leading pack with the support of the Pilgrims, or risk being cut adrift in the final stages.
It turned out be the latter, coming down to a straight battle between the leading quartet, with a final sprint always favouring the more experienced Mayho — and so it proved, as he edged out Flannery and Narraway to the line, with Miller claiming fourth.
After his fifth President's Cup success, Mayho admitted to finally rediscovering his love for the sport, having lost his desire somewhat after curtailing his full-time cycling career in 2017.
"I'm enjoying cycling again," said the 26-year-old, who also clinched the National Criterium Championship at the beginning of the month.
"When I stopped full time in 2017 I fell out love with cycling and backed off. Since then, it's been a bit of a rollercoaster where I've raced if I've fancied it.
"What lit the fuse in me again was the Winners Edge Road Race where for the first time in ten years on island I got completely left behind by others and I didn't like it.
"I knew I had to do something about it and I'm back in good form now."
Reflecting on his latest victory, Mayho admitted it was imperative not to allow Butterfield and Gnosis to dictate the race, knowing that their overwhelming strength in depth could prove decisive.
"I knew the longer races suited Tyler more, so the plan was to try and put that team on the back foot," he added.
"We managed to create a gap, and the four of us managed to stop them coming back. It was crucial to try and maintain that gap to the Pilgrims and Tyler because once you let those guys back in, they can really hurt you.
"Once we were on the way to the finish line, individual tactics came into play and my plan was to keep out in front, as I felt confident if it came down to a sprint finish.
"Credit to these guys, they pushed me all the way and are all very strong. If it was an uphill finish, I think things could have gone differently, but thankfully it was a downhill sprint."
Talented youngster Flannery was left to rue fatigue at the critical moment, having attempted to break for the finish line early, before being hauled back by Mayho and Narraway.
"I knew it would be tough to beat Dom in a sprint finish, so I went a little early," he said. "Unfortunately, my legs were feeling it by that point and I cramped up in my left quad.
"I had a little gap but Dom and Nic managed to catch me and, unfortunately, Dom got the jump on me on the outside — and that was that!"
Flannery added: "My form this season has been really pleasing. I'm only 17 and so I know there will be some better results to come in the future if I continue to progress as I have been."
There was disappointment for Butterfield, who accepted blame for ultimately getting his team's tactics wrong on the day.
"We tried to play a tactical race, but unfortunately I underestimated the strength of the leading pack and overestimated the power in my legs," he admitted.
"We were chasing really well for a while, but it took us longer than we thought to get within touching distance of them. By the time we did, we had sapped the energy out of our legs."
Butterfield said: "We had the strongest team in terms of depth. We played our cards and didn't get it quite right. Dom is a very tactical rider and he obviously got his tactics right.
"It's frustrating to know our plan didn't work out in the end, but it was worth the risk."
After crashing out of last year's race, Conyers claimed vindication this time round by securing a somewhat comfortable victory in the women's category.
Having returned to top form with a host of breakaway victories in recent races, Bicycle Works' Conyers built on that momentum, keeping herself safely within the main peloton to reach the finish line amid a host of male riders.
VT/Madison rider Ashley Couper finished in second place for a second successive year, while Winners Edge rider Nicole Mitchell completed the top three, as she did in last year's race.
"I'm really happy to end the season on a high," Conyers said. "I didn't have to take any risks and by the time we reached Dockyard, I knew I just had to try and hold off Ashley [Couper] and make a move if need be.
"I crashed out last year and so I was very careful to make sure I was comfortable in the peloton and not make any mistakes.
"I'm definitely back at a level where I want to be and it's a nice feeling finishing this season and going into the next feeling fitter than I was at this stage last season."