Hopkins claims top step of the podium in superb third stage victory
Updated: Feb 24, 2021 06:05 PM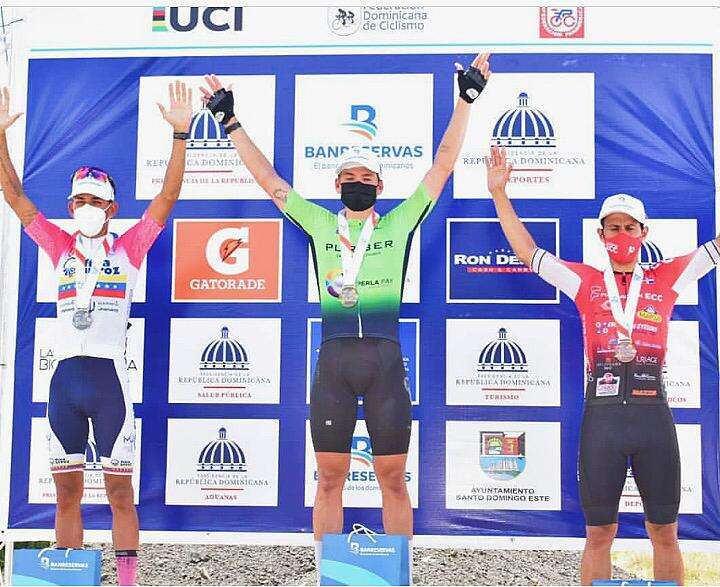 Kaden Hopkins further enhanced his chances of defending his Vuelta Independencia Under-23 division title after claiming an impressive victory in Stage 3 in the Dominican Republic today.
Having got himself on the podium with a third-placed finish in the 162km second leg in Santo Domingo, Hopkins built on that momentum to secure a perfect outing in the 123km third stage finishing in Monte Plata.
Just as he did a day previously, the Bermuda rider opted to break away from the leading pack, this time taking off at the halfway stage.
However, while he eventually was caught right on the line in stage 2, there was to be no denying the 20 year-old this time as he took the chequered flag in a winning time of 3 hr 30 min 45 sec, ahead of Robert Sierra and Julio Padilla Miranda.
While his endeavours did not see Hopkins – who is representing the Mixed Puerto Rico/Bermuda team – move up in either the general classification or Under-23 overall standings, significantly it did see him take vital time off of the deficit to the leaders in both.
Remaining in eighth place in the general classification, Hopkins finds himself 3:22 adrift of pacesetter Miranda, who has a accumulative total time of 11:03:20 after three stages.
Hopkins also remains second in the Under-23 classification but crucially he has taken a minute and a half off of the previous deficit to leader Steven Manuel Elena Polanco, to now trail by 2:05 heading into tomorrow's 129km fourth stage from Santo Domingo to Rancho Arriba.
"About 7km into the stage a break of two riders went up the road. When the race sat up for a second I was able to open a gap quickly and bridge across," Hopkins told The Royal Gazette.
"Once across, I drove the break as hard as I could, distancing one of the other riders after 75km. Then after 80km at the top of the days climb the other rider dropped off and I was left alone for the last 80km or so.
"I just thought of it as a Time Trial and sat at what I knew I could do for the next hour and 40 minutes. I was able to keep the gap at a point where I knew I would not be caught.
"I have made up half the time I needed to in the General Classification competition and am hoping to try and chip away at it more over the next few stages if possible."