Kaden Hopkins gives himself a passing grade after 'encouraging' Madrid series
Created: Aug 02, 2021 07:58 AM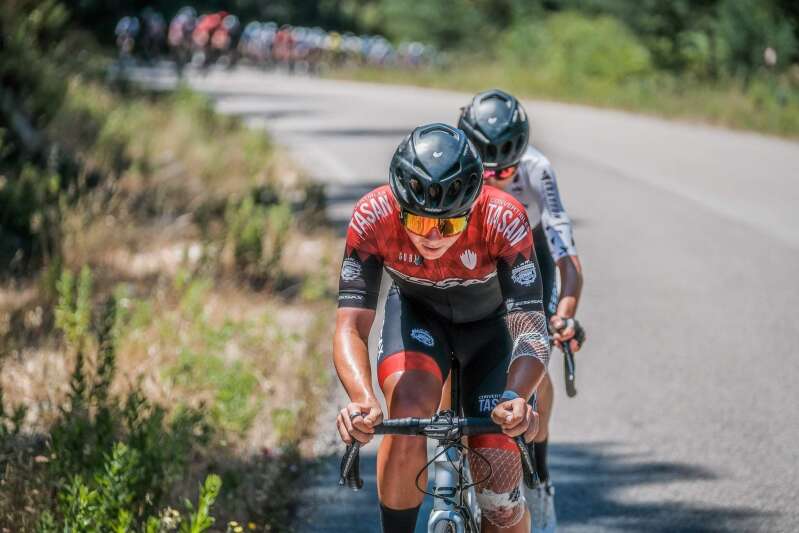 Kaden Hopkins is encouraged by his progress racing overseas after a promising performance in the Vuelta Madrid Under-23 Series at the end of last month.
Having endured a tough outing in the Volta a Portugal do Futuro in early July — in his return to action from a short break back home in Bermuda — Hopkins responded in strong fashion with a much improved performance in the five-day race series in Madrid, Spain.
His endeavours across the series were rewarded with two eighth-place finishes from the opening three stages as the 22-year-old Equipo Essax rider went on to finish in 62nd place overall.
"I returned from my time back home in Bermuda and I was super motivated to get back to racing again," Hopkins said. "The series in Portugal didn't quite go to plan after I suffered some bad luck on the first day getting caught up behind a crash.
"That made the whole series difficult from there and I was never going to be able to challenge in the overall classification but I managed to help the team.
"However, in Madrid I got off to a really good start finishing eighth in the opening time-trial, which was a great start and it gave me a lot of confidence again.
"Other races didn't really suit me such as the big climbs, but I managed to secure another eighth-place finish on the third day in more rolling road race, which was pleasing. It meant I had two really strong rides from the opening three days.
"Overall, I thought it was a really encouraging performance. I don't always focus fully on the [general] classification because I know due to my climbing that I won't be in contention overall.
"I prefer to focus on the one-day races and individual stages, and securing two eighth-place finishes was really pleasing.
"There was around 40 riders who didn't finish the series at all, so that's also encouraging from my point of view that I managed to finish every stage and gain some strong results."
He added: "My aim since I came out to Spain was to keep on progressing and improving, and I think I'm doing that for sure."
Hopkins will now look to build on that encouraging momentum as he aims to successfully defend his elite men's and under-23 time-trial titles at the combined Pan American and Caribbean Cycling Championships in Dominican Republic from August 11 to 15.
"I have a little time off now to focus on the weaker parts of my riding before two races here ahead of travelling over to the Dominican Republic for the Pan American and Caribbean Cycling Championships," he added.
"I'm aiming to defend the titles I won in Cuba back in 2019 and I'm particularly confident in the time-trials because I've had success in that discipline over the years."