James Holloway seals second successive series triumph
Created: Feb 16, 2022 07:47 AM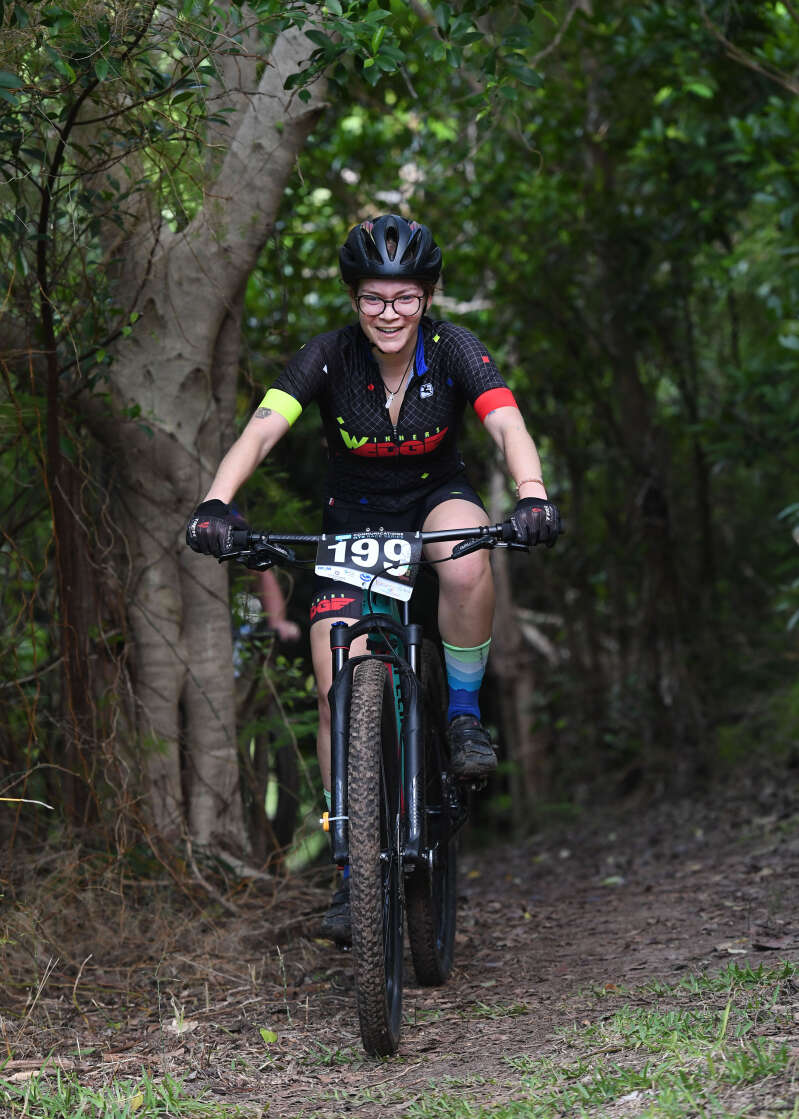 James Holloway made it back-to-back victories in the One Communications MTB race series after prevailing in round six at Southlands Park.
Building on the momentum of his success in the previous round at Hog Bay Park last week, Holloway again came out on top in the Male Open 60 Minute class, mastering the challenging conditions to complete seven laps in a time of 1hr 4min 57sec.
He was slightly more than 30 seconds ahead of his nearest rival Chris Nusum, who also completed seven laps in 1:05:25, narrowly ahead Hans Hirschi's time of 1:05:31 after the same amount of completed laps.
Cassandra McPhee put in a commanding performance to claim a dominant victory in the Female Open 60 Minutes class. Contested by only three competitors, McPhee came out on top, completing five laps in a time of 1:03:03. She was slightly under ten minutes clear of second-placed Ashley Robinson, who also finished five laps of the course, while Jennifer Wilson was unable to continue, having completed two laps.
It also proved a hard fought affair in the Male Open 30 Minute class where Wendell Burrows ultimately prevailed over Sherman Darrell and Justin Horsfall. All three managed to complete four laps but it was Burrows who took victory in a time of 35:16.
There was also a comfortable victory for Jennifer Lightbourne in the Female Open 30 Minutes class. While all competitors managed to complete three laps of the course, it was Lightbourne who came out on top in an impressive winning time of 32:12.
Her nearest rival, Christine Soutter, crossed the line more than 30 seconds behind, with Zina Jones completing a further 35 seconds behind in third.
One of the rides of the day came in the Male 13 to 16 class, where Jackson Langley stormed to a commanding triumph.
Each of the top three riders completed four laps, but no one could come close to Langley's time of 33:05, as he finished more than three minutes ahead of Gordon Smith and Wyatt Hall.
Of the two riders competing in the Female 13 to 16 class, S'Nya Cumbermack prevailed over Skye Ferguson, completing three laps in 36:55, two minutes ahead of her rival.
Makao Butterfield clinched the race win in the Male 12 and Under class, completing six laps in 15:57, ahead of Jeon Wolfe and Ray Richardson, while Kelise Wade came out on top in the Female 12 and Under class, managing a total of six laps in 17:23.
Daisy Langley settled for second place having managed five laps in 18:06, with Journee Belboda, third, finishing a lap less in a time of 18:11.
Hannes Swart came out on top in the Male Eight and Under class, completing seven laps in 16:54, while namesake Ava Swart won the Female Eight and Under class, with a total of six laps in 16:21.