Kaden Hopkins endures challenging race series in Navarra
Created: Jun 03, 2022 08:08 AM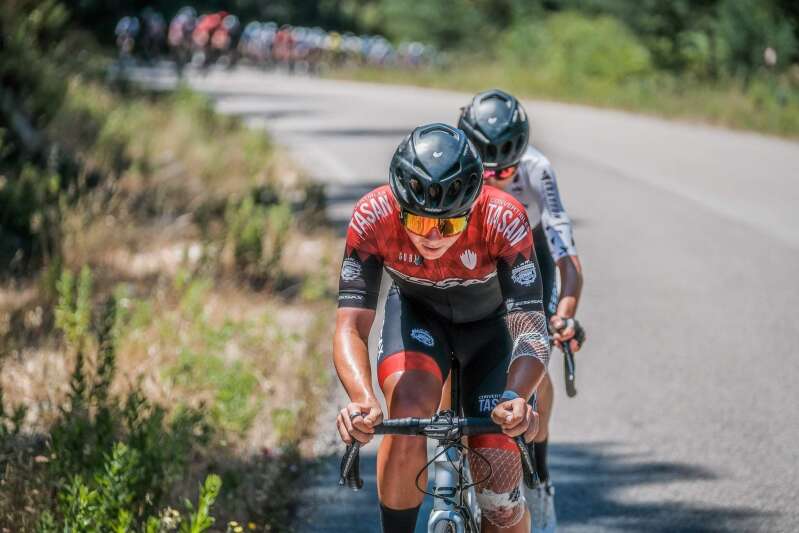 Kaden Hopkins was forced out his comfort zone after completing a challenging Vuelta Navarra race series in Spain.
Due to a combination of the Vuelta Alicante series ― which Hopkins was originally scheduled to compete in ― being postponed until September and a bout of illness among the Equipo Essax ranks, the 22-year-old was drafted into the team for the four-stage series in Navarra instead.
Despite not being particularly best suited to the gruelling climbs throughout each of the stages, Hopkins gave a valiant effort to best support his team-mates and ensure he progressed through each day to complete the series.
Stage one, over a distance of 162 kilometres saw the Bermudian finish in 131st place in a time of 3hr 35min 59sec, just more than 20 seconds adrift of stage winner Oliver Knight.
He improved upon that in stage two, covering a distance of 163.5km, crossing the line in 95th place in 5:01:12, slightly more than 13 minutes behind Alejandro Franco.
A challenging 134.5km third stage followed with Hopkins finishing 102nd in a time of 4:11:46, more than 30 minutes behind Marcel Camprubi.
However, he enjoyed his best performance in the final stage, over a distance of 125km, finishing 79th in 3:20:53, marginally less than 15 minutes adrift of stage winner Pablo Garcia.
His endeavours saw him claim a 95th-place finish overall in an total time of 16:19:50. Andrew Vollmer took the overall classification victory in a combined time of 15:10:55.
"It wasn't a race I was originally scheduled to be doing," said Hopkins. "There was also some illness in the original team line-up so I was asked to step in. It is a race purely for climbers so I was going in as more of a helping role.
"It was a really tough four days with incredibly high level of competition, but it was a good experience.
"I helped the team as much as I could throughout the stages and then just made sure I finished to help again the next day.
"I'm heading to Valencia for a race called the Ronda Maestrat on Sunday that is more suited to me so I will be looking to be a lot more competitive there."