Nick Pilgrim denies Conor White clean sweep
Updated: Jul 05, 2022 10:05 AM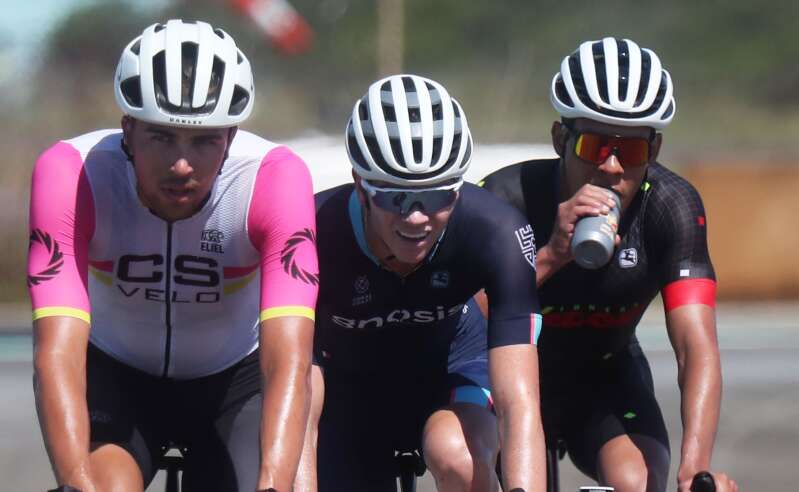 Nicholas Pilgrim and Gabby Arnold were crowned the CG Insurance Bermuda National Criterium champions at the Bermuda Motor Sport Track at Southside yesterday.
Pilgrim, of Team Gnosis, edged favourite Conor White, of CS Velo, in a three-man sprint to the line that also involved triathlete Tyler Smith, of Winners Edge, as he took the Men's Open title to deny White a clean sweep of national titles in the closest of finishes.
White had won the time-trial and road race titles in the previous two weekends.
Pilgrim clocked 1hr 0min 44.707sec to edge White by a mere six hundredths of a second in 1:00:44.713, while Smith completed the podium places in 1:00:45.666.
Chris Nusum, Toby Wright and Wouter Aarts were the other three finishers in that order in an open field of just seven competitors as Alex Pilgrim withdrew midway through. The category was depleted by the absence of several top competitors.
Kaden Hopkins and the injured Dominique Mayho did not compete while Liam Flannery, Alexander Miller and Nicholas Narraway are representing Bermuda at the inaugural Caribbean Games in Guadeloupe.
Even so, the 19-year-old Pilgrim savoured the victory.
"I knew Conor and Tyler were way stronger than me so if I attacked and got dropped then I knew I would have to sit on Conor, who I think is the strongest," Pilgrim said. "I didn't do much in any other part of the race, just sat in. Conor is obviously really strong, so I'm happy with that.
"It was sprinkling but once it dried out it was good. Staying upright was the most important thing."
White took the loss in stride, with second still representing a good performance for him.
"You can't win all the races, and with only seven guys in the race there is only so much you can do," White said. "The first 15 minutes it was raining, so the course got really slick and all of us had sliding back wheels, so it made attacking really hard.
"In the sprint finish with the headwinds I tried to go late and I know, no matter what, Nick's always got a good sprint.
"I was on the winning side of it last weekend and this weekend I was on the losing side, that's how it happens.
"He was on my wheel in the sprint and with the headwind and riding in the draft for so long he had a bit of an advantage.
"He rode a really smart race, it's good to see him win. Three wins would have been nice but two is still great!"
Smith enjoyed the race, even though he lost his sunglasses inside the final 100 metres, and getting distracted briefly as he glanced over his shoulder.
"By the time that happened those guys were coming by me anyway," he said. "I knew they had a better sprint than me, I was just trying to make it a hard race from the start, but after about 45 minutes I knew it was going to come down to a sprint.
"For me this was a good training session, I haven't gotten in as much racing in triathlon as I would have liked before Commonwealth Games.
"There is a different element to racing than it is to training, I had a training session scheduled anyway and when I saw that this was on, I signed up yesterday."
Smith, who is in university in Leeds, flew back to England last night and will join up with the Bermuda team in Birmingham this month for the Commonwealth Games.
Arnold marked her first race in Bermuda in a couple of years with victory in the Women's Open category, taking the title in the absence of the highly fancied Caitlin Conyers.
"I took a solid two years off just to focus on my goals outside of cycling, now I'm back racing," said Arnold, who is a teacher in Indiana. "In America it is mainly just crits, that's where the money is, so I'm glad this happened to be a crit. I just got back on the island yesterday, it feels good to be back.
"In America, I started serious riding again this season, racing with my team, Upland, and guest riding for some professional teams."
Arnold clocked a time of 46:21.653 ahead of Ashley Couper, in 47:31.420, while Jennifer Lightbourne and Elizabeth Stewart were third and fourth.
Steven Smith was the Male Masters winner in a time of 44:09.213, just ahead of Tracy Wright in a close race as Wright finished in 44:18.990 while Otis Ingham was third in 45:11.576.
Cameron Morris is the Junior Male (15 to 18) champion after edging out Tommy Marshall in a time of 44:58.914.
Annabelle Miller won the Junior Female category after her time of 47:33.432 while Charlotte Millington was second in 47:44.963.