Kaden Hopkins and Caitlin Conyers named riders of the year
Updated: Feb 24, 2023 07:57 AM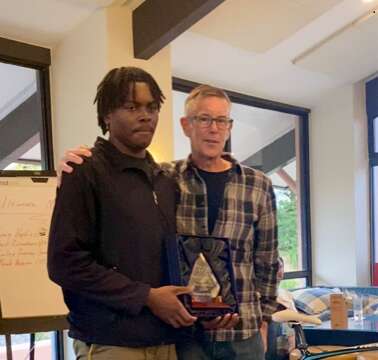 Kaden Hopkins and Caitlin Conyers have been rewarded for a stellar 2022 by being named male and female riders of the year at the Bermuda Bicycle Association's annual awards.
Hopkins, who competes with French development team Vendée U in Europe, finished 13th in the under-23 time-trial at the Cycling World Championships in Australia, and eleventh in the Time Trial and fourteenth in the road race at the Commonwealth Games in Birmingham, England.
The 22-year-old also secured gold medals in the elite and under-23 individual time-trial at the Caribbean Championships in Dominican Republic, where Conyers claimed silver in the women's elite time-trial.
"If you look at Hopkins's results in the Commonwealth Games in England, where he was the top finishing amateur in the time trial and in the road race he was in a breakaway with some of the world's best riders and his World Championships time trial results in Australia, Bermuda has raised eyebrows in the world of cycling," said Peter Dunne, the Bermuda Bicycle Association president.
"This year's award winners were not alone, with Conor White, Nicholas Narraway, Liam Flannery, Alexander Miller, Caitlin Conyers, Gabby Arnold and Robin Horsfield all racing overseas at extremely high levels."
A well as the senior riders there were awards for those following in their slipstream with Charlotte Millington announced as the 2022 Junior Rider of the Year.
The promising cyclist received the award after capturing gold medals in the time trial and road race at the Caribbean Junior Championships in the Dominican Republic along with the Bermuda National Junior title.
Cameron Morris and Matthew Ringer were voted as Most Improved Junior and Adult Riders.
The association also recognised those who make a valuable contribution behind the scenes.
Dominique Mayho, received the Club Person of the Year Award for managing the island's Commonwealth Games team alongside the various other duties he performs on a voluntary basis.
Jennifer Lightbourne was presented with the Race Organiser of the Year and Charlie Thresh the Race Official of the Year.
Bermuda Rouleurs Cycling Team achieved an impressive treble after being announced as the winners of Movember Bermuda Sportsmanship Award for the third successive year.
The team received the independent award, presented annually to the sports team or club that raises the most funds in November in support of men's cancer initiatives in Bermuda, for their community ride
"Overall, the future of cycling is looking bright," Dunne said. "The Bermuda Bicycle Association wishes to thank their riders, teams, officials, sponsors and supporters for a fantastic 2022."