Mark Robinson makes triumphant return to win time-trial
Updated: May 22, 2023 05:16 PM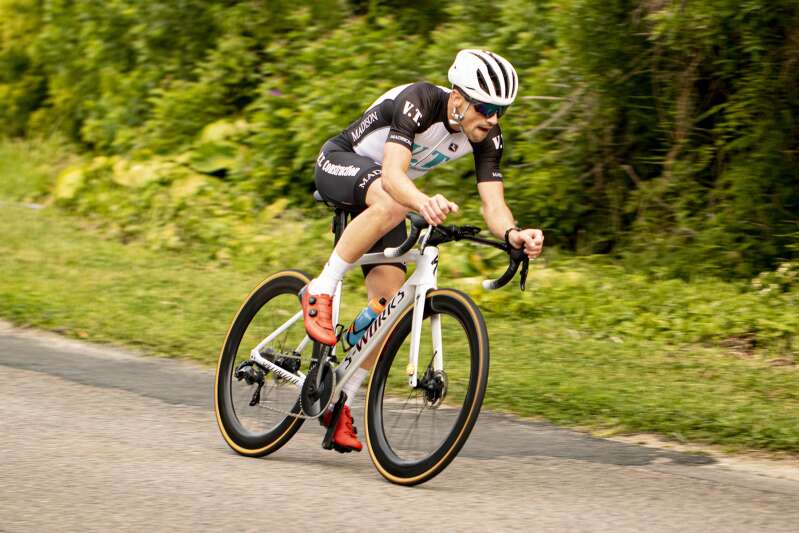 Mark Robinson made a sensational return to racing by clinching victory in the VT Construction Time-Trial on Sunday.
A total of 40 competitors took on the challenging two-lap course around Harrington Sound, with the junior riders racing a lap less.
Amid overcast and humid conditions, Robinson came out on top in the A category race, crossing the line in a winning time of 36min 26sec, a little under 30 seconds faster than Jamie Cousins (36:53), with Jackson rounding out the podium places in 38:31.
In the B category, Geoff Smith emerged victorious crossing the line in 37:29, the third-fastest time of the day. Ian Henderson took second place in 39:39, slightly faster than Darren Glasford's time of 39:48.
The women's category witnessed an outstanding performance by Maddie Durkin, who not only secured sixth place overall but also claimed the top spot in her category in a time of 39:19.
Liana Medeiros (41:59) secured second place, closely followed by Charlotte Millington (42:01).
In the highly competitive C category, Kent Richardson came out on top, with a strong performance, securing fifteenth position overall with a commendable time of 42 minutes flat.
Paulo Medeiros finished second in 42:10, narrowly ahead of Yan Leclerc, who clocked 42:32.
The youth categories also featured impressive displays, with Jens Drea claiming top spot in the Youth 11-12 category, in a winning time of 22:16 ahead of Daisy Langley in 31:11.
In the Youth 13-14 category, Makao Butterfield displayed his strength and skill, securing the first-place position in 21:53, to beat with Sanchez Smith by exactly a minute.