Government must stand firm on union law
Created: Jun 16, 2021 08:00 AM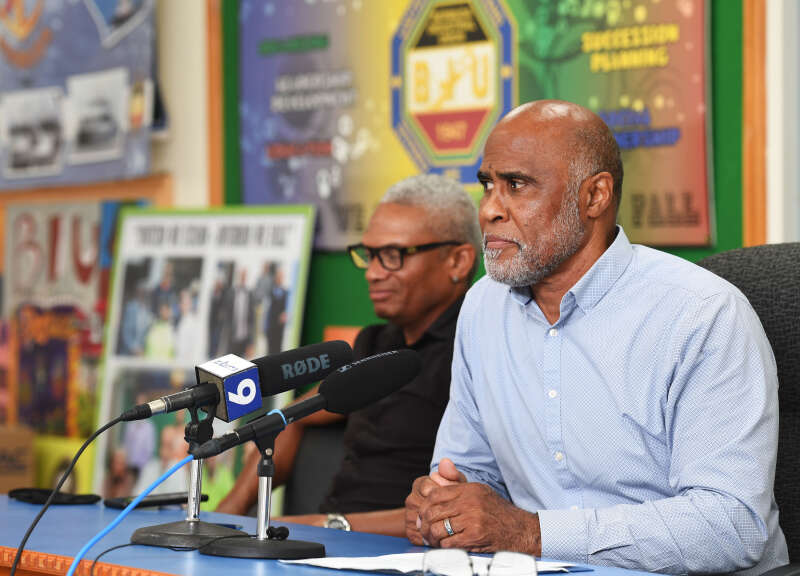 The Bermuda Industrial Union's work-to-rule and overtime ban will do the union more harm than good.
But that may not stop it from escalating the dispute, and causing harm to the wider community on an issue where it has neither right nor logic on its side.
What is critical is that the Government should stand its ground.
When the Government, through Jason Hayward, the labour minister, brought forward the Trade Union Amendment Act late last year, it achieved a long overdue consolidation of Bermuda's labour legislation.
There was plenty for the unions to like, not least the provision that non-union members who were in agency shop bargaining units would now be required to contribute part dues to the union. This would improve the unions' revenue streams immeasurably, especially where the employer was deducting and delivering the dues.
But the union objected to entirely reasonable reforms to the process of decertification, which would have made it a little easier for workers who no longer wished to be represented by the union to part ways.
Under the legislation proposed last year, workers were given the right to decide whether they wished to remain in an agency, or closed, shop. If 35 per cent of the employees covered by a collective agreement said they wished to decertify, this would trigger a decertification ballot. If more than 50 per cent of the workforce voted to leave, this would lead to decertification. Where 60 per cent signed the initial application to decertify, it would be automatic without a ballot.
When the unions protested, Mr Hayward and the Government agreed to change the law so that only union members had standing to trigger the ballot. This was done on the slightly dubious basis that it would prevent frivolous but doomed annual decertification applications.
it is debatable whether the Government should have given ground on this; after all, since non-unionised employees were being forced to contribute to the union to which they did not want to belong, they should have the right to say they wished to cut ties.
It also created a situation in which, taken to its logical end, one surviving union member in a closed shop could force the remaining 99 non-unionised workers to remain. Of course, union members could join for a year and then sign to leave, but it would be simpler and fairer to let everyone have a vote from the start.
Be that as it may, the Government decided discretion was the better part of valour on this and gave way in a spirit of compromise.
But it rightly stood firm on the principle that all employees covered by a collective bargaining agreement should have the right to vote on decertification and whether they wished to be represented by the union. That is entirely democratic and fair.
The Bermuda Public Services Union opposed this along with the BIU at first, but has since accepted the change.
But the BIU has not. In addition to some changes in the percentages described above, it wants only union members to vote for decertification, which would be like allowing only members of one party to vote in a General Election.
The union argues that its survival depends on this. If non-union members were allowed to vote, decertification would follow and the union would lose its reason for being — to represent unionised workers.
This begs the question of why the union has so little confidence in the employees it purports to represent. If the workers were happy with the representation they were receiving, they would be happy to pay their dues and remain with the union.
In part the union is a victim of its own success. Many of the rights and benefits it fought for — from vacations to overtime to health insurance — are now guaranteed by law. So the union primarily exists to negotiate pay increases and the like.
But Bermuda has been in recession for ten years and has been largely blessed with low inflation during that time. Many employers in labour-intensive industries have had little ability to raise wages — there has been much more of an effort to limit redundancies, especially in the wake of the Covid-19 pandemic.
Further, and this is not universal, many employers are hardly Scrooge-like. Most understand that financially secure employees are happy and productive employees. There's a degree of self-interest, to be sure. The employee who is not worried about where the rent money is going to come from will be more focused on their work. But within the parameters of the success of the business, most employers want their employees to do well and to be content.
So this leaves less room for unions than was once the case. But they do not have an automatic right to survival and it is not the Government's responsibility, even a labour government's, to make it so.
Regardless of its political beliefs, the Government must be an honest broker between unions and employers, and indeed, between unions and workers. It has an obligation to ensure that the rights of all — union members and non-union members alike — are protected.
The Government should have given non-union employees the ability to take part in triggering a ballot but did not. But it is correct to stand its ground on who should take part in a decertification vote.
Now comes the hard part. So far the union's work-to-rule and overtime ban will have a relatively limited impact on the community. But the union has other weapons in its arsenal and may decide to use them — if it feels it can win.
It needs to be made clear to the union that it will not, and if it really thinks its survival is at stake, it would do better to make sure its own house is in order rather than relying on undemocratic changes to the law to keep it in business.