Economic growth: there is still a long way to go
Created: Sep 30, 2022 11:30 AM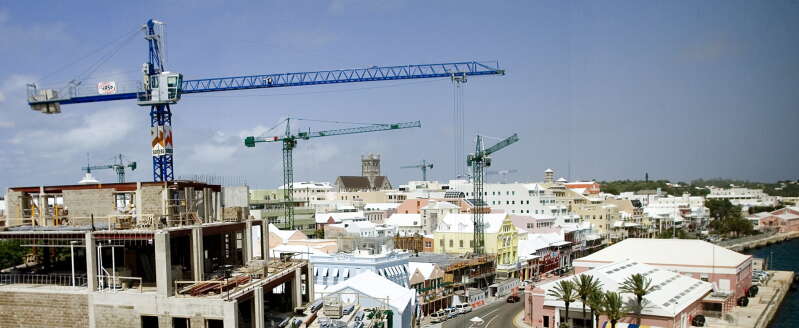 Bermuda's economy grew by 5.4 per cent in 2021, according to Jason Hayward, the economy and labour minister.
While the minister, in releasing the gross domestic product figures for last year, conceded that the economy at $6.3 billion had not recovered to pre-pandemic levels in 2019, he asserted there was a "strong platform" for further economic growth.
He also said he believed that continued jobs growth in 2022, based on tax returns, suggested the economy was continuing to strengthen.
No doubt when David Burt, the Premier, delivers a statement on the economy to MPs today, these figures will be repeated and amplified.
To be sure, any economic growth is welcome, especially as Bermuda tackles high inflation and other economic challenges. It is correct that economic growth is the best way to ensure people are able to deal with these challenges.
But the public should beware of too much gilding of the lily — the reality is that the Bermuda economy has a long way to go to get anywhere near full speed after more than a decade of stagnation and inertia.
The economy remains smaller than the $6.45 billion that was recorded in 2019, but the reality is that was no great shakes, either, as it was smaller than the $6.46 billion achieved in 2017, the year of the America's Cup.
Before then, you have to go to 2012 for a year when the economy was bigger, and that too was very poor in relation to 2007, when the economy was $7.88 billion — 20 per cent bigger than it is today in constant prices.
This is a dismal record and it is no surprise that today people are struggling to get jobs and to make ends meet.
The overall growth in the economy also has to be set against the decline in employment as well, a seemingly contradictory situation. In fact, employment dropped by 1,111 jobs or 3.4 per cent from 32,427 jobs in 2020 to 31,316 in 2021.
Many of the jobs that were lost were in the hotel and restaurant industry owing to the closure of the Fairmont Southampton and cuts at the Elbow Beach Hotel. That drove employment in the sector down from 3,951 to 3,076 between 2020 and 2021. But in fact, employment in the sector was 4,691 in 2019, so employment in this sector has dropped by 34 per cent from pre-pandemic levels.
While there may be specific reasons why jobs have vaporised in the tourism sector, the island has been experiencing declining employment for more than a decade.
In 2008, there were more than 39,000 filled jobs. In 2021 there were just over 31,000, so one in four jobs in Bermuda has disappeared in a decade and a half.
For all of the claims of growth, the reality is that there are vastly fewer job opportunities than there were a decade ago; it is no surprise that Bermudians are leaving or are not returning from overseas education.
But Mr Hayward insisted that there is more jobs growth happening in 2022.
He said: "Notwithstanding the lagging 2021 employment numbers, the Government is confident that there has been improvement in the employment landscape in 2022."
Mr Hayward undoubtedly has access to more up-to-date statistics than this newspaper. But the Quarterly Bulletin of Statistics for the first quarter of the year showed that payroll tax returns for January to March had fallen compared with 2021, which suggests that employment was down.
Clearly, tax revenues need to be taken with a grain of salt, as one or two large employers filing early or late can skew the results.
Against that, first--quarter GDP expanded by 3.9 per cent, although that has to be set against a contraction in the same period in 2021, when Bermuda was still grappling with Covid-19 lockdowns.
And retail sales have also been dismal in 2022, declining in four out of six months since the beginning of the year. While overseas purchases have been robust, suggesting people are moving their purchasing from Bermuda retailers to online shopping, this has worrying ramifications for employment and other forms of economic activity.
While the Government will try to sell the idea that the economy is improving, the overall picture is much more mixed.
Its refusal until now to drop the Travel Authorisation fee, regardless of its merits from a health perspective, has stifled the tourism recovery — as has the continuing disarray in the Bermuda Tourism Authority.
International business is the one bright spot, having seen strong growth. This has come largely on the back of expansion in the life reinsurance sector, which has quietly become a powerhouse. The financial technology sector, which has received much more care and attention from the Government, has not seen the same kind of growth. There is a lesson there for those who care to look.
But even then, increases in jobs lagged economic growth. The international business sector grew by 8.4 per cent in 2021, but employment increased by 4 per cent. Perhaps that is a sign of an efficient industry, but it seems more likely that while the sector is growing in Bermuda, it is adding jobs elsewhere.
To be fair, in 2020 the sector was flat in terms of growth but added jobs. What is certain is that it now has as many people working in it as it did in 2007, but now makes up 14 per cent of the workforce compared with 11 per cent then. Bermuda is becoming more dependent on international business, not less.
Indeed, where the Government does seem to be falling short is in its economic recovery programme. There is no final agreement yet on the reopening of the Fairmont Southampton, casino gaming remains unborn, an announcement on vertical farming, which remains unproven, is now said to be weeks away.
Many of these stimulus programmes were announced more than a year ago, and yet remain on the drawing board. Others, such as the arbitration centre, are simply holes in the ground.
Defenders of the Government will argue that these are exceptionally difficult times to be carrying out economic revitalisation, and they would be right. But in the coming days, there will be claims that the Bermuda economy is recovering. The truth is more complicated.