Students have their eyes opened to career choices
Created: Oct 24, 2013 09:00 AM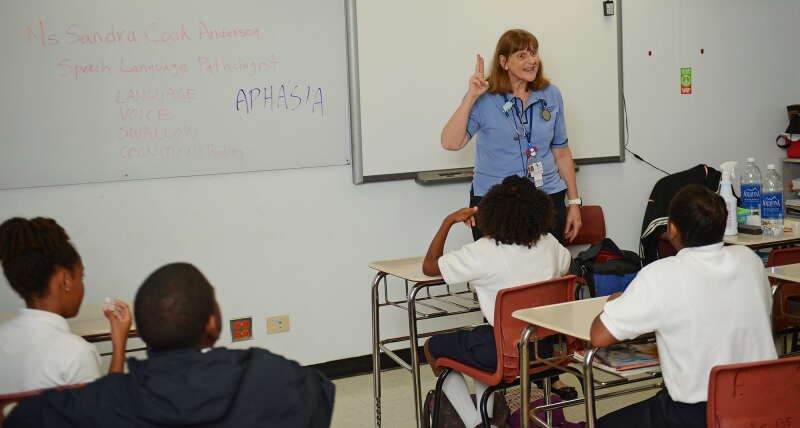 Working professionals in the field of medicine and the hospitality industry gave first-hand accounts of the work required in their careers to students at TN Tatem Middle School's first careers day.
Representatives from the Bermuda Hospitals Board and Fairmont Southampton Resort were invited to meet with students to discuss the challenges and rewards of their working lives.
The goal was to boost students' interest in career choices.
School counsellor Melvina Warren, who organised the day's activities with counsellor Robin Tucker, said: "Most of the children always talk about becoming accountants or something like that. They don't generally think about careers in nursing or becoming an emergency medical technician or a radiologist.
"We had people talk to them about cardiac pulmonary resuscitation and blood pressure checks. In hospitality they all seemed to enjoy the food demonstration that will also be lunch."
She added: "It's a good opportunity to teach outside the classroom and keep the students engaged. And it's important because students don't often make the connection that it's important to start thinking about their future now. That's why their grades are so important."
She stressed that "it's never too early to start preparing for future careers, especially now with the economic crisis".
"We have to prepare much earlier now. Careers Day is a way to get the children exposed to the different careers available on the Island at an early age so that they can make better choices. I think today's event was a success," she said.
The school will conduct a survey over the next few days to find out what the students found most interesting about the session and why.
"It will also ask if they decided on a career choice change as a result of Careers Day. We're looking forward to the results."
The event was a collaborative effort by the school, BHB and the Bermuda Hospitality Institute's Life Skills Programme.
The programme, facilitated by 40 hospitality industry volunteers representing over a dozen organisations, was launched in seven schools in the spring term of 2012. It has grown to cover 14 schools, with TN Tatem Middle School being one of the most recent schools to enrol in the programme.
Primary and middle school students learn hospitality skills and how they can be used through presentations and interactive discussions.
Spokeswoman Karla Lacey said: "Volunteers from the Fairmont Southampton have played a big part in the programme since its inception.
"We are thrilled with the programme they've put together for the school's career day."
The keynote speaker at the morning assembly was Echaunti Swan, Miss Hospitality and runner-up in the Miss Bermuda Pageant 2013.
BHI is a non-profit organisation with a mandate to lead and encourage the development, growth and sustainability of Bermudians in the Hospitality industry.
To learn more about BHI or to get involved in the Hospitality School Programme, visit www.bhi.bm.