Student eye doctor to use scholarship to bring skills back to the island
Created: Aug 12, 2021 07:55 AM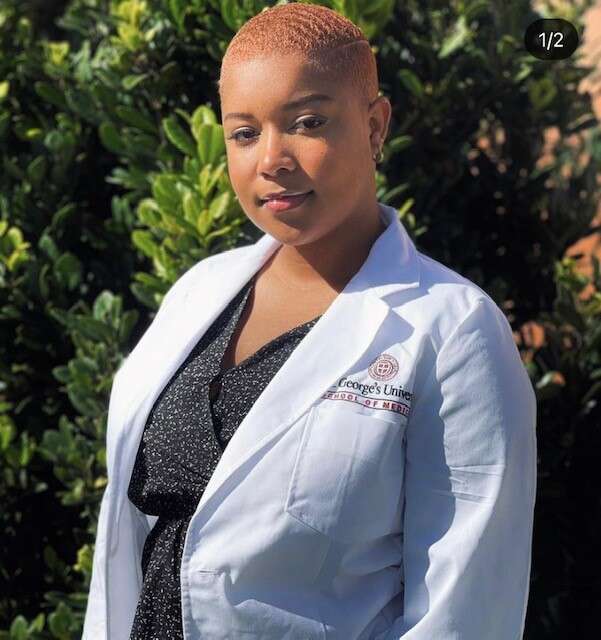 An annual $5,000 medical scholarship in memory of a top eye doctor has gone to a Bermudian student looking to bring her skills back to the island after qualifying at a top Caribbean medical school.
Deja Tucker, 23, said the Bermuda International Institute of Ophthalmology (BIIO) scholarship honouring the late Leonard Teye-Botchway would assist in getting her established as a practising physician.
Ms Tucker, from Devonshire, said she had learnt working alongside Dr Teye-Botchway, who died in 2019.
The Berkeley Institute graduate got an Associate's degree in Science at the Bermuda College.
She attended Mount Saint Vincent University at Halifax in Nova Scotia, Canada, where she graduated last year at the top of her programme, majoring in biology and minoring in neuroscience.
Now she is working towards her Doctor of Medicine Degree at St George's University in Grenada, class of 2025.
Her interest in the field came from wearing glasses at an early age, becoming "fascinated with the technology used and curious as to how it worked".
As a Bermuda College student, she worked with Wannitta Benjamin-Smith, the head practitioner at SPEXX eye care in Hamilton, who introduced her to Dr Teye-Botchway after noticing her interest in ophthalmology, which targets diseases of the eyes.
She said: "I got the awesome opportunity to shadow Dr Teye-Botchway at the Bermuda International Institute of Ophthalmology during my summer breaks from school.
"My time at BIIO gave me clarity that this was a path I wanted to pursue."
She said shadowing Dr Teye-Botchway was a chance to learn not only about ophthalmology, but "proper bedside manner and patient interaction".
"I also was able to watch him perform minor operations and laser procedures.
"I was in awe working under Dr Teye-Bothchway and inspired by his contribution to ophthalmology in our community. Being able to work first-hand with him and having him answer my questions on the topic was very special to me."
She also shadowed locum surgeons.
"This experience gave me the confidence I needed for pursuing my career in medicine.
"Interacting with the patients also encouraged me because they often expressed that they would be looking out for me and are rooting for me."
Ms Tucker said her eyes were set on a few different teaching hospitals after graduating from St George's University.
She added: "I have yet to make that final decision because I have a bit of time before I get there.
"Ultimately, the goal is to return to Bermuda and serve my country in the best way that I can."