Primary pupils get in the swim to raise funds for school
Created: Mar 05, 2022 07:58 AM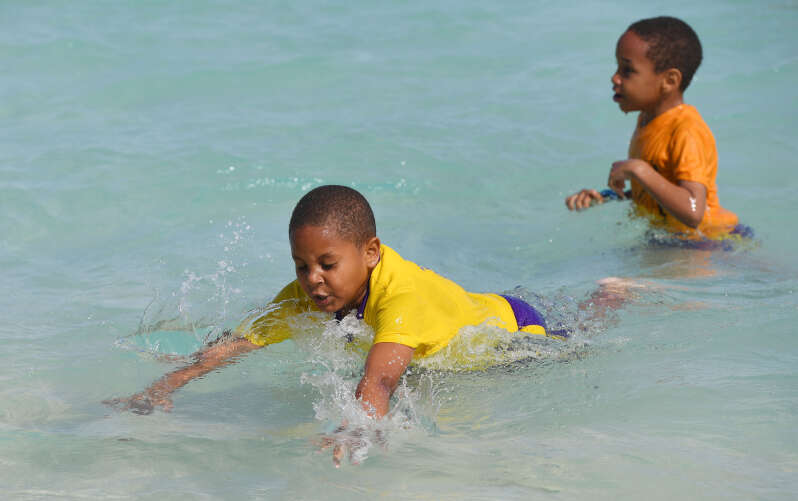 Pupils at a St George's primary school braved the waters off Fort St Catherine yesterday afternoon to raise funds for their parent teacher association.
The youngsters from East End Primary took part in the Polar Bear Swim at the beauty spot to raise funds for outdoor equipment, computer equipment and improvements to the wi-fi system.
Jamie McCrae, the PTA vice-president, said: "It was very successful and the kids had a great time.
"We stayed Covid conscious and kept everyone in their class bubbles. We were happy that large group gatherings was increased to 200 today, which meant more parents could come along and be participants or cheerleaders.
Ms McCrae added: "They all had pledge sheets to raise money. We have not tallied up everything yet but the rumour is one kid raised $1,000 alone.
"There are 68 children in the school and about three quarters took part so we are excited to tally everything up.
"We wanted to raise money for the outdoor equipment so that in this Covid environment the children can have more classes outdoors and be able to connect with nature."
The pupils were awarded prizes for the best costume and most money raised.
They were joined in the water by school staff, including Julie Foggo, the principal.
The area's St Regis hotel sponsored the event, and treated the children to hot chocolate and cookies as they emerged from the sea.
A spokeswoman for the hotel said: "As part of Marriott International's Serve 360 initiative, The St Regis Bermuda Resort was delighted to host the East End Primary School's Polar Bear Swim.
"It was a great afternoon, where schoolchildren, teachers and parents came together to enjoy this annual tradition."