Minister's relief as popsicle stick bridge takes the strain
Updated: Aug 25, 2022 07:38 AM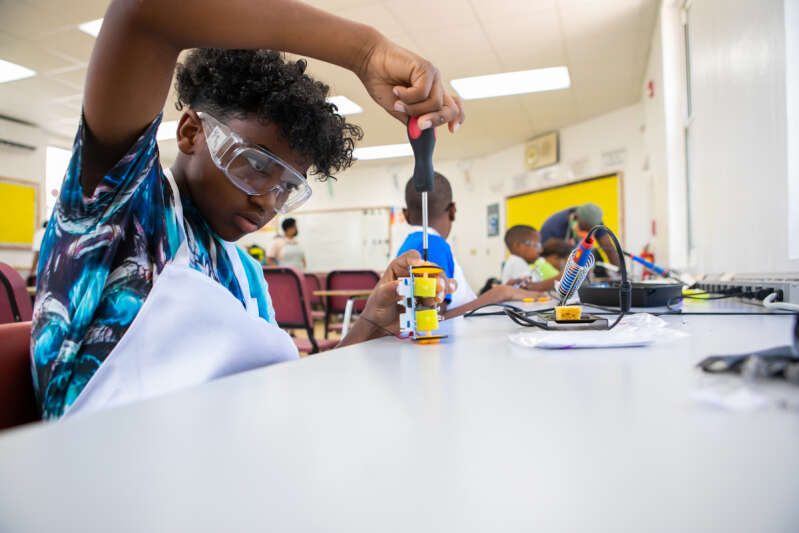 Education minister, Diallo Rabain, was relieved that a bridge built of popsicle sticks, glue and string by students could hold his weight when he walked across it.
The unusual structure was created by students on the 2022 STEAM Academy programme to enhance team building skills and precision.
The Academy is a summer initiative facilitated by the Education Department for students aged between nine and 14.
Mr Rabain said: "I enjoyed the challenge of walking across the popsicle bridge built by students of the 2022 STEAM Academy programme.
"I was impressed by how engaging and confident the students were as they assured me that the bridge would hold my weight."
Neville Zuill, lead teacher of this year's STEAM Academy, said: "The purpose of this programme is to develop practical skills in primary and middle school age groups.
"It also allowed teachers to test ideas and initiatives designed for use in the STEM and trades signature learning programme pathways at CedarBridge Academy beginning in September.
"This year, we focused on developing students' skills associated with STEM and trades professions.
"Skills such as carpentry, digital electronics, soldering, concrete and masonry, 3D modelling and printing, and practical maths.
"The students worked on mathematic fractions and hands-on projects such as designing a popsicle stick bridge, bluebird box, wooden chair, remote-controlled tank, concrete pizza oven, solar race cars, soldered microchips, and 3D printed game pieces.
"The final project was a seven-foot long bridge, built from popsicle sticks, glue, and string.
"Students were tasked to design a bridge to span the creek between Dellwood Middle School and Bernard's Park. It also had to be able to support the weight of an adult walking across it.
"The Minister of Education demonstrated that the bridge was indeed a success, as he safely crossed it.
"The rationale behind the bridge project was to illustrate to students the importance of everyone doing their part with fidelity and precision."