Alwyn McKittrick (1937-2022): Students pay tribute to inspirational teacher
Created: Oct 29, 2022 07:53 AM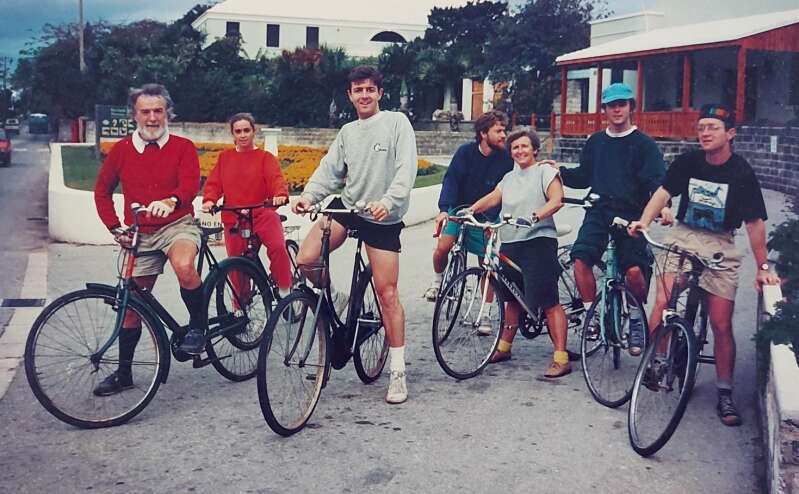 A beloved teacher with a flair for developing character in his students was recalled as an inspiration across decades in the island's classrooms.
Alwyn "Ollie" McKittrick was also one of the founding members of the Teachers Rugby Club in 1961.
Irish-born Mr McKittrick began his Bermuda career in 1960 at the Whitney Institute, moving to Harrington Sound Primary School in 1972.
Mr McKittrick served as a counsellor at St George's Secondary School before heading to the Gilbert Institute primary school in Paget, where he was headteacher.
A dedicated nature and heritage lover, Mr McKittrick had a spell as director of the Bermuda National Trust before returning to teaching at the Bermuda High School.
Tributes online hailed him as an innovative teacher who stoked his students' imaginations.
The father of five found inventive ways to spark his pupils' curiosity, including the use of costume and performance.
"He found ways to encourage kids to learn," his son Tim, who also taught in BHS during the 1990s, told The Royal Gazette.
"If you were learning civics, he would set up a court of law in the middle of the classroom. He would create a scene so the kids could put themselves in it and get a feel for it."
For students who found writing assignments a chore, Mr McKittrick had a knack for "finding ways to make it fun", his son added.
"He used to love writing plays and would teach us how to write them. Say you were learning about the shipwreck of the Sea Venture – he'd tell kids to write their own shipwreck story and read it out to the class."
Mr McKittrick was "always very jovial and positive", his son said, with a keen interest in getting young people to share their feelings on a subject.
"I guess that's part of being a teacher. It inspired a lot of people to open up to him. He was an amazing asset to the community."
Born in County Tyrone in Northern Ireland, Mr McKittrick and his wife, Una, breached the British territory's fierce sectarian lines: he was a Protestant, while she came from a Roman Catholic family.
He was the youngest of four and lost his father at an early age. He was close to his mother and an older sister who helped raise him.
He enjoyed an outdoorsy childhood with hikes in the Mourne Mountains, and developed a love of singing, teaching himself music by ear.
He and his wife, a fellow teacher, left for Bermuda ahead of the deepening violence between Protestant and Catholic communities known as the Troubles that endured until the momentous Good Friday Agreement of 1998.
Speaking to the Gazette after the tenuous peace deal, Mr McKittrick remembered the young couple having to face tough choices in the bitterly divided North.
"We had to get away – it could have been that bad," he said. "There are people who survived, but do you want to do that?"
Their daughter, Tara McKittrick, said her father's Irish character deepened in his absence from a homeland that the couple, with a limited budget as teachers, could seldom afford to revisit.
She recalled him as the ultimate "cool dad" who constructed everything from doll's houses and tree forts to bicycles salvaged from the dump.
"He worked a lot on building character," Ms McKittrick said. "He taught me things from my love of nature to enjoying being in the moment, how to be myself."
Mr McKittrick's love of music came out in family jam sessions on Friday nights, and he fixed up boats, including a repurposed Enterprise sailboat, to take the family for expeditions around Harrington Sound and on camping trips to islands.
He was devoted to the Holy Trinity Church in Hamilton Parish but respected the faiths of others and was a member of the Human Rights Commission.
Ms McKittrick said the religious divide back in Ireland meant she had cousins from different faiths who "grew up on opposite sides of the street but whose paths never crossed" because of the discord in the North.
She added: "My mother's family was the Catholic side – and they absolutely loved my dad."
She said her father could be strict but was devoted to his family, going early to school to be there when his children got home.
Ms McKittrick added that her father's imagination came with a flair for the arts: in 2009 he won an honourable mention in the Charman Prize for an elaborate papier-mache sculpture depicting St David's fishermen hauling a giant catch on to a boat.
Ms McKittrick said he built "epic" floats for the Agricultural Exhibition with his students' parents, and enjoyed reciting poetry.
"I'm grateful for all my dad's work on building character," she said. "He was all about trying to be a good person – teaching us to be good and conscientious."
A service celebrating Mr McKittrick's life is planned for 3pm on Tuesday at Holy Trinity Church.
• Alwyn Laurence McKittrick, a lifelong teacher and former headteacher of the Gilbert Institute, was born on September 29, 1937. He died in October 2022, aged 85.