Warwick Academy steps into future with Stem Room
Created: Feb 22, 2023 07:47 AM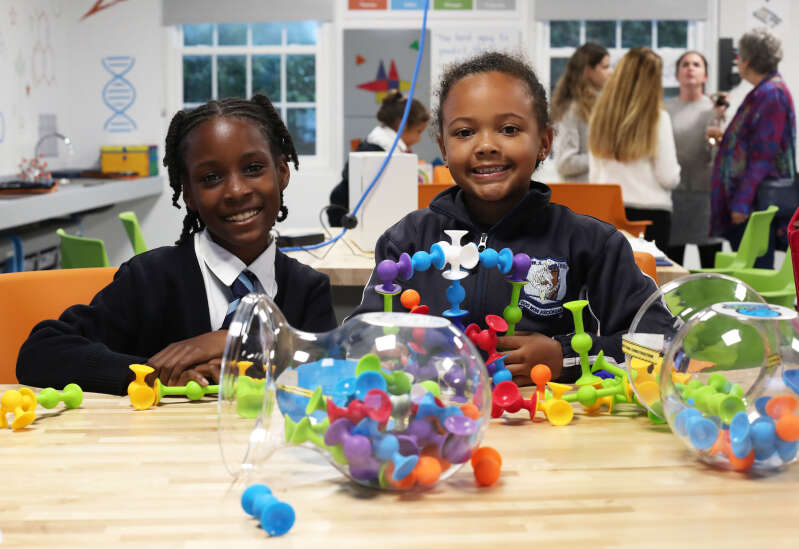 A high-tech $500,000 room to teach science to Warwick Academy pupils was unveiled yesterday.
The Elliott and Gail Rogers Stem Room had its ribbon-cutting ceremony after the school used hundreds of donations to refurbish an existing science room.
Elliott Rogers, one of the school's most prominent donors, said: "In the 21st century, Stem is the way to the future and it's the opportunity for all students here at Warwick Academy to succeed."
The Stem Room will be used by pupils of all age groups as a space for classes, studying and working on projects.
It features advanced tools such as virtual reality headsets and an overhead projector that can created 3D topographical maps in real time, as well as large white boards and tables on which children can draw equations.
Kelly Reeves, the head of science at Warwick Academy, compared the room to the Room of Requirement from the Harry Potter series, explaining that it contained almost everything the pupils needed for learning.
She added that the curriculums tied to the Stem Room will be skill-based and will make things such as programming, robotics and applied sciences much more digestible.
Ms Reeves said: "It's not about what you know but what you can do.
"The other big thing is that it's a space where students can collaborate, and that's a big movement in education instead of students just being dictated to."
David Horan, the principal of Warwick Academy, said that the room was a testament to what the Warwick Academy community can when it comes together.
He said: "We all have one thing in common and that is thinking 'how are we going to benefit our children in the future?'
"It's not about us any more, it's about how our next generation seizes opportunities in Bermuda and the world to strive and achieve."
Mr Horan added: "You have entrusted in us to deliver a world-class education for your sons and daughters.
"We celebrate tonight the hard work and dedication that each of you have brought."