Bermuda Day demonstrates island's resilience - Premier
Updated: May 30, 2021 06:44 PM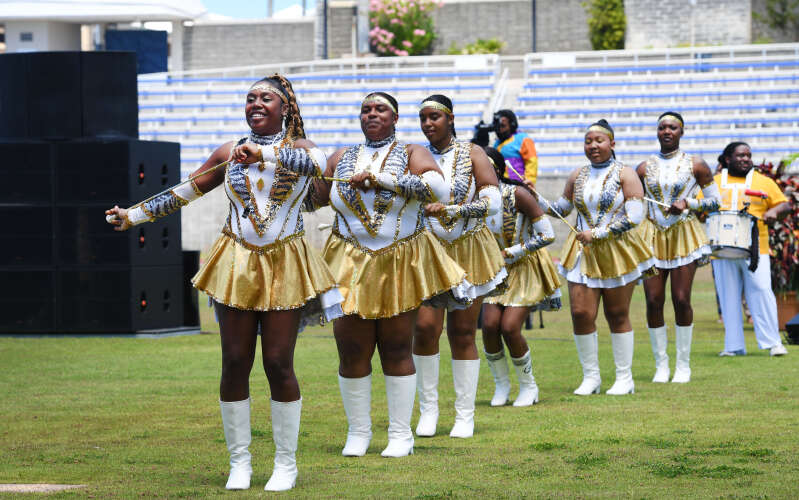 It has been a Bermuda Day with a difference, but the island has still been able to celebrate its national day in some style today.
Although the Covid-19 pandemic meant traditional events had to be scaled down, spectators were still out in numbers to watch the Bermuda Day half-marathon this morning.
And this afternoon dance acts and performers put on some high-energy entertainment at the National Stadium in place of the traditional parade.
David Burt, the Premier, said the fact that both events had taken place at all, showed how far the island had come in battling the pandemic.
He also said that they gave hope for the future and that Bermuda was "reclaiming its summer".
The Bermuda Day Showcase event had been organised for essential frontline workers such as emergency personnel, health workers and teachers.
For many more pictures click here
Ernest Peets, the minister for culture, acknowledged to The Royal Gazette that turnout was low, but that the event – put together in just a few weeks – showed Bermuda was taking "baby steps" in the right direction.
The show's host, Kristin White, whipped up plenty of energy and enthusiasm, reminding the crowd why Bermuda Day is such a special occasion – "a day to celebrate and reflect on why we love our home".
She then introduced a series of acts, including the PHC Majorettes and Drum Corps, singer Brittany 'Brixx' Cox, and Vision Dance School.
Dr Peets later told the crowd that the island had been through "an extraordinary year" because of Covid-19.
He said: "In that sense we've been nimble, innovative and resilient. In fact in that regard, it's quite fitting that this year's Bermuda Day and Heritage Month theme is 'Bermudian Resilience'.
Among the audience was Rena Lalgie, the Governor, and Mr Burt.
Mr Burt said: "Today we are proving that we will reclaim our summer and our normalcy here in Bermuda.
"We must take the time to enjoy our day as we celebrate Bermuda Day, albeit in a different fashion for the first time since 2019.
"We celebrate our unity as a country, we celebrate our heritage as a people, and we celebrate our resilience as a community.
"I know we all look forward to when this period in our history is a distant memory. While remembering those we lost and the challenges that we face, we will tell the story that this pandemic did not defeat this country.
"The 2021 Heritage Month theme is 'Bermudian Resilience' and we have shown that resilience time and time again.
"As we move beyond the pandemic, that resilience will surely continue to be tested but I think it will never be diminished.
"Earlier today we saw Bermudians come out in droves to cheer our runners. A month ago there were those who said ʽpremier, we cannot have this race', and I said 'we will have the Bermuda Day Half-Marathon'. So said, so done, and I was thrilled to see so many of us outside enjoying ourselves."
Mr Burt praised participants for upholding "an important tradition that was sorely missed last year".
"That same resilience is on display today at the National Stadium. In April, when things looked dark and people were saying that we would not be able to do this today, Minister Peets and I said 'we must have a celebration of Bermuda Day and the show must go on'.
"When things are challenging, it is events and gatherings like today that give this country hope for the future.
"I am thankful that we can safely hold this Bermuda Day Showcase and I would like to thank the minister and his team at the Ministry of Youth Culture and Sport for all of their hard work.
"To all of my fellow Bermudians, thank you for your resilience. We are a proud people and we have come through a lot.
"We have shown our resilience and today is a statement to the world that we are reclaiming our summer and that this country will move beyond this pandemic."