Keeping the Gombey tradition alive
Created: Dec 13, 2022 07:46 AM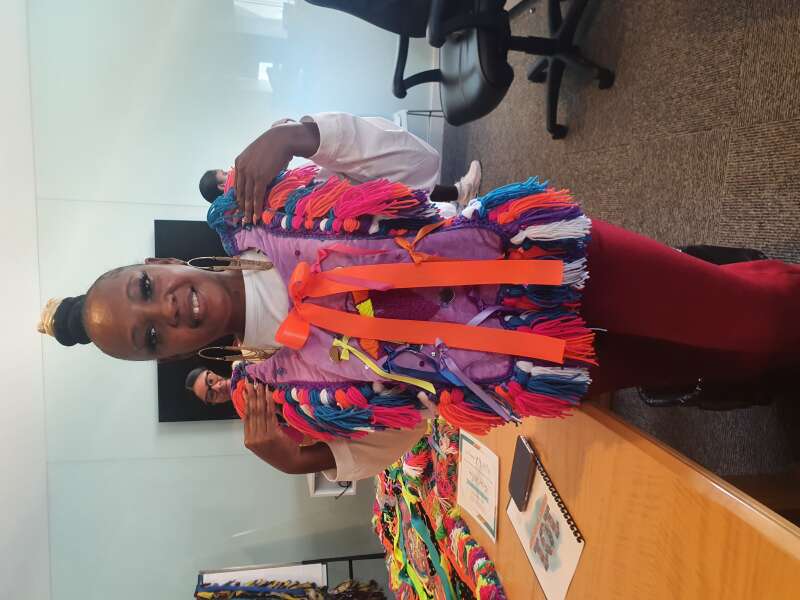 Intricate embroidery and beautiful embellishments adorn the capes of Bermuda's Gombey Dancers and one local artisan has started a class to teach people how to make them.
Kelzine Thompson launched the six-week 101 Gombey Workshop to help keep the tradition of Gombeys alive.
About ten of the first students graduated yesterday, each receiving certificates and booklets about the techniques they learnt throughout the course.
Ms Thompson, who has been making Gombey suits for 40 years, said: "What prompted me to do this class is the fact we are losing our culture. The people who make the suits are the older ones and when they are gone who is going to do it? It is disheartening for me.
"In Bermuda we promote Gombeys so much but we don't have a history on it, no legacy – they might have videos on YouTube but we need Bermudians to come out and talk about the culture and who paved the way to help it to become a tradition.
"I decided to have this class because this tradition needs to live on."
Ms Thompson's mother Elsie Butterfield also made Gombey capes and served as a source of inspiration.
At the start of the course, each student was given a kit with all the materials they needed to make the cape including the velvet, needles and thread, wool, beads and sequins.
The classes covered different stages of cape making from cutting the velvet, deciding on a picture and picking the colours for the embroidery, sewing on the sequins and beads, doing the chain stitch and adding the tassels.
On Sunday they each put the final touch to their "masterpieces" – a ribbon at the back.
'My classmates were phenomenal'
Galvette Waldron-Black: "My son is a Gombey Dancer, he dances for Warwick Gombeys. Just when you think you know everything, there is always something new that can be learnt, I am now involved in a new Gombey group and I wanted to know more about it and get more hands on with it to be able to do things myself.
"My classmates were phenomenal and my teachers were amazing. I really wanted to learn the chain stitch and how to put it all together. I have glued on tassels before but these are all sewn on.
"I chose a diamond for my picture – I was thinking a diamond in the rough – the underdog coming up. Gombeys have always been overlooked and it meant that to me and I also wanted to bring more knowledge to Gombeys. Many people see them and hear the music but don't know what goes on behind the scenes."
Sheree Wilkin said: "I liked learning to do the embroidery, she was teaching us to do it by hand.
"I also really enjoyed learning about the different rules – depending on which troupe you are making the regalia for determines how you actually make it. Some things are universal but each troupe does things differently.
"My family is H & H Gombeys, my son will be dancing for them so I was concentrating on making a cape to their specifications."
Kristopher Trott said: "I enjoyed doing the tassels, bells and the sequins and beads and the chain stitch. I chose pink because it is my favourite colour. My niece can wear it and have some fun. I dance with H & H Gombeys. I also want to make a hat."
The class is held on Sundays in the same building as FedEx at 3 Mills Creek road, Pembroke.
The next cape-making course is begins in January. Ms Thompson will also teach her first cohort of students how to make the skirt and pants.
The six-week class costs $350 and includes all materials and an explanatory book. The students also received certificates of completion.
Anyone interested in the course can e-mail gombeys101@gmail.com or call Ms Thompson on 704-5010
The Instagram handle is @capecentralbda