Teams go to the limit for charity at the Xtreme Sports Games
Created: Apr 24, 2023 07:42 AM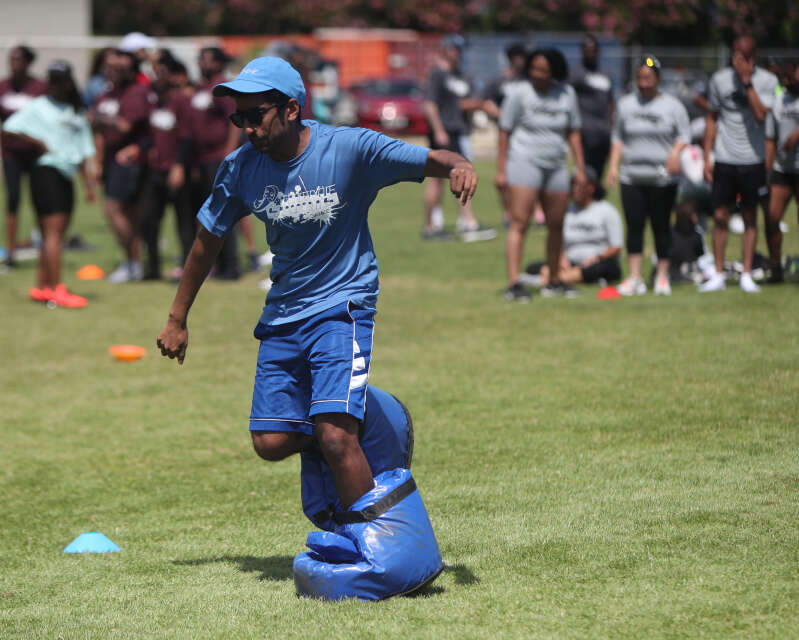 A record 630 people turned out for fun and to do some good for charity when they took part in Saturday's Xtreme Sports Games at the National Sports Centre Niorth Field.
Xtreme Entertainment (Bermuda) Ltd found Marquel Waldron said the annual event was the best ever with 40 companies taking part in the event, which saw them take part in a range of "extreme" sports including three-legged races, races wearing giant space boots, volleyball with an enormous ball and more.
While the main aim of the day is fun, each company also competes on behalf of a charity, with the winner's choice receiving $5,000, the runner-up;s getting $2,000 and the third place team's charity receiving $1,000.
Mr Waldron said the winners of the event will be announced shortly.
"It was the highest ever number of participants and teams," said Mr Waldron, who started the event about eight years ago. It is sponsored by Pitt & Co and Apex Video.
"It was a good day. Everyone looked like they were enjoying themselves," he said, adding that the event was back at full strength after a smaller event was held last year as Bermuda recovered from the pandemic.