The secret life of whales to be highlighted at BUEI next week
Created: Apr 01, 2022 07:52 AM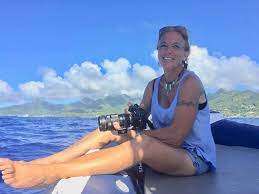 A whale expert whose love of the subject was sparked by watching the sea creatures in the waters off Bermuda as a child is to deliver a presentation on the subject next week.
Nan Hauser, the president and director of the Centre for Cetacean Research and Conservation in the Cook Islands in the Pacific, will discuss the Bermuda Whale Song Project, a collaboration with Nonsuch Expeditions and Cornell University Bioacoustics Lab.
The presentation will also feature Ms Hauser's film, A Symphony of Whales: The Song that Changed the World.
The film, which has been seen by 50 million people around the world, captured the terrifying moment when a humpback whale shielded Ms Hauser from a tiger shark and pushed her to safety with his head and pectoral fin.
Ms Hauser, originally from the US, turned her early passion into a profession and has more than 30 years of experience in whale research.
Ms Hauser returned to Bermuda to collaborate with J-P Rouja, the founder of Nonsuch Expeditions, to determine how the whale songs heard off Bermuda could be used to help in the conservation of the species.
The project is an acoustic study set up to analyse humpback song and behaviour from different parts of the world.
Hydrophones – submarine acoustic recorders – will be deployed in the island's waters to capture the sounds of humpback whales as they pass Bermuda.
The presentation is part of Dive Month, a series of special events in April organised by the Bermuda Underwater Exploration Institute with the Bermuda Tourism Authority.
The first recorded whale song, Solo Whale, captured on tape in Bermuda, will also be covered Ms Hauser's talk.
Karla Lacey, the chief executive officer of the BUEI, said: "We're thrilled to open Dive Month in Bermuda by showcasing how diving in our waters led to a significant scientific discovery about whales, and inspired a lifetime of activism and ocean advocacy.
Ms Hauser's presentation will be showcased at the Bermuda Underwater Exploration Institute next Wednesday.
The event will start at 7pm and tickets cost $25.
The ticket includes entry into BUEI's Ocean Discovery Centre from 6pm to 7pm and a complimentary beverage sponsored by rum firm Gosling's.