BUEI celebrates 25th anniversary with opening of time capsule
Updated: Jul 14, 2022 11:34 AM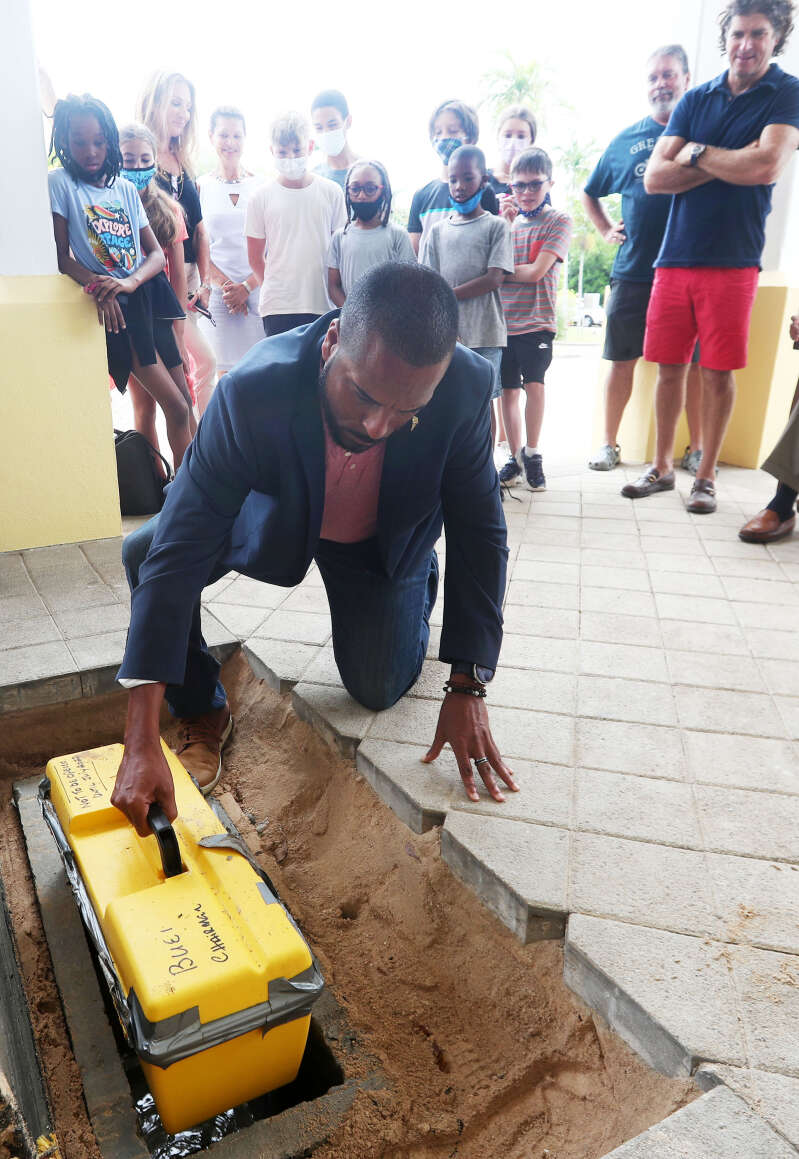 The Bermuda Underwater Exploration Institute yesterday celebrated its 25th anniversary with the opening of a time capsule buried underneath its front porch.
The capsule contained a range of items including a BUEI brochure, a Teddy Tucker map, a May 1997 edition of The Royal Gazette and letters from donors, community supporters and students.
While many of the items within the capsule had suffered some water damage, others such as the newspaper remained intact.
Karla Lacey, BUEI CEO said the items would be put on display at the attraction to celebrate those who have helped make the East Broadway facility a success.
"As the current CEO and caretaker of this institution, I am proud to report to each of you that BUEI has continually evolved to keep Bermuda's marine history alive and to support conservation and appreciation of the ocean, while also providing educational opportunities to tens of thousands of students and visitors to our facility," she said.
"The BUEI of today is a testament to the impact of your input and support and wise advice over the years."
Michael Collier, a former BUEI chairman, said that his own toolbox had been used for the time capsule.
"When there was a bit of a crunch to get the vault done in a timely fashion, someone asked where was the capsule to put this in," he said.
"The contractors said they were pushed for time. This is a toolbox I had, and we just said it would have to do.
"It's waterproof. We put duct tape on it, and some of it is still very much intact."
Mr Collier added that he was excited to have been part of the BUEI, which has for 25 years provided opportunities for Bermudians and visitors to learn more about the island's oceans.
BUEI, a timeline
The BUEI was originally conceived in 1990 and a feasibility study the following year identified an opportunity to create an educational institution with a broad programme to support underwater exploration.
The Bermuda Underwater Exploration Institute was created by a Private Act of the Bermuda Parliament in 1992.
A fundraising campaign was launched later that year and had reached its initial goal by April 1993.
Construction of the East Broadway facility began in February 1996, with the BUEI formally opening its doors on July 13, 1997.
Ralph Richardson, former BUEI executive director, said he was impressed by how the facility has evolved since its opening.
"I was on the board in 1997, and so much has happened since then, but what I am most proud of is that it continues to operate," he said. "You never know when something starts.
"It's still doing great things, and under the current leadership, it's really expanding its focus."
He said the facility has consistently achieved its goals, but he believed it will continue to broaden its scope.
"I'm sure we are going to see an expansion of what it offers the community. I don't know what it's going to be, but I know it is going to happen."
The anniversary celebration is scheduled to continue on Saturday with a birthday party for BUEI's mascot, Gilbert the Shark, also known as Gilly.
The BUEI will host a "Gilly Giveaway" between 11am and 2pm, giving stuffed Gilly tours as part of the facility's Kids Hour Saturdays.
Kids Hour Saturdays are free for members and care givers, and $2.50 per child for non-members. To register for BUEI's Kids Hour Saturdays, call 294-0204