Cahow breeding season gets off to good start
Updated: Jan 24, 2023 06:18 PM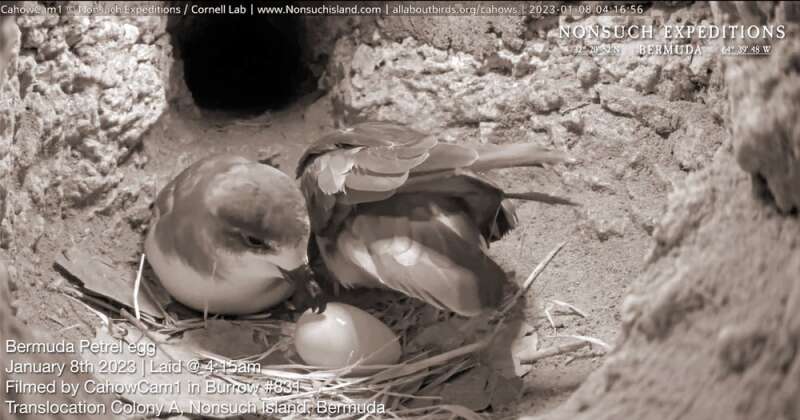 Bermuda's national bird has returned to Nonsuch Island for its nesting season and laid the first eggs of 2023.
Jeremy Madeiros, the Department of Environment and Natural Resource's principal scientist for terrestrial conservation, said in the Nonsuch Expeditions blog that he had found the first three cahow eggs of the year on January 3.
"By January 4, Nonsuch had the first returning birds, with cahows returned to five nest burrows, with eggs being incubated in four of them.
"On the same day, a visit to Long Rock revealed five nest burrows there with returned birds, including a pair together. Four of these contained eggs that were being incubated by the adult birds.
"Finally, on January 9, a check at the Nonsuch Island 'A' nesting colony showed the continuing return of cahows by revealing that the number of cahow nest burrows with returned cahows in them had increased to 15, with eggs being incubated in 12 of them."
Viewers of the popular CahowCam livestream were able to watch the nesting process live as the CahowCam 1 nesting burrow, which includes a hidden camera, was among those found with an egg.
"The male bird had returned on January 6-7 and weighed in at an impressive 420 grams," Mr Madeiros said.
"The female bird was also at an impressive weight of 362 grams, which is the heaviest weight I have ever weighed a female cahow at only one day after laying an egg that weighed 60 grams. This means that before this female laid her egg, she also would have weighed over 420 grams.
"This particular bird is one of the largest female cahows in the entire breeding population and after spending one more day in the nest incubating the egg with the male, she departed out to sea to feed and regain her energy after producing her single large egg, which can weigh more than 20 per cent of the body mass of the female."
A second nest, featured in the livestream CahowCam 2, captured a cahow laying an egg on the evening of January 18.
The eggs will be incubated by their parents for 50 to 53 days, with both adult birds taking five to seven day "shifts".
Cahows – also known as Bermuda Petrel – were believed to have been wiped out by the 1620s, but the species was rediscovered in 1951.
While the population at that time was limited to only 18 breeding pairs, which produced seven or eight chicks a year, efforts to revive the species have resulted in the population bouncing back.
The 2022 season resulted in a record-breaking 156 breeding pairs and 77 chicks fledged, and Mr Madeiros has said that the 2023 season could surpass that with a "near record" number of sightings when the birds returned to the island in the autumn for their courtship period.