Tucker aiming to build on promising debut season
Created: Dec 31, 2020 08:00 AM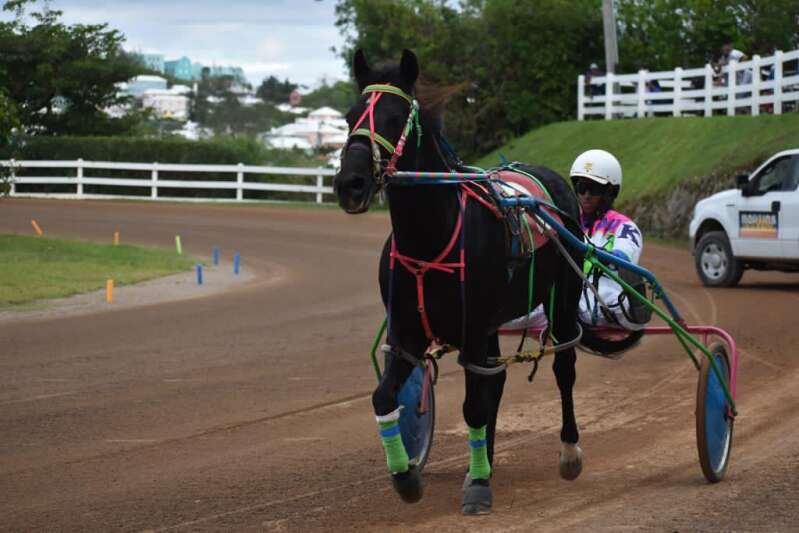 Rookie driver Kamali Tucker is encouraged by the progress that she has made in her debut season competing in harness racing at Vesey Street.
The 13-year-old Bermuda High School for Girls student has produced some impressive displays at the helm of Belhaven Stable's stallion, Iron Mike.
"Honestly, I'm enjoying it [debut season] so much," Tucker, the daughter of Southampton Rangers batsman Kwame Tucker, said. "The whole DHPC [Driving Horse and Pony Club]crew is very, very supportive as well as my pony.
"He's [Iron Mike] taught me a lot and we're learning every race day with him.
"Belhaven Stable and just the whole DHPC are really supportive, which makes me want to be more confident."
Remarkably, Candyce Martins' 12-year-old stallion clocked his fastest time to date this season of 1:07/4 competing alone to get a leg out of the 1:08-1:11 time bar.
"That was the fastest I've gone with him and it definitely felt fast when I was going," Tucker added. "He definitely was going for it and when I called to him he wanted to pick up the pace, which is really good.
"That was very, very impressive and he has definitely been very consistent with his times, which I'm really happy for."
Tucker attributes her harness pony's steady form to the hard work they put in training.
"I have been working with him and getting him fit. Getting him fitter is definitely making him be more consistent," she said.
Trainer/owner Martins is equally delighted to see Tucker and her stallion making steady strides.
"I am very impressed with their progress so far," she said. "They make a great team."
Tucker admits the transition from equestrian to harness racing has been a "big adjustment".
"It's definitely a big adjustment to not riding them and sitting behind them is totally different," she said. "You're constantly going fast and having to think about it.
"Everything is totally different. It's just marking the new things because everything is completely different to what it is to riding."
As for her expectations for the season, Tucker added: "Just having fun but trying to be consistent with his times.
"He's definitely getting fitter so him being consistent throughout the season would be very impressive and I'd be super happy."
Tucker is among a group of female drivers presently competing in the sport including Martins, who blazed a new Bermuda-bred record and lifetime best of 1:02/2 with eight-year-old mare Double Time earlier this month.
"It's really good to know that girls can do it as well," Tucker added. "It's not just a men's sport and it's really nice to see that."
Unfortunately, Tucker's season has come to a grinding halt as the recent spike in the number of active Covid-19 cases on the island has led to the shut down of all equestrian disciplines.
The Bermuda Equestrian Federation received a directive from the Bermuda Government to suspend all activities falling under their auspices until further notice, in spite of the rigid Covid-19 protocols already in place for the protection of competitors and spectators alike at the National Equestrian Centre.
"I was enjoying racing every weekend and it [shut down] has put a stop to where I was really getting into the hang of it," Tucker said.
"But, hopefully, if we do race again, Iron Mike and I will be fine, so we'll be a wonderful pair together coming back out."