BTA partners with America's Cup
Updated: Aug 07, 2015 09:12 AM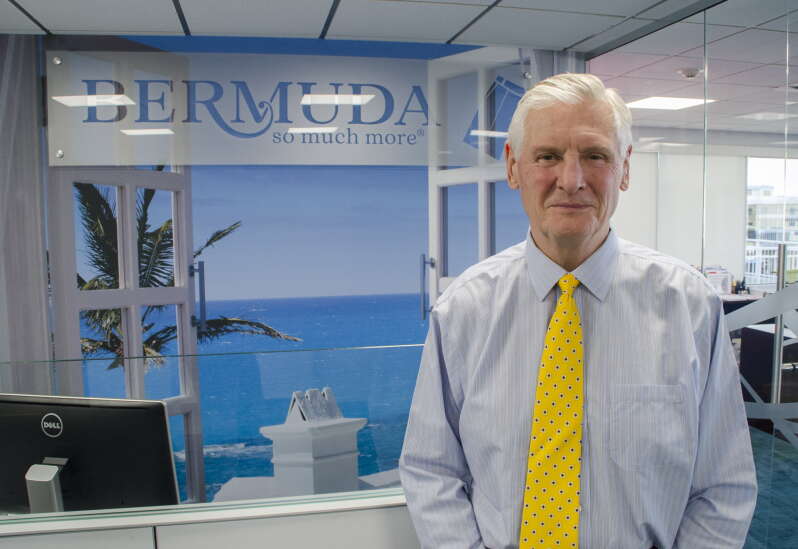 The Island's hospitality and beauty will be showcased to sailing fans worldwide thanks to a partnership between the Bermuda Tourism Authority and the 35th America's Cup.
The deal is expected to be a big boost to tourism efforts, the BTA said yesterday.
The move comes as the authority launches partnerships and promotions designed to introduce the Island to a wider audience as part of their global effort, "Race to Bermuda", which began with the Louis Vuitton America's Cup World Series event in Portsmouth that took place from July 23 to 26.
"The America's Cup Event Authority is engaging the next generation of sailing enthusiasts with its powerful foiling boats, while at the same time the BTA is reaching a generation of travellers focused on adventure and experiential travel," said Bill Hanbury, the BTA's chief executive officer.
"The target audiences are perfectly aligned. We were thrilled to launch the Race to Bermuda in Portsmouth last month and look forward to building greater momentum on the way to 2017 and beyond."
Harvey Schiller, commercial commissioner of the America's Cup, said: "The Bermuda Tourism Authority's strength as a sales and marketing organisation was evident during the bid process, and its efforts were a significant contributing factor to Bermuda coming out on top.
"We are pleased to work in partnership with the BTA over the next two years to help to reach a new generation of travellers and grow the tourism economy in Bermuda."
The partnership agreement includes prominent branding and space at each America's Cup venue this year, next year and in 2017, as well as commercial airtime promoting Bermuda on US TV broadcasts of the America's Cup in 2017 on NBC Sports.
Additional partnership benefits for marketing Bermuda will be realised on the AC35 website, app and on social media.
The BTA is also planning to work with other ACEA brand partners to leverage exposure and increase demand.
Mr Hanbury said: "The previous America's Cup was broadcast to over 200 territories worldwide, and we are already seeing better distribution this time around.
"We are pleased to have secured significant exposure for Bermuda on the international broadcasts for every event in 2015, 2016 and 2017 for the Race to Bermuda.
"We are also pursuing new opportunities over the next two years with other ACEA partners, to increase exposure and leverage our investment for Bermuda."
Victoria Isley, chief sales and marketing officer for the BTA, said innovative brand partnerships would be the hallmark of the Race to Bermuda strategy.
"Through existing partners like Gosling's to new ones like British clothier Henri Lloyd, the BTA will link premium lifestyle brands with the Bermuda story to get new audiences dreaming about travel to the Island," she said.
"Meantime, on social media we launched #RaceToBermuda last month in Portsmouth.
"We will use this platform to engage with an even wider audience about Bermuda's travel story."
In the run-up to Portsmouth's sailing celebration, the BTA worked with its partners to harness excitement about Bermuda by engaging with UK consumers.
Cup enthusiasts were exposed to Bermuda's heritage and style, invigorating experiences, stunning locations, welcoming culture and authentic Island lifestyle.
The BTA said it showcased the destination and its unique selling points by combining a variety of travel trade and fashion brand partnerships, consumer campaigns, charity support, media initiatives and social media campaigns.