Fine wines for celebrating Canada Day
Created: Jul 01, 2016 09:00 AM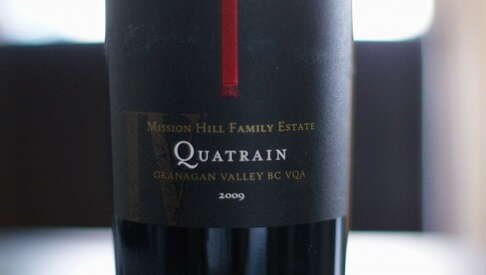 On July 1, 1867, three colonies united into a single country they called Canada; the word comes from the Huron-Iroquois "kanata", which means village.
So on this day each year Canadians celebrate in their vast country. It would be appropriate if we join them by enjoying a bottle or two of some of the finest wine now being produced in the Okanagan Valley in British Columbia.
We were in Canada to attend the graduation of one our sons, who earned a master's degree from a fine university, and so with dinner we had to enjoy the best wines of this northern country.
The sommelier showed us a quite spectacular looking bottle called Oculus. Although it seemed a little pricey, the decision was made to open it and to be honest I was absolutely floored by the quality. That was a few years ago and our present vintage is 2010.
Michel Roland, a Frenchman and quite possibly our world's best known "flying winemaker" because of the work he does in so many countries, consults with the staff at the high-tech facility at Mission Hill, where Oculus is produced.
One critic writes: "Tasted blind it could easily be an elegant Right Bank (St Emilion and Pomerol), muscular, ripe black berries, cassis and dark chocolate."
We list the Mission Hill Oculus 2010 for $74.90, but for Canada Day I suspect that our store managers may be a little more generous. The grape blend varies from year to year but for 2010 they used 51 per cent merlot, 26 per cent cabernet sauvignon and 23 per cent cabernet franc. I patiently wait to see what we will drink when said son finishes the PhD thesis he is about to work on at one of Canada's great institutions of learning.
As the poets among us know, a quatrain is a poem composed of four lines and so when Mission Hill decided to make a four-grape blend they felt that this name would be appropriate for it.
Mission Hill Quatrain 2009 is therefore composed of 35 per cent merlot, 30 per cent syrah, 20 per cent cabernet sauvignon and 15 per cent cabernet franc, all working in harmony.
One would expect that Canada's best known wine critic, Natalie Maclean, would speak in a favourable fashion about such a wine but it has to deserve it if she is to be credible. Here is what she wrote: "95/100. Spectacularly rich, complex and deep. This towering red offers aromas of dark red fruit, smoke, dried herbs and cigar box. It's a multilayered wine that will cellar very well. Truly one of Canada's flagship wines." Another reviewer said: "Amazing blend, wish I had more." Another just penned: "Yum."
This should be selling for $56 but we have it in our shops for $31.30. I would like to convince you that we are only doing this to make our thrifty, articulate Canadian friends have a great day, but I am sure you suspect otherwise. Well, OK, I will fess up. Folks have not discovered how really wonderful these Canadian reds can be and we are now wanting to move them out and update with the latest vintages. You will, I would venture, be astonished rather than regretful.
There are quite a few hundred wineries in Canada and so in 2013 it certainly was an honour for Mission Hill to be selected by the National Wine Awards of Canada to be winery of the year.
You may be wondering why I have not mentioned ice wine as everyone knows that Canada is famous for this, so let us discuss one.
Firstly, let me use an explanation that works for me. Remember back to when you were small and were given a strawberry popsicle and you sucked all that sweet, concentrated, delicious juice out of it. Then you held up the remaining quite colourless stick of ice. Well that kind of happens when you make ice wine.
The grapes are left on the vine well into winter and when they are frozen they are meticulously harvested in the cold of night and pressed immediately.
A precious few drops of juice is extracted and the remaining ice crystals are discarded. At Mission Hill, this wine is not made every year as Mother Nature has to offer the perfect weather. It is also technically challenging, time consuming and very risky.
So I suggest ending your fine dinner with Mission Hill Reserve Riesling Ice Wine 2011 that will reveal to you gorgeous peach, apricot and honey aromas. My favourite is to have a fruit salad that will just meld beautifully with the sweet, amazing fruit of this nectar. A half-bottle is $67.15, but what a rare treat.
I was going to move on to Tawse winery in Niagara, the top Canadian winery for three years in a row, but space dictates that this will have to be another time.
• This column is a paid for advertorial for Burrows Lightbourn Ltd. Michael Robinson is Director of Wine at Burrows Lightbourn Ltd. He can be contacted at mrobinson@bll.bm or 295-0176. Burrows Lightbourn have stores in Hamilton (Front Street East, 295-1554), Paget (Harbour Road, 236-0355) and St George's (York Street, 297-0409). A selection of their wines, beers and spirits is available online at www.wineonline.bm