Mixologist Dae Paynter is into the holiday spirits
Updated: Dec 16, 2022 08:10 AM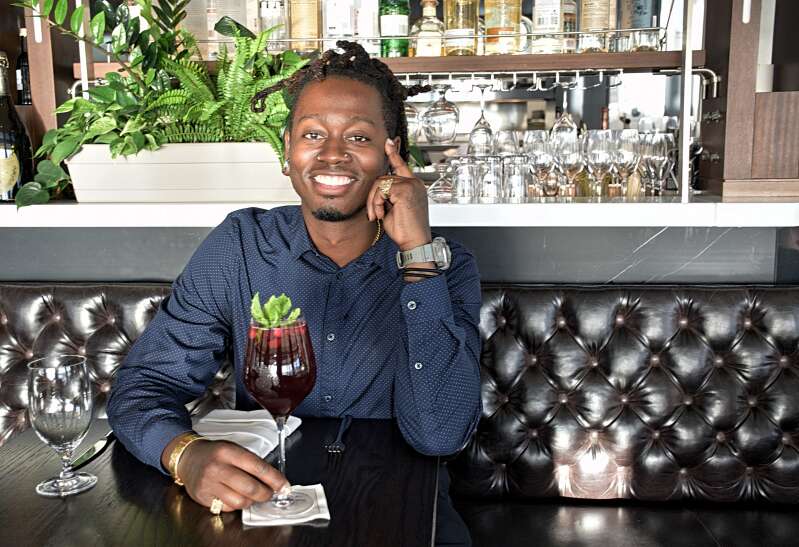 De'Javon "Dae" Paynter was working as a kitchen porter in a busy local restaurant when he became intrigued by the bar.
It looked to be more fun than what he was doing in the kitchen.
"I decided I would be working behind the bar before my next birthday or quit and look for something else," the 36-year-old said. "This was in March and my birthday was in April."
When his deadline rolled around and nothing materialised, he stuck to his guns. He threatened to quit, so management finally put him behind the bar for training, for a little while.
"The lesson there is know your worth," he said. "Sometimes you have to be willing to lose it all to gain it all."
But he did not get his first real bartending job until 2017.
"I heard Docksiders was hiring," he said. "I got behind the bar and fell in love with it. I am not very comfortable in rooms full of people, but behind the bar I found my comfort zone."
The only problem was, he was not particularly good at mixing drinks, especially since he had no proper training.
"I had all the confidence in the world, but you would not want to drink my cocktails," he said.
He believes it was his own personal charisma that kept him employed. He loves the interaction with customers, and they seem to like his jokes.
"People really do pour their hearts out to their bartender," he said. "I recently got a therapist, because every therapist needs their own therapist."
It was not until the Covid-19 lockdown that he really focused on upgrading his skills.
"Suddenly, the only person around to drink my cocktails was me," he said. "So I really needed to make drinks that tasted good. I made myself a bunch of disgusting cocktails until I got it right."
He turned to YouTube tutorials to better figure out what did and did not go together.
He now considers himself a mixologist, and is writing a cocktail/mocktail cookbook that he hopes to have published in the next two years. He already has more than 87 recipes written down.
Two months ago he was hired as a mixologist at Intrepid Steak, Seafood and Raw Bar in the Hamilton Princess & Beach Club.
"I worked here before the pandemic," he said.
Earlier this month, he shared a few of his drink recipes at a Christmas food and cocktail pairing event at Intrepid, for invited guests of the hotel.
"I made a Christmas cocktail with crème de cassis, and Bacardi 8 and topped it with cranberries and Prosecco," he said. "I wanted something that would go well with red meat and potatoes.
"It worked out really well. It was not too heavy and not too light, and it was spirit forward, meaning you could taste the alcohol with every sip. That is how I like my drinks."
He said at this time of the year, people tend to drink darker spirits.
"Bacardi 8 is not a spiced liquor, but it comes with notes of vanilla and caramel," he said.
He said this is because of the way the casks that carry the liquor are fire-treated during manufacture.
Mr Paynter said cranberries and rosemary work well with most Christmas drinks.
"If you do some spiced rum with rosemary, cranberries, and a bit of brown sugar syrup, muddle it, shake it and top it with simple champagne or Prosecco, you can't go wrong," he said.
For those who are a bit nervous about making their own cocktails he said Google is your friend.
"Just type 'what goes well with …'," he said. "If it does not work out the first time, just keep trying."
He was hesitant to name his speciality drink.
"That puts me in a box," he said. "I like to say that my speciality is whatever you like. I also like people to name their own drinks. If you come to my bar, I encourage you to be very blunt. I will not learn from your trying to save my feelings. Sit at the bar and tell me what you like and what you don't like."
According to an October 2021 report from Nielsen IQ, non-alcoholic beverage sales rose 33 per cent in the United States, accounting for $331 million in sales.
Mr Paynter is seeing that trend playing out in Bermuda, with more customers requesting mocktails – drinks with no alcohol.
He said many people are not drinking alcohol due to health concerns. It is an interest he shares.
"I am not supposed to drink alcohol until February, so I am drinking a good number of mocktails, right now," he said.
But he feels Bermuda is behind in the mocktail arena.
"People think mocktails are Shirley Temples or fruit punches with ginger beer," he said. "That is not exciting. There is no flair to that. I have been thinking of different mocktails where you do not want alcohol in them, because it is balanced and is perfect as is."
The South South West Cocktail
Chill a wine glass (or more if you are sharing the Christmas cheer)
In your shaker add one brown sugar cube, three to four dashes of Peychaud's Bitters and gently muddle.
Add ice and 1oz of Bacardi 8 and shake.
In your wine glass add 1oz of Creme de Cassis (more to taste)
Add ice and strain your shaker into the glass.
Top with Prosecco and garnish with orange
He sees a request for a mocktail as a pleasant challenge, but he said some bartenders and mixologists are resistant to mocktail requests due to a lack of interest or skill.
It can be hard to balance the flavours if the drinker does not want alcohol or sugar in their glass.
Mr Paynter said there are a few other mixologists on the island who are making mocktails, but they tend to work for themselves, or for high-end bars and restaurants.
"But there is a market for mocktails, particularly with people who work in insurance and reinsurance," he said.
He is currently saving up to go back to school to properly study mixology.
"I would love to train in Amsterdam in the Netherlands," he said. "There are so many different ways to train there. There are flair schools and mixology schools. There is also the science of mixology."
He said one trend there right now is to create a kind of vapour cloud cocktail, that you inhale as you walk through it.
"Bermuda probably won't have that for the next 30 years," he said.
But he is torn over whether he wants to return to Bermuda after training.
"That is the hard part," Mr Paynter said. "A lot of creatives, not just in the bar or kitchen, but in general, when we leave this island and expand, it is really hard to come back."
On one hand, he does not want to contribute to community brain-drain, but he also does not want to feel like he is putting himself "back in a jar" by returning.