What's in a name?
Created: May 25, 2023 07:58 AM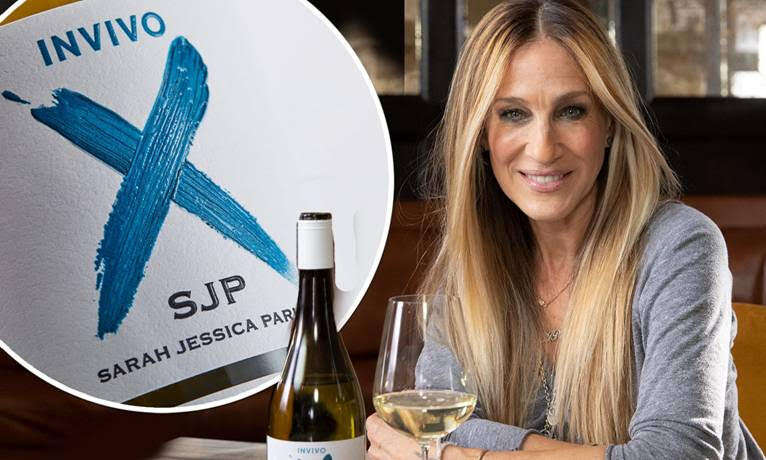 A new wine for us is 2022 Invivo X SJP Sauvignon Blanc from Marlborough in New Zealand.
Just in case you have not figured out why it is so named, please let me elaborate. We start with the Invivo winery founded by Tim Lightbourne and Rob Cameron. They meet with Sarah Jessica Parker, the wine-loving actress and producer of Sex and the City of television renown; her e-mail sign-off, X SJP, is added to the name. She creates a large X for the label with teal-coloured paint that matches a satin shoe in her collection.
I could certainly understand if you are thinking that this is just a gimmick that is using fame and "X" to make a sale, but in truth the wine is really good. It is a blend of five estates in Marlborough, spanning both Wairau and Awatere Valleys, with vines ageing from three to eleven years.
The Wine Spectator gives it an impressive 93/100 and comments, "Leaps out of the glass with vivid aromatics, including passion fruit, pineapple and guava, with accents of crunchy sea salt, lime zest, fresh-grated ginger and white pepper minerality. Shows extra verve on the finish, where details of green tea and lemon grass emerge." $24.50 (Stock #8742).
The family estate of Henri Bourgeois has been passed down in this family for ten generations and today they are highly regarded for their sancerre and pouilly fumé produced from the 120 vineyards that they own. If it is time to expand their production of sauvignon blanc, it makes perfect sense to set up a winery in a country that has an ideal terroir for this grape. The 2021 Clos Henri Bel Echo Sauvignon Blanc comes from the Wairau Valley in Marlborough, New Zealand. As the name indicates, this is a "beautiful echo" of their French wines, and like them it is organic. It is opulent with ripe, tropical fruit and an appealing chalky palate, but there is finesse and restraint. $26.90 (Stock #7065).
Although they produce an Angel Flower pinot noir and one called Earth Smoke, we only have their 2018 Pyramid Valley Central Otago Pinot Noir. They tell us that they "work with the energy of the cosmos as they tend their estate according to the holistic principles of biodynamics. Their ultimate goal is to guide their wines from the earth to the bottle and produce wines that truly breathe their place".
New Zealand wine critic Sam Kim writes, "Elegant, fragrant, and complex, this splendid expression shows spiced cherry, smoked game, thyme, and dark mushroom notes on the nose, followed by a finely textured palate that's richly textured and lingering. The wine displays lovely flow backed by fine, grainy tannins, making it a wonderful food partner. At its best: 2020 to 2028. 95/100." $44.90 (Stock #6920).
The only way to produce a red wine is to let the clear must (juice) sit with the colour-imparting skins of dark grapes and this often ranges from one to three weeks. Of course, if you want to have a rosé the contact time is much shorter. In fact, the Pasqua family in Italy rather "let the cat out of the bag" when they named their 2021 Pasqua 11 Minutes Rosé. I will quote them: "The name 11 Minutes refers to the duration of the skin contact after the pressing of grapes: the full load of grapes is very softly pressed. In this optimal length of time, we extract the most noble qualities of the grapes and obtain the slightly rosy shades that characterise this wine. Once the precious must is created, it is cooled and transferred to a steel tank where it remains for about 11 hours, the necessary time for the more solid parts to decant. After transferring again, the must is inoculated with select yeast and fermentation begins.
"The corvina varietal, which dominates in terms of percentage, was chosen for the floral aromas as well as the significant acidity it gives to the wine. Trebbiano brings elegance and a long finish; syrah gives fine fruit and spice notes to the glass and finally, carménère creates structure, ensuring stability over time. This is a fresh, enveloping rosé with an intense and complex bouquet, created to accompany spring or summer evenings and more."
James Suckling awards it 92 points and adds, "Pretty nose with a dried-herb note to the vivid raspberry and grapefruit aromas that extend to a juicy, medium-bodied palate with some generous grapefruit and watermelon on the finish." $21.75 (Stock #8918).
Another new arrival is our 2021 Chene Bleu Le Rosé that is named for a "magnificent, centuries-old oak tree" growing at the edge of La Verrière's 260-acre forest.
According to the winery owners the oak tree presided over the vineyards, forest and medieval priory for hundreds of years until a massive dry spell hit the area.
"During the terrible drought of 2005, this mighty oak suffered dreadfully, but it was transformed by a world-famous Provençal tree sculptor named Marc Nucera. Marc protected and preserved the majestic oak tree by treating its branches with bouillie bordelaise, the blue-green solution used to protect organic vineyards worldwide."
This rosé is a blend of 60 per cent grenache noir, 20 per cent syrah, 14 per cent mourvèdre and 6 per cent rolle. It is a pale pink lychee colour and clear with bright tints. Rich and intense, with citrus notes and complex aromatics of small red fruits and redcurrant. It has organic and biodynamic certification for its winery in the Rhone district of France. Lovely with seafood and summer salads. $32.90 (Stock #8118).
This column is an advertorial for Burrows Lightbourn Ltd. Michael Robinson can be contacted at mrobinson@bll.bm. Burrows Lightbourn have stores in Hamilton (Front Street East, 295-1554) and Paget (Harbour Road, 236-0355). A selection of their wines, beers and spirits is available at www.wineonline.bm