Holiday apartments proposed for historic Dockyard buildings
Updated: Aug 16, 2021 12:34 PM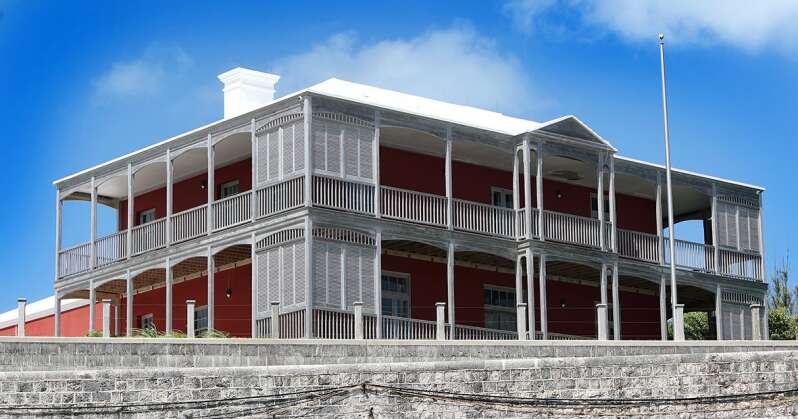 Buildings in the West End – including the historic Moresby House – could be turned into holiday rental properties.
West End Development Corporation planning applications, filed this week, proposed changes of use for Moresby House and the Star of India building from commercial to residential.
A Wedco spokeswoman said the applications were lodged because the quango had been unable to lease the properties under the existing commercial zoning.
Blueprints with the planning documents proposed the transformation of offices and a storage room at Moresby House into ten bedrooms.
A conference area would be converted into a living room or dining room.
Plans for the Star of India showing a commercial space turned into a studio apartment.
The applications said the change of tack for the old Dockyard buildings was intended to give Wedco the flexibility to use them for vacation rentals to generate income.
Moresby House was built in 1899 as the home of the officer in charge of works at the Dockyard.
It later became HMS Malabar, which was part of a of Cold War seabed monitoring network designed to detect Soviet submarines.
Malabar was left vacant when the Royal Navy left Dockyard in 1995, but the building was restored in the run-up to the America's Cup.
The property made headlines last September after it was revealed that Anthony Blakey, an American music promoter, was given an $800,000 government loan to turn the building into a recording studio.
But the studio never materialised and Mr Blakey has not paid back the money.
Commissioner of Police Stephen Corbishley confirmed earlier this week that a police investigation into the affair continued.
The Star of India, built in the mid-1930s, was originally a bowling alley and turned into a club for Royal Navy families in 1970.
Wedco has refurbished the building, added a new kitchen, bathrooms, air conditioning, new windows and doors.
The site was used for Covid-19 tests in the past year.
The changes would not be the first rental properties created by Wedco.
The quango turned Prince Alfred Terrace, once the married quarters for officers stationed at the Royal Navy base, into holiday apartments with ten three-bedroom units for short-term rentals.