Crane smashes pizza takeaway roof after truck hits utility poles
Updated: Aug 30, 2021 07:58 AM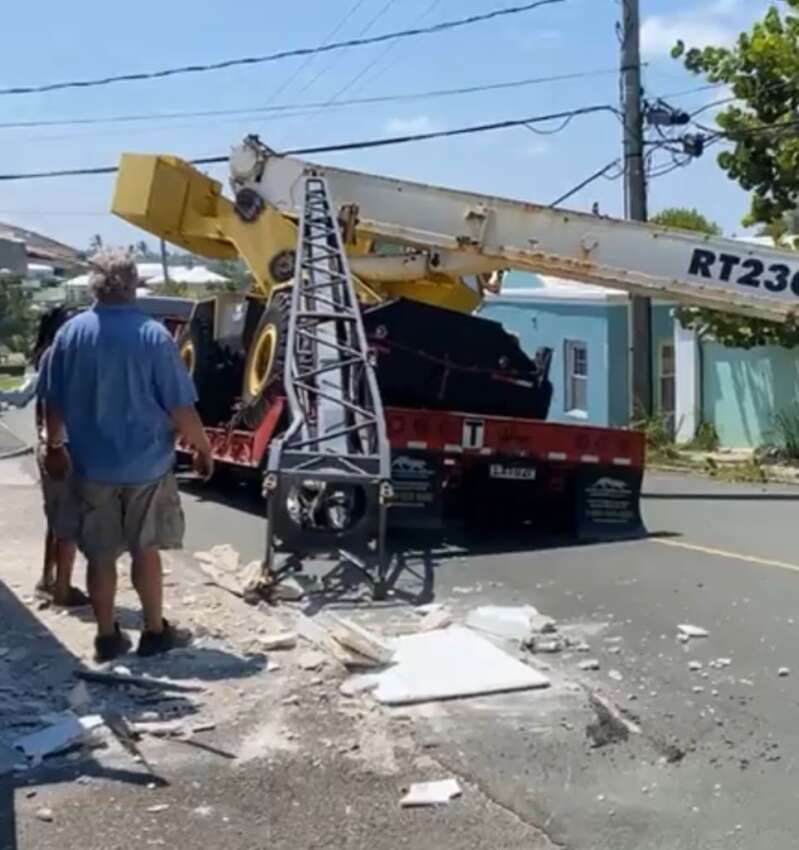 A crane that toppled from a crashed tractor trailer smashed into the roof of a pizza takeaway today.
Marico Thomas, the owner of Four Star Pizza on Somerset Road, Sandys, said it was lucky no one was injured.
Mr Thomas added: "We are happy it was not worse – it struck the strongest part of the building narrowly missing windows.
"I am very happy staff were uninjured and that there was no vehicular traffic which could have resulted in a terrible outcome."
The incident happened just before 1pm on Saturday.
Mr Thomas said the restaurant suffered a power cut for about an hour and a half because the truck also took down two utility poles.
But he added it had reopened after power was restored.
He said: "Unfortunately it did occur during the busy lunchtime period. We apologise to customers whom we were unable to serve."
The duty manager at the restaurant said: "There was a truck loaded with a crane which became unbalanced after hitting a utility pole and then hit the roof.
"The roof is cracked and damaged, but it is in the storage area not the kitchen.
"We couldn't make any food during the outage, but everybody is back to work."
A section of Somerset Road was closed and traffic was diverted as police investigated the crash, but the road has since reopened.