Live: Flora Duffy Day
Updated: Oct 18, 2021 06:05 PM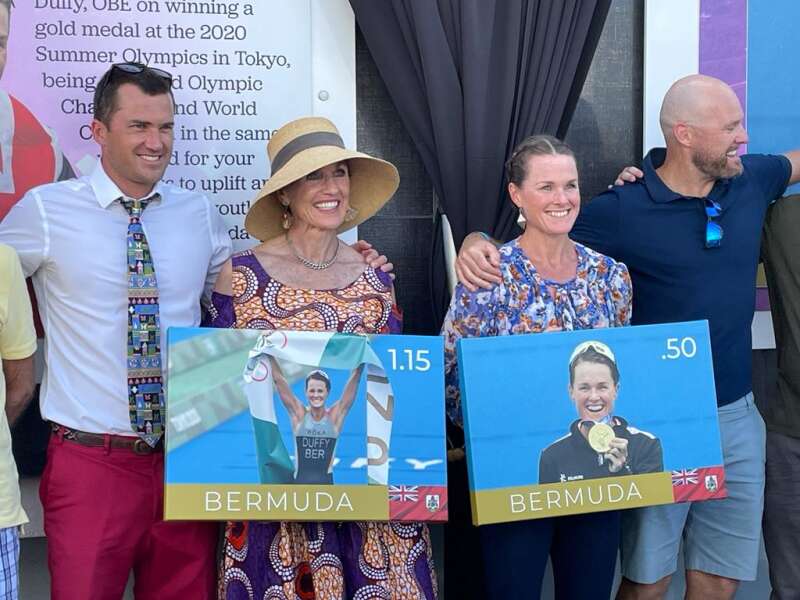 4.30pm: Tears start and Flora says thank you and leaves the stage after a stirring speech.
It sees an appropriate time to say goodbye and thank you for following.
We should all remember this day and reflect on a true national hero – Flora Duffy.
4.25pm: Wearing a pink Bermuda T-shirt, Flora thanked the people who helped her, including Steve Burgess. She praised previous sports stars like Shaun Goater who, she said, helped to pave the way for people like her.
"I am from Bermuda – where little girls will drive down a twisty hill while hearing their Moms say this is Flora Duffy Hill, and that will mean something.
"And I hope that little girl will look out the window at that wooden street sign and dream big. Thank you."
She got emotional at that last part and was hugged by Clarence Hill as she left the stage.
4.24pm: A big cheer greets Flora when she takes to the stage at Victoria Park.
Twitter
4.21pm: The Premier says the last week has been overwhelming but adds that Flora deserves every accolade.
"I hope today's events have brought you at least a portion of the happiness and pride that you gave all of us three months ago in Tokyo. You have blazed a trail and inspired a generation of young people.
"It has been a day of celebration and tributes to a daughter of Bermuda's own soil. No one will forget where we were when Flora Duffy won Olympic Gold for Bermuda. Flora, you are an inspiration to all of us."
4.18pm: Governor Rena Lalgie said: "I'm going to be really brief. I wanted to make way for the Bermudian woman who achieved such greatness that everyone else got the day off."
4.14pm: The crowds are starting to build at the concert. We'll have some pictures and words soon.
The Governor, Premier and Flora are all due to speak.
3.30pm: Next up is the concert at Victoria Park which is due to start at 4pm.
Twitter
3.08pm: Cabinet Minister Wayne Furbert said he was proud to honour Flora with a special stamp issue to recognise "the best of the best".
"Both stamps represent your victory, your passion and your stunning commitment."
2.57pm: Flora has arrived at the General Post Office on Church Street for the unveiling of commemorative stamps.
People are gathering on Church Street to applaud Flora.
2.25pm: According to the schedule, the next event will take place at 3pm and is a stamp unveiling. In the meantime, CITV is replaying Flora's homecoming.
2.15pm: The Bermuda Olympic Association announced that Flora was the first recipient of the Order of Merit medallion.
Flora said it was" surprising and overwhelming" to get the award.
"I am honoured to see my name on the wall and my greatest hope is that every young athlete who comes to the stadium believes that they can be an Olympic champion."
Twitter
2.01pm: The Premier, David Burt, welcomes people to the ceremony. "I am honoured to be at our National Sports Centre south field or as we will say from today the Flora Duffy Stadium.
"No venue could be more appropriate to continue the tributes to our champion.
"The sense of pride that Flora gave to us that day will be something we will not soon forget."
The Premier pays tribute to Bermuda's first medal winner – Clarence Hill who claimed a bronze in boxing.
2pm: Flora has arrived at the National Stadium which will very soon by the Flora Duffy National Stadium.
Some lovely words from Glenn Jones:
Twitter
1.50pm: The ceremony to rename the National Stadium is due to take place at 2pm, so stay tuned!
We are taking the live feed from CITV which is showing highlights from last Monday when Flora returned home.
Flora is now heading to the National Sports Centre where the Stadium will be renamed in her honour.
Twitter
1.20pm: Flora is posing for pictures with wellwishers at the newly named Flora Duffy Hill.
1.07pm: The Premier, David Burt, welcomes Flora Duffy at Corkscrew Hill which is being renamed after her.
"It's really amazing to see such a crowd. I've never had national holiday named after me. It is a really beautiful day," says Flora at the renaming ceremony.
Nice tweet from our own Sports Reporter Colin Thompson
Twitter
1pm: Flora Duffy Day is under way and the Olympic gold-medal winner has visited the Loyal Hill community.
Loyal Hill residents at North Shore, Devonshire gathered in a show of support for Flora with the neighbourhood's traditional news banner up at its customary corner.
And here Flora stops by to meet the Loyal Hill residents.
And this Tweet sums it all up!
Twitter
And a reminder of how it all started:
Twitter
The Department of Statistics is also celebrating:
Twitter
Twitter