Ten more miles and Anna Laura Hocking will reach target of 2,021 miles in 2021
Created: Dec 30, 2021 07:50 AM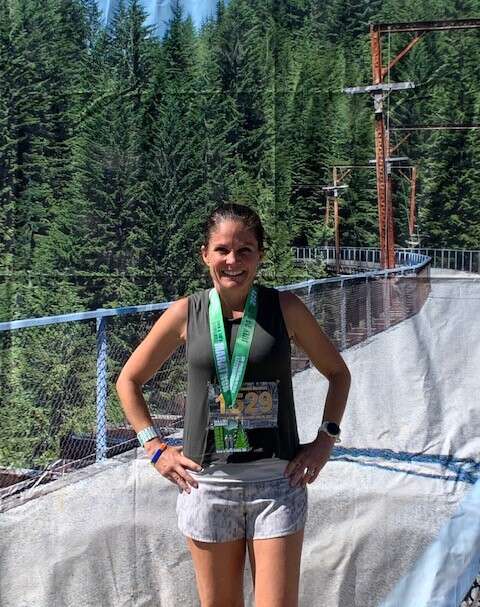 After the marathons she planned to run in 2020 were cancelled, Anna Laura Hocking gave herself a challenge as a way to keep active: run 2,021 miles in 2021.
Tomorrow, she will complete that challenge as she runs the last ten miles, accompanied by some members of her running group, the Weekenders.
"I'm very proud of myself. There is some disbelief that I made it this far. I couldn't have done it without the support of the local running community," said the 43-year-old.
Ms Hocking took on the challenge as a way to feel active after the marathons she signed up for in 2020 were cancelled because of the pandemic.
She saw other runners take up similar challenges and felt inspired to do the same once 2021 rolled around.
As well as running in Bermuda with friends, Ms Hocking took part in the Antarctica Virtual Marathon in March and another marathon held in Seattle, Washington, in July, as well as two other marathons held two weeks apart in Paris and London in October – all while recovering from a cold.
At the same time, she also juggled the challenge of managing her marketing business and caring for her two children.
Antarctic Marathon for charity
Anna Laura Hocking will raise money for a children's charity by running a marathon in Antarctica.
The Antarctic Marathon, which Ms Hocking waited almost three years to participate in, will see the mother of two run in the end of January in temperatures expected to get as cold as 0F.
Ms Hocking said: "It is not all snow and ice – there is a gravel road there and it will be summer there – but we will need special equipment."
Ms Hocking, alongside three other Bermudians participating in the polar run, will raise money for Raleigh International Bermuda, which encourages young people to make positive changes in their lives.
The team will fly to Ushuaia, the southernmost tip of Argentina in South America, before travelling by boat to the Antarctic peninsula.
Ms Hocking said that the trek to the South Pole would take about three days and would go through some of the roughest water in the world.
She also admitted: "There's a lot of mud and sleet, it could be snowing and there could be some freezing rain or hail.
"We'll have to have some water-wicking outerwear because if we get wet then we're in trouble.
"It's usually anywhere from 0F to 30F – and it's very rarely sunny with clear skies.
"But it's supposed to be gorgeous – we're expecting to see lots of penguins and wildlife along the route."
She took a small break in August after she developed runner's knee, a condition caused by excessive leg strain.
But Ms Hocking added that, regardless of the challenges, she stayed motivated because of how enriching running felt.
"There's a transformational power to endurance running – it requires effort, consistency and hard work."
Ms Hocking added: "There's a meditative quality to putting one foot in front of the other, plus there's many health benefits and many stress-relieving benefits.
"It is definitely hard, but you just have to be organised and once you're dedicated and put your mind to something nothing's going to stop you.
"There's a lot of camaraderie – I could not have done this by myself at all.
"If I had to run all those miles by myself, it probably wouldn't have happened."
Ms Hocking said that the challenge had been the most miles she had run in a year by far, with her second-longest feat being 1,560 miles last year.
She added that while she enjoyed the challenge and planned to run more marathons, she would not do another any time soon.
Ms Hocking will start her final leg from her home near Pitts Bay Road in Pembroke around 6am, then travel to Store Hill in Smith's through Middle Road and back to her starting point through North Shore Road.