Motorcade to mark start of woman's journey to university degree
Updated: Jan 05, 2022 11:49 AM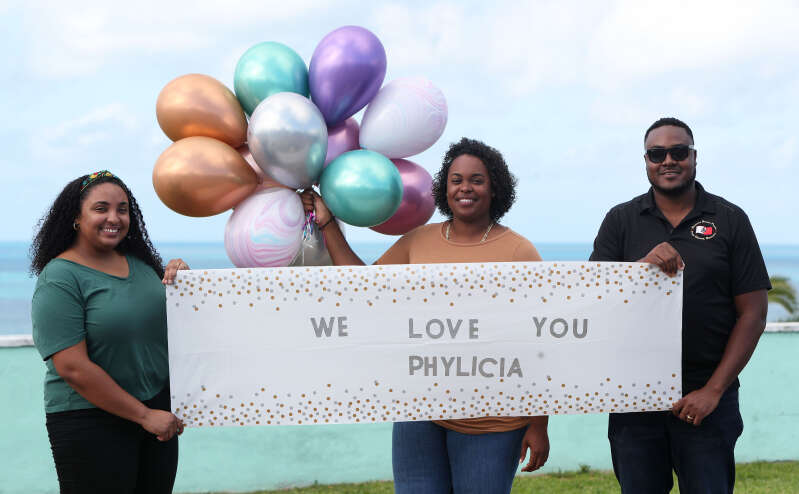 A mature student who has fulfilled her dream of going to university after years of saving up was sent on her way with a special motorcade.
Friends and family of Phylicia Furbert held the drive-by for the 29-year-old and thanked her for being a great friend.
Ms Furbert, who flies on Friday to start her studies at Oral Roberts University in the US, said: "I felt so overwhelmed with joy and love.
"It's definitely a blessing to know that I have so much support and love from my family and friends."
The 15-car parade featured balloons and a handmade sign and ended with the participants congratulating Ms Furbert and showering her with gifts and good luck cards.
Ms Furbert, from St George's, said that her cousin took her to Midland Heights Seventh-Day Adventist Church in Hamilton Parish on Monday under the pretence of spending some time together before she left.
She admitted she almost did not go because she was exhausted.
Ms Furbert explained: "I did not want to go at first – I was tired because we had just gone on a run, but my cousin was like 'no, come on, you're leaving soon and we need to spend time in Bermuda'.
"She drove us into the Midland Heights Seventh-Day Adventist Church parking lot and there were two or three people in there.
"My other cousin – Courtney Harrison – was holding a sign that said 'We love you Phylicia', so at that point I knew something was up."
Ms Furbert, a former teaching assistant at Saltus, said that she had planned to go to university since at least 2016, but the expense was a major hurdle.
She added she managed to pull together enough money with the help of several scholarships and loans from family, as well as from years of saving.
Ms Furbert also said: "It was really just God opening doors when they needed to be opened and placing scholarships where they needed to be placed."
She said that it felt "surreal" to be able to start university classes in mid-January.
Ms Furbert added that she would do a degree in Christian counselling at the Tulsa, Oklahoma university and hoped to come back to Bermuda to start her own firm.
Courtney Harrison, also 29, who helped organise the motorcade, said that Ms Furbert was "like a sister" to her and was her maid of honour at her wedding.
She added that she wanted to show Ms Furbert how much she would be missed.
Ms Harrison said: "Phylicia has always been so supportive of her family and her friends.
"She's definitely someone who has always been a cheerleader for others and a supportive person for those whom she loves, so it was really important for us to be able to do something."
She added: "I'm usually not someone who cries, but it definitely brought tears to my eyes to listen to how she's impacted everyone and realising that she's finally getting to further her education."