40 years on, memories of the Falklands war still vivid for Bermudian Danny Little
Updated: Apr 25, 2022 10:05 AM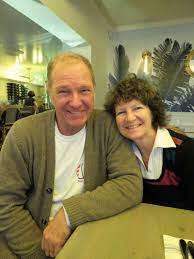 A Bermudian sailor who saw action in the Falklands war has spoken of his experiences 40 years after the conflict.
Danny Little, from St David's, was just 15 when he left home for England to join the Royal Navy in 1971.
A little more than ten years later, he would find himself on the bridge of the frigate HMS Alacrity deep in the South Atlantic, coming under attack from Mirage jet fighters and enemy submarine torpedoes.
After joining up as a "bottom rung of the ladder apprentice", Mr Little trained as a radio operator. He was on board Alacrity in Cornwall in Britain when Argentina launched its invasion of the Falkland Islands on April 2, 1982.
By the end of that month — 40 years ago this week — a task force of Royal Navy ships had arrived at the isolated British territory, intent on ousting the invaders.
Fortunately, the crew of Alacrity had been involved in military exercises — including a spell off Gibraltar for heavy weapons training — in the weeks before Argentina launched its offensive.
Describing that training as "rigorous and real", Mr Little said: "The irony of it was, we all thought we were training for some war that was never going to happen. We were doing all this training for nothing — just ticking the boxes to show that we were ready. And then, suddenly, we've got a potential war on our hands.
"But even after we had set sail for the Falklands just a few days after the invasion, we didn't think we would end up in a war.
"The thinking was, once Argentina saw the task force leaving the English Channel, they'd give up on claiming the Falklands."
That did not happen and it took two months of fighting with the loss of more than 900 lives before Argentina surrendered.
The task force arrived at the Falklands at the end of April. Alacrity's primary role was to provide protection for the force's lead attack vessels, which included the aircraft carriers Hermes and Invincible.
Weeks after arriving in the war zone, the frigate was first on the scene when the merchant ship Atlantic Conveyor was struck by enemy missiles.
Mr Little recalled the moment a formation of three enemy Mirage jets came into view.
Mr Little said: "Something spectacular happened and you can't get over the spectacle of it.
"The trigger-happy Argentinian air defence saw aircraft and started shooting at them and hit one. It unfolded like a traffic accident — it happened in seconds. The aircraft went up and then came down in this long, gentle curve before it hit the water and skipped."
The two remaining enemy fighters reformed and came in for a broadside attack, with one firing its 20mm cannon at Alacrity.
Mr Little said: "They were coming in for an attack. I'm looking nose-on at this jet and I can see these splashes in the water coming towards us — splashes from cannon fire directed at us.
"Everyone was agog — we were mesmerised as this cannon fire came in towards us."
The Mirage pulled away, but not before launching missiles at other targets directly in line with Alacrity's position — the aircraft carriers Hermes and Invincible.
"The splashing from the cannon fire stopped and then the pilot launched his bombs," Mr Little said.
They passed between Alacrity's two masts, 12 feet overhead and into the sea close on either side of the ship's position.
But other missiles launched during the strike did find a target — the Atlantic Conveyor.
Mr Little said: "The scary part was that Hermes and Invincible would have been the next nearest targets, but for the Atlantic Conveyor.
"But when the Argentines put two Exocet missiles into her, that was still a huge setback. It was a demoralising event as well.
"The Exocet missile was extremely dangerous and extremely successful.
"We were alongside the Atlantic Conveyor and I was stood there watching people climbing down ladders and into the sea, into life rafts while the ship was burning.
"There were explosions happening inside the ship with ammunition that was detonating, and she was ablaze."
Twelve Atlantic Conveyor sailors were killed in the attack.
Mr Little said: "We sat there forming a lee. Fortunately it was good weather but the sea is awfully cold so there were a lot of problems trying to leave a burning ship that was very hot and getting into the very cold sea.
"It was painful to watch. Here was this bloody nose that we had suffered, as evident as it ever could have been to us that we were now at war."
On another mission, Alacrity landed an SAS team ashore under cover of darkness, before heading to the northern mouth of Falkland Sound to see if it had been mined by the Argentinians.
Mr Little said: "We needed to find out what the position of mines were in that area, the northern entrance into the Falklands. According to the admiral, they needed something 'cheap and cheerful' to pass through that area to see if it had been mined.
"And I thought 'well, that was my value — cheap and cheerful. Alacrity was expendable'.
"But we passed through the passage and there were no mines. So much was accomplished by that one operation."
During that mission, Alacrity "stumbled across" an Argentine supply ship, Isla de los Estados. The order was given to attack before the enemy vessel could escape.
Mr Little said: "This was a secret operation, nobody knew we were there — and we didn't know what else was out there.
"The Isla de los Estados was carrying jet fuel and ammunition, supplying the Argentine troops on land — so it was a valuable target.
"When we hit it, it lit the sky up. It was a miserable night to be anywhere — it was drizzling and the cloud base was as low as it could be — but when she got hit, the horizon turned orange."
Mr Little's war ended prematurely when the Alacrity was ordered back to Britain with a damaged gun barrel. It was also believed that a returning frigate that had survived the war could boost morale at home.
He said: "The skipper was heartbroken. It was hard. We had gone all they way down there to do a job we had trained so hard to do, just to be sent home partly for political reasons."
Arriving in Plymouth after 11 weeks at sea was an emotional moment for Mr Little and his crew mates.
"There was uproar on the shore — just droves of people along the shoreline. There was flag-waving, there was cheering, you could hear it from the ship.
"We were stood there with tears running down our faces because, as much as the war had all of its unexpectedness, this was a bigger unexpectedness."
Mr Little left the Royal Navy within months of returning from the war. After three years in college in Britain, he returned to Bermuda with his young family to work for Bermuda Maritime Operations.
Mr Little described his experiences of 40 years ago as "surreal" — and they still remain vivid.
"It's always there, it's never going to go away," he said.
Nevertheless, he plays down his own experiences in the conflict, claiming that others suffered far more.
He said: "I didn't have hell — other guys had hell. The guys on the Atlantic Conveyor — and their families — they were the ones who went through hell.
"It's always the families that get it worse. The guys there know what's coming, they don't care, although when it comes down to the pinch, the basic rules of survival apply.
"I don't remember being afraid, but what I do remember is the tension. We had a lot of tension — massive anxiety and tension for long periods. But nobody on Alacrity was killed, nobody was even injured. It's the families that suffer."
Mr Little's second daughter was born on April 2, 1983, the first anniversary of the Argentine invasion.
He said: "Exactly one year on from the Argentine invasion, what could have been a potentially deadly event for me, and misery for my family, turned instead into a celebration of new life."