All roads head west as End-to-End participants turn out in force
Updated: May 09, 2022 08:04 AM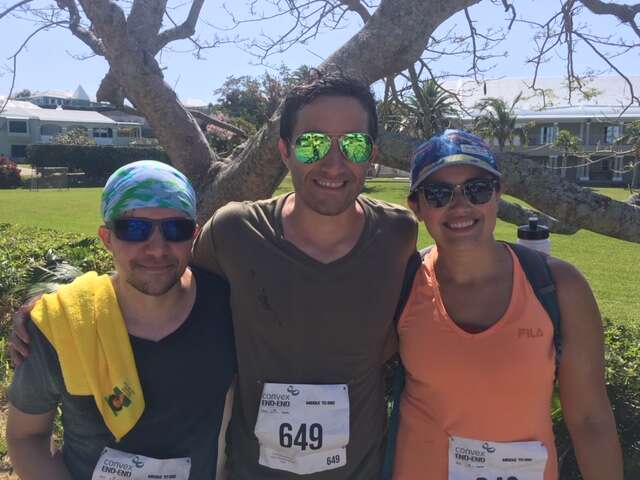 The island's roads and the Railway Trail were packed with people headed west on Saturday, whether walking, cycling or running, after the Convex End-to-End returned to full strength after the pandemic.
Organisers claimed that this year's event had gone off "with a bang" following low turnouts in the last two years as a result of Covid-19.
Stephen Davidson, a member of the event's organising committee, said this year's event marked a watershed moment.
He said: "With perfect weather and thousands of participants, it felt like the End-to-End came back with bang this year.
"After sheltering away during those grim pandemic years, I think people are craving community contact which is what the E2E does best, whether it be the crowds walking and talking their way across Bermuda, or folks returning to their favourite spots along the way to cheer.
"We are so used to seeing empty spaces, that it was a relief to see all the smiles and goodwill of the End-to-End in action again.
"We are so grateful for the sponsors and volunteers who make this big event possible, and able to provide Bermuda's charities the financial support they need."
Charles Jeffers II, chief executive of the Bermuda Tourism Authority, stopped at South Road in Devonshire at the Bermuda Ocean Prosperity Programme's water station.
Asked how the day was going, Mr Jeffers said: "Long.
"I've done four parishes, I've got four parishes to go. I've done the Middle to End – this is my first time doing the End-to-End."
He added: "It's a good day for it, a Bermudaful day and my favourite time of the year."
Among Mr Jeffers' group was Joseph, another first-timer, who said: "I'm asking myself why I'm doing it."
He said he was taking on the challenge this year because of Mr Jeffers.
"It's him," he said. "We were supposed to do it together last year. Now it's time."
Karika Cameron was leading a team of 16 staff from the Bank of Butterfield's consumer credit department cycling the route.
Stopping off for a well-deserved water break at Church Bay on South Shore Road, Ms Cameron, an AVP at the bank, said: "We thought it would be a nice way to have some group bonding – a team exercise.
"We also love to support the event as well because it does a lot of work for charities.
""We're having a lot of fun and getting in plenty of exercise at the same time. It's great."
Cheryl Mapp, among volunteers at the roadside stand, said she had done the End-to-End "years ago" and loved the buzz from the island's top charity event.
Two employees from Convex, the insurer that is this year's title sponsor, took a break for refreshment.
Allie said: "It's my first time – this is something I just always wanted to do."
Harry said the two had set off just before 7am.
"It's a good thing to do, and it's a great way to see the island," he said.
Both said the 2022 End-to-End had seen a fine turnout, encouraged by sunshine and a cool southerly breeze.
Adrienne Hefner was walking the full 24-mile course with her husband, Blake Hefner, and brother-in-law Bryce Hefner, who was visiting the island.
Speaking on the Railway Trail in Paget, Ms Hefner, 32, a dietitian for Island Nutrition, said: "We haven't done any training but we do walk on a regular basis so we're confident we'll be able to make it to Dockyard.
"It's great weather for it and we're having fun."
Nicola Paugh, executive director of the Inter Agency Committee charity, was out for her first time volunteering.
"We're one of the beneficiaries this year," she said. "It's a beautiful day and a great change to get out in the community."