'It is wonderful that people recognise the things that you do and wish the honour upon you'
Created: Jun 03, 2022 07:58 AM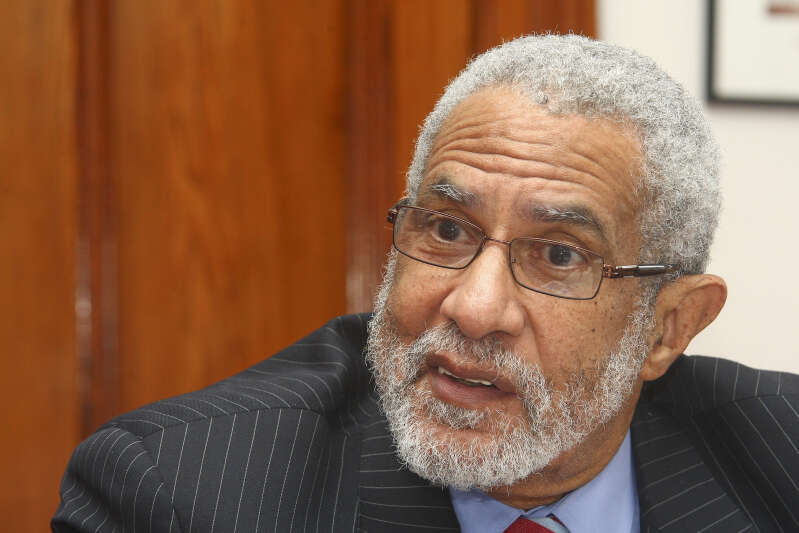 Bermuda's three recipients of the Queen's Birthday Honours expressed shock and pride last night at being recognised with awards.
Randy Horton, a former Speaker of the House, has been appointed an Officer of the Most Excellent Order of the British Empire for his service to sport and public service on the island.
Ercinda "Cindy" Swan and Cecille Snaith-Simmons were also recipients of the Queen's Certificate and Badge of Honour.
Mr Horton, who was a football and cricket coach, and taught at several schools including Warwick Secondary School, where he became principal, said he cherished having a positive influence on young people.
He said: "The best experience of my life was my ten years as principal at Warwick Secondary — the influence and contact I had with students and developing a rapport with teaching staff and students to create a vibrant climate at the school. It was the great teachers and the students that gave the place its life."
He said he was proud of his work as a government minister and as Speaker of the House, adding: "I certainly feel honoured. In all the things I have done and service I have provided in my life, none of it was done towards receiving any award. I am thankful that what I have done has been appreciated."
Speaking about his sporting achievements including representing Bermuda in football and cricket, Mr Horton added: "I was part of what I consider to be one of the best teams that Bermuda ever had — the Somerset Trojans.
"I played professionally for the New York Cosmos [in the North American Soccer League] and being considered the most valuable player in that team was special."
Ms Snaith-Simmons said she was "shocked" at the news that she had been awarded the honour.
"It is wonderful that people recognise the things that you do and wish the honour upon you. I am really grateful for it," she said.
Ms Snaith-Simmons has dedicated much of her life to celebrating unsung heroes and community figures from Bermuda's past in columns published in the media while preserving and expanding the island's written and oral history.
She added: "About 40 years ago, I became interested in what was happening in Bermuda in the past.
"If I met a senior I would ask them what they used to do for Easter or Christmas and I wrote it all down — I found it fascinating. I developed an interest in recording the Bermuda of the past. It became my hobby and my skills improved over time."
Ms Snaith-Simmons has also been a volunteer researcher for the Bermuda National Trust and has recently been researching old Bermuda properties, an endeavour that also relied, in part, on oral documentation.
Her writing has been praised for enhancing the island's cultural awareness.
She said that she has no qualms about her historic opinion pieces often "causing a stir".
She added: "In Bermuda there is an appearance that we are doing fine but we need to air things out that have disappointed us in the past as that makes us better people. It allows us to understand why we do the things we do. I always try to include the history so we can understand who we are.
"I think it's important that we encourage children to write."
Ms Swan was recognised for her services to seniors and the physically challenged.
She, together with the late Judith Stewart, founded the charity Project Action to offer them free transportation.
"I am very proud as we have been able to provide continuous service for over 23 years and I am very proud we can continue to provide the service free of charge," Ms Swan said.
"It's important that they do not sit at home and are able to socialise, go shopping and do ordinary things that able-bodied people take for granted."
Ms Swan, the charity's chairwoman, added: "The heartbeat of Project Action is retired teacher Rose Douglas, who handles the day-to-day scheduling, and Gerald Burgess, the volunteer driver. It is a collective endeavour from the board of Project Action to the volunteers."