Cup Match: 'It's the atmosphere, the people, the food, the drinks, the friendliness – it's the best of Bermuda'
Created: Jul 30, 2022 07:59 AM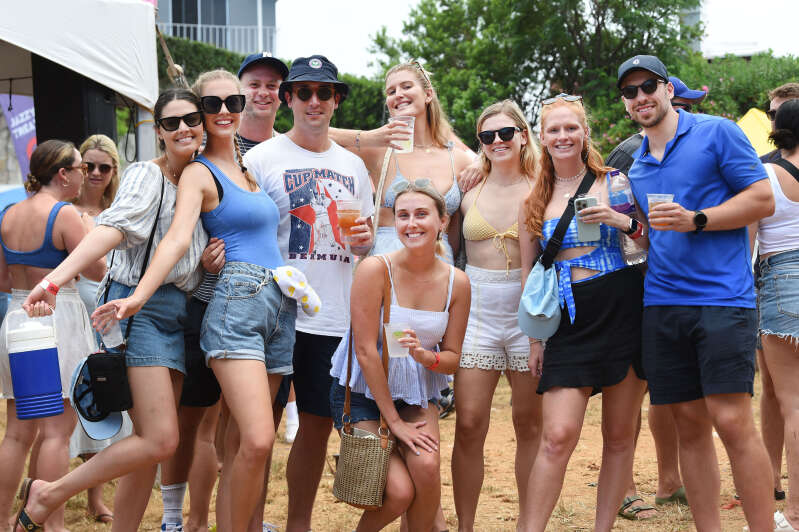 A colourful and excited atmosphere that many had not seen for three years signalled a return to form for the 120th Cup Match Classic.
Locals and visitors flooded Somerset Cricket Club in spite of the heat and risk of rain to socialise, watch the match and show off their team's colours.
For Franco Ribeiro, 61, it was a chance to surprise his wife, Melanie, 52, with a trip to Bermuda for the first time in 22 years – and to show off his red and blue beard in the process.
"I saw this commercial where they were spraying this kid's hair and then washing it out, so I went for it," Mr Ribeiro said.
He added: "I've been here before and my wife's been here before too, but she was a teenager when she first came.
"She told me all the years we've been married 'oh Bermuda was so beautiful, I remember the pink sand and everything'.
"I don't say nothing to her, but I think to myself 'I'm going to bring my wife but she won't know where I'm taking her – and this is the time to go'."
For more pictures from Day One of Cup Match, click here.
Mrs Ribeiro, who flew over from Miami, Florida last week, said that she had "no idea" where they were going until they were on the plane.
She added: "It's very different being here – before I was on a different side of the island and I saw a different view of Bermuda, but now I see the real Bermuda.
"The people are amazing, the food's amazing, the beaches and pink sand – nobody on earth has pink sand.
"Even going out to the water is special – this is the most beautiful water I have ever seen in my life."
The Ribeiros said they were staying with Sylvan Richards, a former One Bermuda Alliance MP and close friend of Mr Ribeiro from their time at Howard University in Washington DC.
Mr Richards, who also dyed his beard red and blue, explained that he convinced them to see the game with him.
But the spot of colour, he added, was purely Mr Ribeiro's idea.
"I told him 'before we get out this car, just know that Bermudians are not going to be used to this'.
"But everybody was cool with it – one guy even took a picture."
For more pictures from Day 2, click here.
Somerset Cricket Club became a walkway for many to show off their bold and vibrant outfits.
Attendees of all ages and backgrounds sported jumpsuits, sundresses, button-up shirts and fitted polos of every colour and fabric.
More conservative spectators wore T-shirts and shorts, many of which were in their teams' colours, with the occasional accessory to liven up their looks.
For Stephanie Gibson, 33, the fashion was part of the Cup Match culture – and part of what made the games feel like "the best of Bermuda".
She said: "It's the atmosphere, it's the people, it's the food, the drinks, the friendliness – it's the best of Bermuda.
"It feels like it takes us back to a time where things weren't as fast-paced."
Ms Gibson, who has lived in Philadelphia for six years but grew up in Bermuda, said that she went to the game every year since she was a child.
She said: "Everyone's friendly and, since I don't live here, it's nice to see people that I don't see on a regular basis."
Ms Gibson said that she and the majority of her family were Somerset supporters – though she admitted her brother rooted for St George's and "must be adopted".
She added that she and her friend, Cassandra Matcham, also 33, went to the game around 10.45am – the earliest they had ever been.
Ms Matcham, who lives on the island, explained: "We didn't come on day one and had a little bit of Fomo (Fear of Missing Out)."
She said that, despite the Covid-19 pandemic affecting attendance at the game for the last two years, it felt like "we didn't miss a beat".
Ms Matcham added: "Cup Match is Bermuda. I don't live abroad, but for anyone who comes back it always feels like home."