Government looks to increase the number of foster parents
Created: Sep 29, 2022 07:44 AM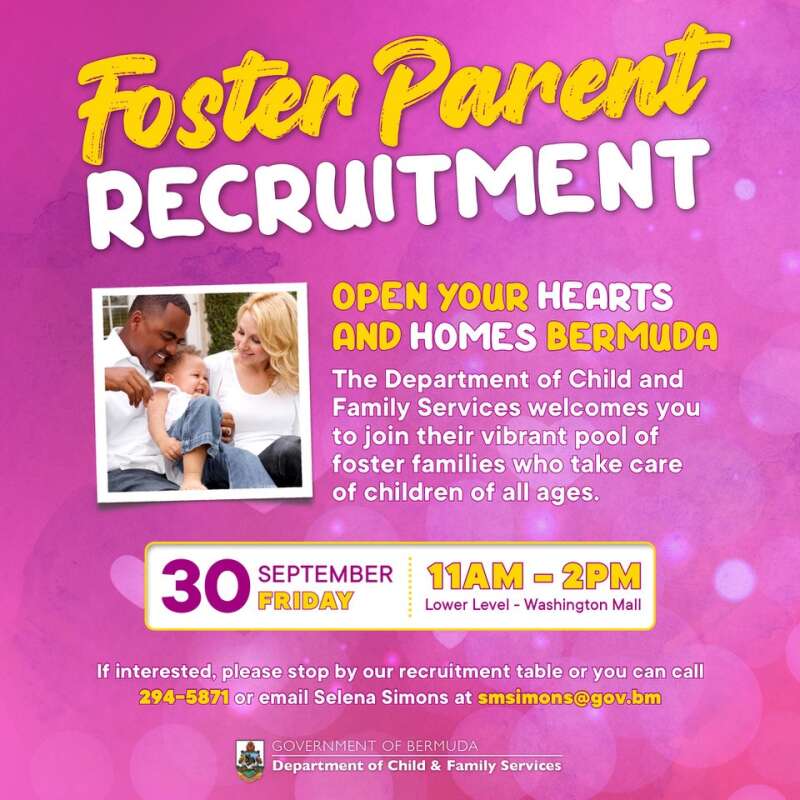 More foster parents are needed to help support the number of children in care, according to the Department of Child and Family Services.
A spokeswoman for the department said: "The Department of Child and Family Services currently has 65 children in foster care, ranging in ages from birth to 18.
"We are also mandated to respond to new referrals as they arise, wherein children may be deemed to need care. Therefore, we need newly approved foster families willing to be on standby to open their homes to children.
"Foster care provides a temporary, loving and nurturing family to children when they are not able to live with their parents. The importance of having community support for our young people is critical."
The spokeswoman added that the Department will host a Foster Parent Recruitment Table at the Washington Mall between 11am and 2pm on Friday in an effort to help those who are interested to learn more about foster care.
"We ask that those who are willing to open their hearts and homes to come forward," she said. "We also appeal that those with a background in teaching, counselling, coaching, nursing, para-education and youth programmes consider offering their assistance."
Tinée Furbert, the Minister of Social Development and Seniors, highlighted the necessary work done by the island's foster parents.
She said: "The department has been extremely fortunate with the foster parents they have had thus far, and on behalf of the Government we would like to extend our deepest gratitude to those who have opened their homes and hearts to foster a child."
"Bermuda, it truly takes a village, and we hope you will be willing to help us build ours."
Those interested in learning more about becoming a foster parent can visit the Foster Parent Recruitment Table at the lower floor of Washington Mall on Friday, call 294-5871, or e-mail Selena Simons at smsimons@gov.bm.