City of Hamilton helps charities for the homeless, diabetics
Updated: Feb 09, 2023 07:55 AM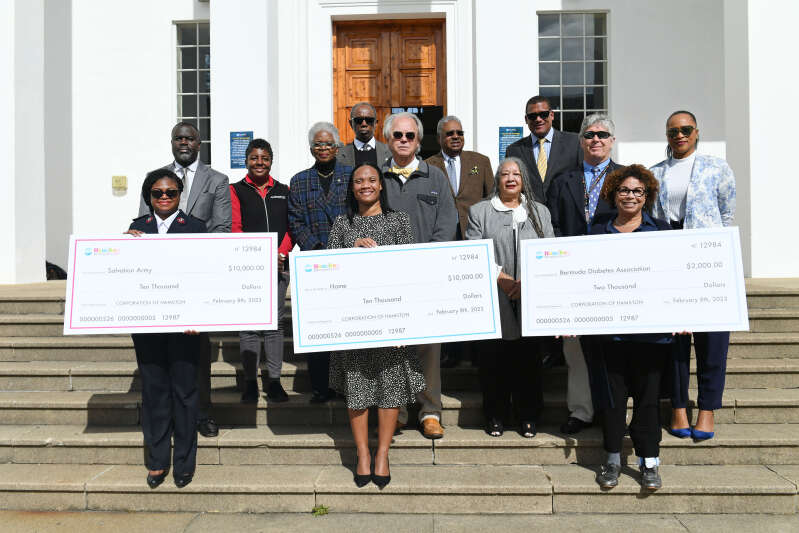 The City of Hamilton and its staff donated a total of $22,000 to charities at a presentation at City Hall this morning.
Charles Gosling, Mayor of Hamilton, presented cheques for $10,000 to both the Salvation Army and the charity Home, along with a $2,000 cheque to the Bermuda Diabetes Association – a charity selected by City staff.
Jean-Ann Hayward of Home said the charity was grateful for the donation, which would be used to bolster the charity's rough sleeper programme, designed to help people get off the streets.
"We are on our third cohort now," she said. "It is absolutely amazing to see the joy and excitement on their faces when they receive jobs and are able to buy transport to get to those jobs and to see them in new housing facilities.
"It feels amazing that we have been able to provide that support for these individuals."
Captain Kendasy Barnes of the Bermuda Salvation Army meanwhile the funds they received would be used to continue their feeding programmes and provide food security for those in need of assistance.
Lori Rockhead, executive director of the Bermuda Diabetes Association, said they were very pleased that the staff at the City had selected the charity.
She added that the funds would be used to help provide valuable medical care for those who might otherwise not be able to afford it.
"Diabetes is not only a result of our lifestyle and behaviour but it's also in our genetics," she said. "We're pleased to be able to help those who cannot always afford to pay for the supplies they need."
Mr Gosling said that while the City had initially intended to make the donation during the Christmas period, they did not want the work of the charities to be lost in the shuffle of the festive season.
He added that donations to charity were a perfect Valentine's Day gift for a loved one which also supported the local community.
Mr Gosling highlighted the work carried out by both Home and the Salvation Army to benefit the island's homeless, saying: "While many only talk about this issue, these two organisations actually do something about it."