Heat continue strong start to senior league season
Created: Nov 25, 2022 07:50 AM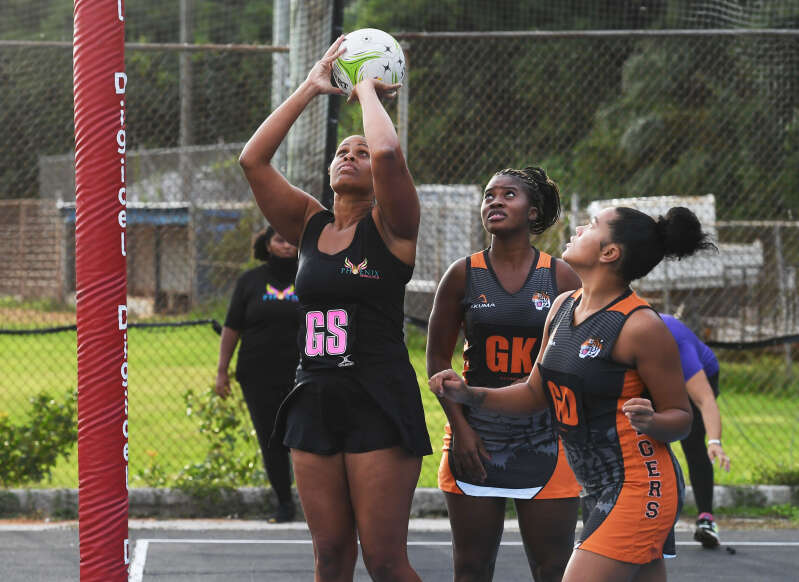 Defending champions Phoenix Heat continued their strong start to the new Bermuda Netball Association Senior League season with a hard fought 41-36 victory over Storm on Wednesday.
Both teams started the game with a high intensity, in attack and defence, as the first quarter ended 9-8 in favour of Phoenix.
Storm responded strongly in the second quarter, with the defensive pair of Inshan-nae Smith and Debre' Evans making a number of key interceptions, allowing the team to advance the ball swiftly from mid-court to their shooters.
With their shooters in fine form, Storm managed to edge ahead to hold a two-goal lead at half time with the scoreline at 20-18.
Building on that momentum, the same trend continued in the third quarter as Storm further increased their advantage to lead 30-25.
With Storm looking on course for victory, Phoenix sparked into life in the fourth quarter as Kiante Lightbourne forced numerous turnovers, allowing her team to regain possession.
Those interceptions proved crucial with Heat making no mistake in moving the ball forward advancing through the midcourt to create shooting opportunities.
With the pedigree of experienced goal shooter Danielle Raynor shining through, Phoenix managed to overturn the deficit, going on to ultimately win by five with a 41-36 victory.
STORM
Best Attacker – Zakiyah Durham
Best Defender – Debre' Evans
MVP – Nabiilah Nasir (Shooter)
Goals: Nabiilah Nasir (21), Zakiyah Durham (10), Amayah Smith-Burt (5)
PHOENIX HEAT
Best Attacker – Ebonie Cox/Ayanna Wolfe
Best Defender – Kiante Lightbourne/Nyisha Saunders
MVP – Kiante Lightbourne/Nyisha Saunders
Goals: Danielle Raynor (37), Ebonie Cox (4)