Leaders Phoenix Heat extend unbeaten streak
Created: Feb 15, 2023 07:38 AM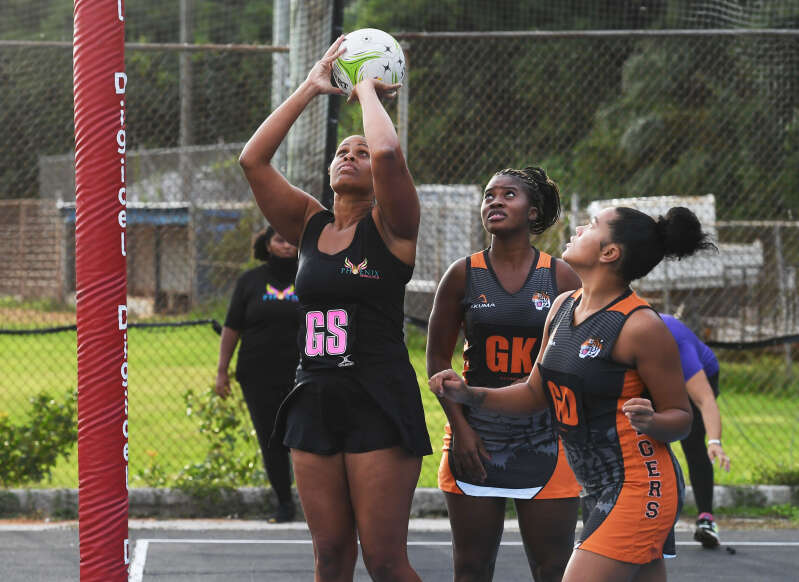 Danielle Raynor and Ebonie Cox combined for all the goals as Bermuda Netball Association Senior League leaders Phoenix Heat secured a big win over Lindos Tigers at CedarBridge Academy on Saturday.
Goal shooter Raynor scored 43 goals and goal attack Cox chipped in with 13 as Heat virtually had things all their way in a resounding 56-37 triumph, with Jahtuere Trott leading Tigers' scoring with 25 goals, while Candace Paynter added ten and Donnisha Gardner two.
Raynor was chosen as the Heat's most valuable player and shared best attacker honours along with Cox, while Stacia Ming and Chelzea Somner were named best defenders.
Defender Demiqua Daniels was named Lindos most valuable player.
The remaining Senior League match featured Storm edging North Village 42-41 and they remain second in the standings behind Heat.
Goal attack Amayah Smith-Burt was Storm's top scorer with 26 goals, with Anisa Seon also reaching double figures on ten and Jamir Hatherley six. Goal attack Darrika Simons led the way for Village with 27 goals while Zhanae Simmons added nine and Coriah Simmons five.
Debre Evans was named Storm's most valuable player, Smith-Burt best attacker and Inshanae Smith defender. Akeyla Furbert picked up the award for Village's most valuable player, with Simons best attacker and Quinnae Outerbridge top defender.
The Who's Who Tournament was also held, featuring competition in the Under-11, Under-14 and Under-17 age groups at Whitney Institute Middle School Gym on Saturday.
The tournament features various netball positions put on to a popscicle stick with the players choosing random positions to play and Storm edged out Phoenix Embers 11-10 in an evenly contested under-17 match.
Sa'Ray Beach was Storm's most valuable player and Anisa Seon was best defender, with Sydney Santos named Phoenix MVP and Nishika Bisht the top defender.
In other under-17 matchess, Dandy Stars prevailed 8-4 over North Village White, with Chiaje Rudo named Stars most valuable player, Sioma Rudo the best attacker and Nahjae Raynor leading defender. Marlie Dill was Village White's MPV and Katiah Rogers their best attacker.
North Village Red inflicted a 23-12 defeat om sister team North Village White, with Zipporah Grant named Red's best player, Nevaeh Swan best attacker and J'zari Dillas-Zuill best of the defence. Ra'eesah Robinson was White's MVP with Akina Williams and Katiah Rogers named best defender and attacker respectively.
Sydney Santos was named Phoenix Fire's MVP as they beat Dandy Stars 25 -7, with Uni Simmons best defender.
North Village Red beat Storm 14-11 in the remaining Under-17 match with Grant named Red's most valuable player and Swan best attacker. Amara Richards was Storm's most valuable player, with Jaelyn Rewan-Lambert best attacker and Amayah Smith-Burt leading defender.
In Under-14 action, Rangers defeated Phoenix Embers 14-6 with A'meerah Richardson named Rangers best player, Honor Caesar best attacker and Ja'Miyah Johnson leading defender.
Hailey Trott was Phoenix's MVP and Lola Rollins was declared top attacker.
Storm's under-14 team overpowered North Village 23-7, with Malaysia Furbert Storm's attacking star and Journee Belboda performing well in defence. Kiera Trott was Village's top player and Jazmyn Sutton earned the defensive plaudits.
Rangers also recorded a 10-7 win over Storm with Saniyah Govia emerging as their most valuable player, Ja'leigha Johnston top attacker and E'rynn Paynter best defender. Jaylah Ible was Storm's MPV with Eliyah Seon top defender.
Scores are not recorded in the under-11 age group, which serves primarily for developmental purposes, but there were a number of notable performances
Xen Bourne was the most valuable player and attacker for North Village and Morgan Gibbons best defender, whil Lyon Simons was Hotsteppers' best player with Dezirae Danbrook and Trinity Fagan named best attacker and defender respectively.
Storm's under-11 side were also in action, with Hailey Odouri their MVP, Priya Dill and Trayonah Maina also named best offensive and defensive players
A'mariss Dyer was Sparks' leading player, K'ah Seymour best attacker and Ari Edness top defender.
The remaining Under-11 contest featured Phoenix against NPS Hotsteppers.
K'ah Seymour was Phoenix's most valuable player and A'mariss Dyer top attacker, with Sofia Odouri MVP, Ari Campbell best attacker and Fagan leadind defender for Hotsteppers.