Charity named in honour of late Cup Match legend Eldon Raynor
Updated: Feb 17, 2023 08:04 AM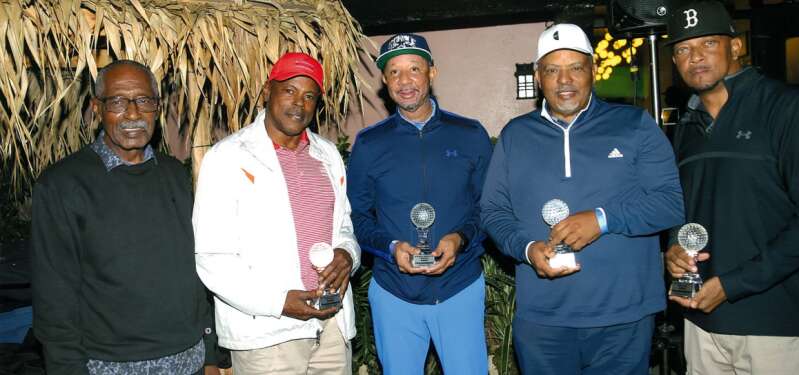 Cup Match legend Eldon Raynor, who passed away last November at the age of 89, is to be honoured by a charity bearing his name.
Raynor represented St George's in Cup Match between 1958 and 1979, amassing 738 runs at an average of 29.52 with a highest score of 79 not out. He also claimed 33 wickets at an average of 25.15 with his off spin and is one of few players to have scored more than 1,000 runs in the Western Counties competition.
But after his playing career finished, he was a notable philanthropist and helped provide funds for young people in Bermuda to pursue their sporting career. It is that legacy the newly formed Eldon Raynor Up and Up Foundation is hoping to continue, with the committee now in the process of submitting an application for charitable status with grants expected to help Bermuda's young people fulfil their ambitions in athletics, academics and various arts.
"My dad has helped so many people so we decided to set up a charity to continue helping others in his honour," committee president Eldon Raynor Jr said. "My dad believed in giving back and supporting all young people so that they can have a chance.
"We are in the process of submitting an application to become a registered charity and are going to get financing and support with donations from other people just like other charities.
"The funds will help young people to get ahead in their sports and to those who may be going to college or anybody who needs a helping hand and is worthy of receiving, including, singing, dancing, the arts and academics.
"My dad's legacy was to stay positive, to give back and that the show must go on and that we must continue to do everything right.
"I know he would be proud and would say that he taught his family to do what is right and the main thing is to stay up and up, which was his saying."
While the potential to make a difference to the lives in Bermuda is uppermost in the minds, the criteria for potential applicants and grants has still to be finalised, with Raynor's wife Barbara playing an active part on the committee
"He was a great sportsman, a great husband and the greatest father in Bermuda," Barbara said. "We are looking forward to doing this but the details are still to be finalised."
The first Eldon Raynor Memorial Golf Tournament was played at Turtle Hill Golf Club last month with eighteen teams competing in a captain's choice format at the Fairmont Southampton course.
The team of Juhula Lambert, Erva Hassel, Terrence Bean and Craig Christensen won the 54-hole event with second place going to the team of Rembert Hill, Mitchell Raynor, Kevin Swan, Jason Burgess and former Rangers, Cup Match and Bermuda footballer and cricketer John Tucker.
Rounding off the podium in third was the team of Allen Bradshaw, Monroe Darrell, Jerome Bradshaw and Mikal Smith.
"The tournament was wonderful and everyone had a wonderful time," said Eldon Jr, who was among a team that also included Deputy Governor Tom Oppenheim and Jaren Haley. "We had a great time and it was a beautiful day," Eldon added.
Eldon also praised tournament organisers Sherri Outerbridge, Sonia Mills, Randy Raynor, along with Southampton Princess Golf Shop, Boundary staff Wesley Tucker and Scott Roy for their efforts.
He also revealed that other golf courses could possibly host future tournaments with proceeds going towards the Eldon Raynor Up and Up Foundation as part of the charity's fundraising scheme.
"The golf tournament is the start and we are hoping we will be able to branch into other sectors to try to raise money," Eldon Jr added. "Before the next tournament we will have some fundraisers in place."