From broken neck to professional sportsman - the remarkable life of Jordan Faries
Updated: Mar 30, 2023 06:49 PM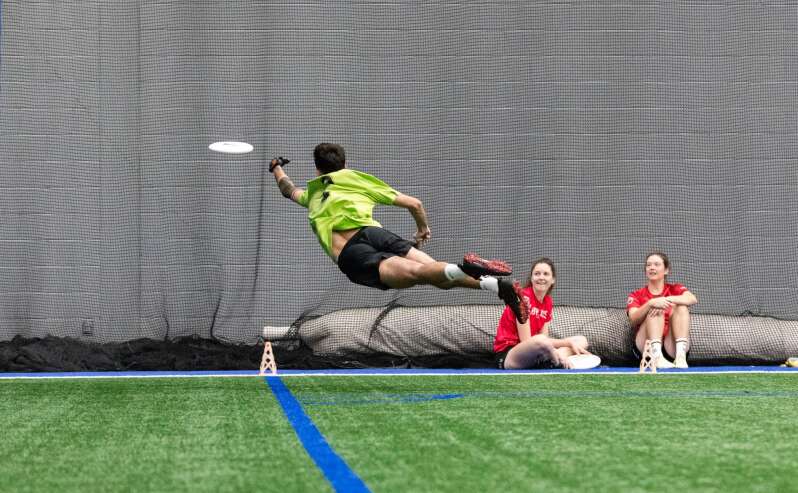 "My surgeon told me straight away how lucky I was because nine times out of ten, I would be paralysed or dead as a result of my accident"
After miraculously escaping death, Jordan Faries has turned tragedy into triumph as he prepares to embark on a career as a professional ultimate frisbee player in the American Ultimate Disc League.
With a promising opportunity to break through in the league with Montreal Royal hampered by elbow surgery and the onset of the Covid-19 pandemic, Faries found himself back home in Bermuda for Christmas in 2020.
An avid cliff jumper in his youth, Faries took the chance to head down to Horseshoe Bay with his younger brother on an afternoon which would change his life in an instant.
"It was a combination of low tide and really bad timing," said the 27-year-old of the moment. "I dived from about seven or eight metres vertically and the water ended up being only two metres deep, so I hit the ocean floor headfirst.
"I was shocked that I didn't black out, but thankfully I didn't because I had to get back to shore. I felt a lot of compression in my spine and immediately I was alert that I could have some head and spinal injuries.
"On top of that, my younger brother wasn't a particularly strong swimmer and so it was on me to get back to the shoreline. Luckily, I was able to get back to the car and was driven to the hospital."
While he did not suffer any immediate paralysis, Faries discovered the magnitude and severity of his injuries after he was transported to Boston and handed over to senior spinal specialists.
"Initially, after the accident, doctors were not quite sure how bad it actually was because it can be very hard to tell with spinal injuries," he said.
"However, within a couple of weeks the pain had dramatically increased and I found out that as well as my neck being broken in two places, there was a chip on one of my vertebrae and it was sliding towards my spinal cord, which is very serious.
"I was sent to Boston to see spinal experts and the doctor there told me straight away how lucky I was because nine out of ten times, I would have been paralysed or died from the injuries that I had.
"That was definitely a sobering moment but from there the priority was to get my neck sorted as fast as possible with a spinal fusion and four screws inserted to stabilise the area."
What followed was a gruelling period of rehabilitation, but Faries says he always had a determination and optimism that he would be active again.
"The months after the spinal fusion were incredibly tough because I couldn't really move or do a lot," he said. "Despite everything, I had a general optimism that I tried to stick to. I was desperate to get back to playing sport, but obviously no one could give me any definitive answers if I would be able to do that.
"I remember laying in the hospital bed thinking I was going to get back to playing and I had a checklist of things I wanted to do. I always had that optimism but never a realistic timeline of how I could get there."
Incredibly, just a year on, he found himself back out on the field.
"I started playing again consistently and when I was on the field I felt like my old self both mentally and physically; that's when I felt at my best," said Faries, who first picked up the sport on island in his youth.
"I was out of the initial recovery phase but I was still having daily challenges to deal with. I discovered there was no returning to normal, per se, or getting my old body back.
"Diving for the disc was always my speciality and something I prided my game on. Incredibly, even since the spinal fusion I am still able to do that, which amazes and shocks me. I'm just thankful my physical ability hasn't been impacted that much by the injury.
"I was just amazed that I was still able to play the sport and just so thankful because it is such a huge boost mentally in my life at that time."
With the burning desire to get back to previous levels, Faries travelled to Spain in 2021, when he began playing a beach version of the sport.
It was a decision that paid dividends, with his perseverance and resilience being rewarded with the opportunity presenting itself to become professional and rejoin Montreal Royal in the American Ultimate Disc League.
For Faries it was a moment of validation and achieving glory against the odds.
"In 2019 I was involved in the team but had to have elbow surgery which meant I was already out for a year from the sport before the neck injury happened. However, now I'm back in Montreal and back with the team," added Faries ahead of the new season, which starts next month.
"I had a childhood dream of turning professional in a sport and so I'm just really thankful that I've achieved that; it's really validating.
"It's amazing that I am able to have the sport in my life as I didn't realise how much I missed being part of a team and playing a sport I love. All the struggles I had with the injury just melt away when I play.
"Turning professional is something I really wanted and to be here now is just incredible. To get paid a little to play and travel is just so fulfilling."
With the league a little more than ten years old, Faries, who has dual citizenship between Canada and Bermuda, is determined to play his part in growing the sport as he sets his sights on gracing the international stage.
"I'm just taking it season by season and trying to play at the highest standard that I can," he said. "It is a sport that is still growing and I'm just really chuffed to be a part of the team this year and hopefully I can get a chance to get on the field.
"I would love to play internationally one day. I have dual citizenship and so that would be a dream to play for the Canadian national team. That's something that I'm striving on and is definitely on the bucket list."