Dillas retains crown
Updated: Mar 14, 2011 10:03 AM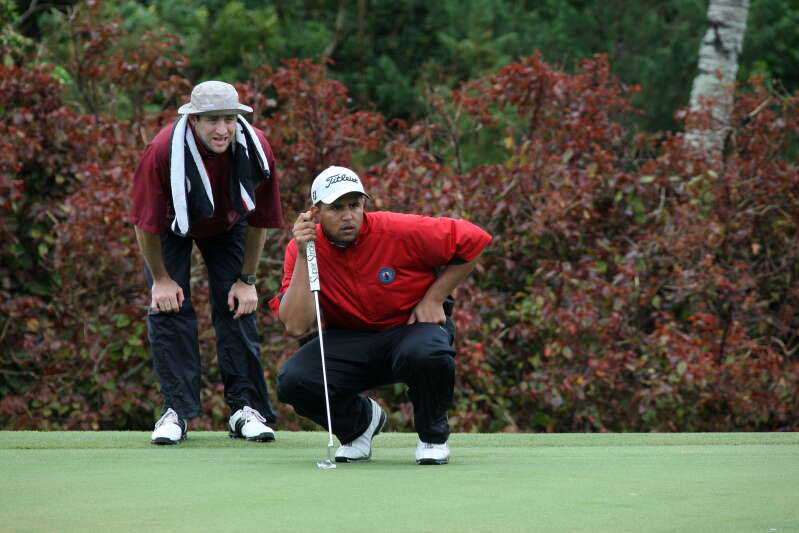 Jarryd Dillas successfully defended his Men's Bermuda Amateur Match Play Championship title on Saturday, beating Nick Mansell four and three at Mid Ocean Golf Club in a 36-hole final.
And in the women's championship final, former winner Tariqah Walikraam beat Ebonie Burgess six and five to etch her name on the title again.
She flew back to the USA later in the day.
Dillas held off his veteran opponent to lay claim to his second successive title, having beaten Mansell last year as well.
He became one of only a handful of players to successfully defend his crown but admitted that he didn't have it all his own way.
In fact, he was down early in the first 18 holes before battling back.
"I played really well and am pleased with how things went," said Dillas.
"I let it slip a bit in the middle holes on the first 18 with the weather getting bad, but overall I'm really happy with my performance."
Mansell took control early on with consistency off the tee and hitting the greens. But the defending champion squared things up on the sixth before winning the seventh hole with a birdie to take his first lead of the day.
He also won nine to put himself two-up, thanks in large part to Mansell not putting to his usual high standards, missing a few routine putts that Dillas graciously took advantage of.
Mansell got back into the thick of the match, birdying eight and nine in the second round to pull within one of Dillas, who had held a four-hole lead heading into the second 18.
It wasn't meant to be for Mansell, however, as Dillas tightened the screws for the remainder of the match.
The veteran lipped out a putt on 13 that could have turned the tide but Dillas was on hand to capitalise and pad his lead to two-up.
It went from bad to worse for Mansell who watched in agony as his tee shot on 14 went into the trees, leaving him a steep mountain to climb at three down.
If that wasn't enough, he followed up the 15th with a poor approach shot on the 15th, three putted and subsequently relinquish any title hopes he had.
"I played well on the first 18 and was four-up at the turn but with 36 holes you can't be complacent if not you will see yourself quickly lose control, and that was the case at one point," said Dillas.
"He was in the same position last year and to his credit he remained calm and looked to take advantage of any of my errors.
"He birdied eight and nine to pull the match back and also 11 so I was only one-up heading to the 12th tee."
"If he would have had a few more birdies go in for him it may have been a different story, especially in the morning round, but that's how it goes sometimes and I am happy to be champion once again.
"Next up for me is a tournament in South Carolina in two weeks' time, and then I'll be doing a US Open qualifier is Massachusetts in the early part May.
"I'll be doing some tournaments in the US as well as Canada so it will be a pretty busy summer.
"After the summer we will see where we are at and potentially turning pro but that won't be for another year or so, so we will see."