Five more sign up for NFL golf event
Created: May 20, 2016 08:00 AM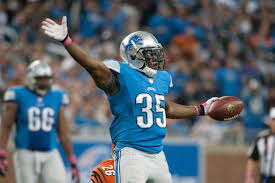 Another five NFL players have been confirmed for the inaugural Ed Block Bermuda Celebrity Classic at Port Royal Golf Course next month.
Patrick Mannelly, Jon McGraw, Arthur Moats, Reggie Hodges and Wally Williams will be among the 25 former and present players taking part in the tournament on July 12.
Mannelly is a former long snapper for the Chicago Bears, McGraw was a safety for the New York Jets, Moats is a linebacker for the Pittsburgh Steelers, Hodges is a former punter for the Cleveland Browns and Williams played as an offensive guard for the Baltimore Ravens.
They join players such as free agent Joique Bell, a former Detroit Lions running back, Leon Washington, another free agent who previously played for Tennessee Titans, and Eddie Kennison, a former wide receiver for the Los Angeles Rams. Former running backs Leon Washington, of Miami Dolphins, and Earnest Byner, who was part of Tampa Bay Buccaneers' coaching staff in 2013, will also play in the tournament.
As part of the players' visit to the island, they will spend the day working alongside youngsters from the Mirrors Programme — which promotes self-development — and middle school pupils during the Power of One youth rally on July 11.
David Bascome, a former Bermuda footballer, who is behind the Power of One rally, said: "This event will be a tremendous event for our country and community.
"Having been a part of the Ed Block Courage Awards events for the past 12 years in Baltimore, I have been able to create a great network that has helped me advance my goals in building communities and my business.
"Our country will get the same boost, of networking and opportunities to leverage the collective support to build our community and youth to reach their fullest potential through the golf tournament and the Power of One youth rally."
Teche Minors, a Mirrors participant, added: "Not everyone gets the opportunity to meet famous people or celebrities in their life.
"As a participant in Mirrors who is participating in the Ed Block Bermuda Celebrity Classic, I am very honoured to be able to have the opportunity to work together with the NFL players and middle school students.
"Even though I may not know all of the players or support their teams I feel that this is such a great opportunity because of the players' backgrounds."
The Power of One youth rally will target students aged ten to 14. The focus is to engage in activities that will give them hope and inspire them to continue to develop leadership skills.
Middle schools and Big Brother Big Sisters — a volunteer-supported mentoring network — have been allocated registration spots for the event.
Golfers interested in playing in the tournament can contact the Mirrors office at 294-9291 or Bermuda Tees at 295-4640.
The celebrities will be partnered with three players, with a best-ball format being used.
The Ed Block Courage Award Foundation is dedicated to raising awareness and prevention for abused, neglected, and at-risk children.